Republicans play catch-up to lure Hispanic voters
November 28, 2010 - 12:00 am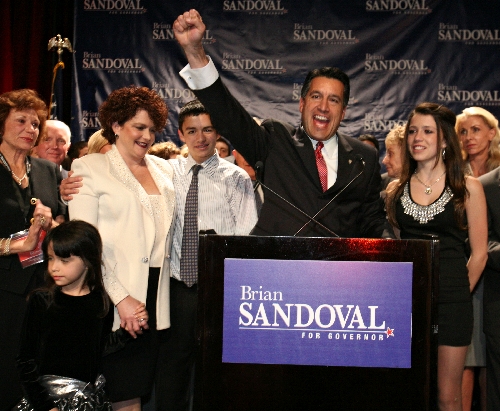 It was three months before Nevada voters would decide the outcome of the biggest election in the country, but Ernie Fitzpatrick already had witnessed how Democrats, and not Republicans, would lock down support from Hispanics.
Fitzpatrick, a Republican and the grandson of Mexican immigrants, attended the Nevada launch of a program to teach English to Spanish-speaking people with home visits and language lessons on the radio. The only politician who showed up, Fitzpatrick said, was U.S. Sen. Harry Reid, D-Nev.
For Reid, who was in a battle for his political life with Republican challenger Sharron Angle, to take time to attend this seemingly apolitical event served as an example for Fitzpatrick of how Democrats are outworking, outspending and outperforming his party when it comes to winning over Hispanic voters.
"It pretty much speaks for itself. The Democrat Party understands that all they have to do is show up," said Fitzpatrick, recalling the event.
Polls showed Reid rode a huge margin of support in the Hispanic community to a 6 percentage point victory over Angle, whose inflammatory depictions of illegal immigrants in ads some blamed for driving Hispanics even further from the Republican Party.
One poll by Latino Decisions showed Reid getting more than 90 percent of the Hispanic vote. The polling results were reinforced by an analysis of post-election voting data from every precinct in the state.
Conservative Hispanics such as Fitzpatrick, former Assembly candidate Tibi Ellis, former union operative Mario Rocha and others attribute the imbalance to a one-sided story they say Democrats are spinning in the Hispanic community.
They're frustrated that Republican leaders and candidates so far have shown little progress in getting a different story out. So they're reaching out themselves by attending Republican club meetings, supporting new conservative Spanish-language radio shows, and imploring non-Hispanic Republicans to embrace a community they say is likely to support pro-life, traditional marriage and low-tax messages.
"They should be Republicans but … we are not talking to them," Ellis, who is of Venezuelan descent, recently told an audience that included Angle at a Las Vegas Republican Town Hall meeting.
"White Democrats — yes I'm going to throw it out there — white Democrats attend Latino events, befriending these people," said Ellis, chairwoman of the Nevada Republican Hispanic Caucus and, along with Rocha and Fitzpatrick, part of the Latino National Republican Coalition.
"We can't wait for them to come in here and ask to join us," said Monterey Brookman, a Republican activist who joined Ellis and the others in front of the Town Hall audience. "We have to go out there and get them and learn to be part of their community."
It is a matter of survival for Republicans in Nevada.
Although Republicans nationally picked up more than 60 seats in the House of Representatives, the widely reported Republican wave flattened out in Nevada. It was undone by a counter-wave of Democratic votes from Latino communities that most pollsters and pundits didn't foresee until days before the election.
Republicans won an open-seat race for governor, picked up two Assembly seats and one in the state Senate. But Democrats still hold a legislative majority in both houses and four of six constitutional offices.
"In Nevada the Republican candidates have to absolutely court the Hispanic vote or they are doomed," said Matt Barreto, a University of Washington political science professor and pollster for Latino Decisions.
Barreto, who analyzed the precinct-by-precinct results, said if the lopsided 2008-10 trend continues, Nevada Republicans "may never win another Senate or presidential contest," Barreto said.
Changing the electoral course won't be easy for Republicans. They are on the wrong side of a national historical trend that dates back 50 years and has gained momentum in recent elections, particularly in Nevada.
Democrats' national advantage among Hispanics can be traced to 1960, when then-candidate John F. Kennedy enlisted Mexican-American veteran, surgeon and activist Hector Garcia to form "Viva Kennedy" clubs in the Southwest. Kennedy's wife, Jacqueline, was featured in what is thought to be the first major American political ad spoken in Spanish.
More recently in Nevada, Barack Obama used a strong Hispanic turnout to help him defeat Republican John McCain in the 2008 presidential race.
Since then, Reid and other Democrats — through the Nevada State Democratic Party and outside groups — leveraged the advantage even further by enlisting paid consultants and volunteers who knocked on thousands of doors, made countless phone calls, cultivated deep relationships in the Spanish-language media and gleaned an understanding of the Hispanic electorate that few Republicans, English-language media outlets and public pollsters grasped.
"First and foremost, they just put a lot of time and money into it," said Democrat Lucy Flores, who helped Hispanics increase their representation to eight seats in the Nevada Legislature by winning Assembly District 28 in Las Vegas.
There are no Hispanic Republicans in the Legislature.
"The sleeping giant is waking up," Flores said. "That is what is fueling the emphasis on this particular demographic."
Public records show Democrats outspent Republicans 20-to-1 on Spanish-language ads with Univision in Las Vegas, the top-rated news station in the market.
GOP candidate Joe Heck in the 3rd Congressional District was the only Republican who outspent his Democratic opponent in Spanish-language media, defeating incumbent Rep. Dina Titus, D-Nev., by 1,922 votes out of nearly 268,000 cast.
"It definitely paid dividends," said Heck, who spent about four times what Titus spent on Spanish-language television. "We just knew that every vote was going to be critical."
Heck was an anomaly among Republicans.
Even Brian Sandoval, who defeated Democrat Rory Reid to become the first Hispanic elected governor of Nevada, spent just a pittance of the $4.2 million he raised on Spanish-language television.
Records show no Sandoval spending on Univision and less than $5,000 on Telemundo, a lower-rated station.
Rory Reid, the son of Sen. Harry Reid, spent about $200,000 on Spanish-language television in Las Vegas, the stations reported. And, according to Latino Decisions, Rory Reid won 84 percent of the Hispanic vote to 15 percent for Sandoval.
Sandoval's loss to Reid among Hispanics, despite his big win in nearly every other demographic, shows even the Republicans' rising star has work to do in the state's fastest rising demographic.
"If he doesn't reach out to them right now, he is going to fall into the type of just another Republican with a Spanish last name," said one Republican operative with close Hispanic ties who has worked on major campaigns.
Not only did Republicans cede Spanish-language airwaves to Democrats, they didn't compete on the streets in Latino neighborhoods.
"Democrats spent the hottest months in Las Vegas hitting the pavement and registering probably 15,000 Latino voters," the operative said. "That is the kind of dedication Republicans unfortunately do not have."
On the ground there were several Hispanic-oriented and left-leaning groups registering new Hispanic voters, along with the Democratic Party.
One independent group, The Hispanic Institute, registered more than 10,000 people in Las Vegas alone, nearly 80 percent as Democrats.
Organizer Temo Figueroa, estimated the drive cost more than $1.5 million.
More important than money, though, was the willingness to invest more than a year in time on the streets interacting with the Hispanic public, Figueroa said.
He said organizers knocked on some doors as many as seven times, called phone numbers up to six times and sent several mass mailings.
"If you want Hispanics to turn out to vote, you have to invest in the community and develop a relationship," he said.
Figueroa said organizers from his group regularly encountered Democratic volunteers and candidates but rarely saw Republicans.
Democrats "understand this state is going to be won or lost by turnout of Hispanics," Figueroa said. "These guys were scrapping and clawing for every damn vote. They were looking in every bush, under every tree."
The bitter debate over Arizona's anti-illegal immigration law and Angle's divisive U.S. Senate campaign compounded the ground game disadvantage and put Republicans further behind.
So far, many believe it will be extremely difficult for them to catch up anytime soon.
"It would be very troublesome if you were a Republican looking at Nevada," columnist Ruben Navarette said. "The Republicans have a lot to be discouraged about."
Navarette, who writes frequently about politics and Hispanic issues, said Reid's outreach and Angle's incendiary campaign turned a generic, historical disadvantage for Republicans into a Grand Canyon-like chasm between the GOP and Hispanic Nevadans.
"Sharron Angle, in effect, poisoned the well in Nevada," he said. "The smart Republicans know they have to find a way to kiss and make up with Hispanics. If not they are going to go the way of the Whigs."
Angle disagrees.
"I think the election shows you just have to have more votes," she said when asked whether the anti-immigration ads were a setback for Republicans looking to gain Hispanic votes. "I don't think that what was said, on either side, was the deciding factor."
No matter what the deciding factor was, there are Hispanic Republicans looking to reverse the trend in 2012.
In addition to outreach efforts promoted by Ellis and Fitzpatrick, at least two Spanish-language political shows with conservative hosts are scheduled to go on the air by January.
One show, co-hosted by Las Vegas resident Magaly Proenza, will be carried in major markets nationwide.
Proenza says the show is nonpartisan. But as a conservative herself, she said she will make an effort to ensure both major parties are part of the political conversation with Hispanic listeners.
"The Republican Party has not done the job with Hispanics. They have not given us our place," said Proenza, who called Angle "the wrong person all the way around" when it comes to conservative Hispanic outreach.
"This last election I hope they (Republicans) finally opened their eyes and saw that we made a huge difference."
Others are hopeful Sandoval's victory will give Republicans a chance to make inroads with Hispanic voters.
Whether Sandoval is up to the task remains to be seen.
During his campaign he downplayed the historic nature of his effort to become Nevada's first Hispanic governor.
And through support for the Arizona immigration law and minimal Spanish-language outreach, he ceded the Hispanic vote to Rory Reid.
Since winning, Sandoval's first steps into the fray of identity politics have been tentative.
His victory speech didn't address the subject, but he did agree to participate in a panel called "the new face of the GOP" at a recent meeting of the Republican Governors Association in San Diego.
Republicans' chance to grab a significant slice of the Hispanic vote from Democrats might well ride on whether Sandoval embraces the role of ambassador to the Hispanic community.
Navarette said Sandoval could gain ground by following the example of Republican Marco Rubio, recently elected U.S. senator from Florida, who regularly references his working class roots as a way to identify with Hispanic voters.
"They want a signal from him that he understands there was a whole line of people who came before him and he is part of a longer story," Navarette said.
Contact reporter Benjamin Spillman at
bspillman@review journal.com or 702-477-3861.