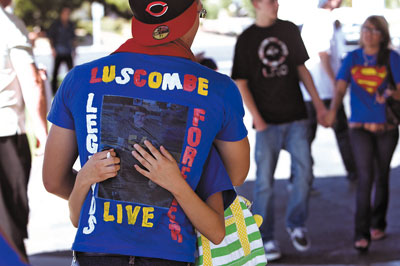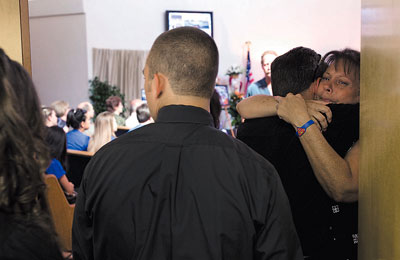 From T-shirts and wristbands to vibrant Superman floral arrangements, the Man of Steel's signature logo was a symbol of solidarity for friends and family who gathered at the Davis Funeral Home on Wednesday night to remember Chris Luscombe.
They dubbed the 19-year-old victim of the June 8 drive-by shooting at Bob Baskin Park "Superman" for more than just his 18-day battle to survive his wounds.
"He was my support system when I thought something was too hard or too far away," said Cody Duguay, 18.
Luscombe died June 25, becoming the second fatality in the shooting. Also killed was David Miramontes, 18. Jessie James Cole, 21, has been charged in connection with the slayings.
Several of Luscombe's Clark High School teachers and classmates attended the services for the former linebacker, team co-captain and prom king. Most donned Superman attire and chalked the logo and Luscombe's football jersey number, 54, on their car windows.
Mariah Carey's "Hero" played softly as mourners passed by the casket, where a Superman hat and ring rested in Luscombe's hands.
Nicole Luscombe, 21, said the superhero send-off was fitting for her brother, who "wasn't a dressed-up kind of guy."
He was a typical young brother, she said, always asking her for money. But he was there for others too, she said.
"It helps a lot to know he was so loved, but we knew that," Nicole Luscombe said.
"People say there is no community in Las Vegas, but that is definitely not true," she said of the crowd.
Groups funneled out of the funeral home hand in hand, some sharing hugs and drags on cigarettes in the shade.
Others sought solitude, crouching against the building and crying.
Dashawn Ashley said students from other high schools and some of Luscombe's former football opponents came out to show support.
"It's a double-edged sword, we're together, but it's bad we have to meet this way," he said.
Duguay played football with Luscombe for three years and said they shared aspirations of playing professionally for the San Diego Chargers one day.
"I never thought this would happen," Duguay said. "I'm at a loss for where to go now."
Contact reporter Maggie Lillis at mlillis@reviewjournal.com or 702-383-0279.