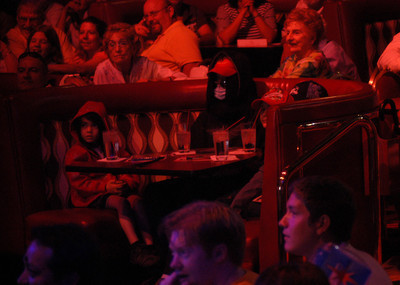 Restaurateur Freddie Glusman was on the telephone from California, angry with the coverage of his arrest in an assault case.
So angry, he said, that he was going to go public before the district attorney decides whether to go forward with Jennifer Kenney's June 25 charge of battery with serious bodily injury.
A couple of days earlier, the owner of Piero's Italian Cuisine was demanding to know why the Review-Journal was covering the case, "when I don't live in Las Vegas anymore."
Now, Glusman said, he's going public, "because I live there" in Las Vegas, and he's getting a bad rap, because "this whole thing is a setup."
Glusman, who has owned Piero's Italian Cuisine for almost 20 years, said he was the victim the night he took Kenney, a former cocktail server at his The Ritz restaurant, back to his Newport Beach home.
Kenney had partied at The Ritz for hours and, after her boyfriend stormed off because casino owner Gary Primm kissed her, Glusman said he and his manager decided to send her home in a cab.
Glusman, who was leaving, said she didn't have any money and jumped in his car and asked him to take her to her home. When they got there, her boyfriend wouldn't let her inside, said Glusman, so they went to Glusman's home, where she called her boyfriend.
Glusman said he was tired and had to fly to Hawaii early the next day, so he told her to finish her wine and leave.
He "reached for her" to pull her up from the sofa, and "she whacked me and broke my tooth." Glusman said he hit back. "It was self-defense."
Kenney, who also lost a tooth in the exchange, told police she got upset because Glusman invited her home, saying he was having a party, then asked her for oral sex.
Glusman said the D.A. hasn't filed any charges yet because of "her record."
THE PLOT THICKENS
Actor Alan Thicke said he doesn't understand the fuss over his no-show at a media event on Friday.
Local media had received e-mailed invitations from Las Vegas-based Hybrid Technologies to interview Thicke, who was described as the spokesman.
But Thicke, in a telephone interview on Saturday, said he was unaware of any commitment to meet with the media. He said the only electric car promotional commitment he has is next month in Charlotte, N.C.
The "Growing Pains" star is in town for the annual charity hockey event featuring celebrities and National Hockey League players.
SIGHTINGS
Wearing a surgical mask, two hoodies, a cap and sunglasses, Michael Jackson, with his three children and a half-dozen bodyguards, slipped into Nathan Burton's comedy magic show Saturday at the Flamingo after the lights went down. A handler said the kids wanted popcorn and water, "but no candy." When someone took a photo at the end of the show, a security guard ordered that it be deleted. … Hollywood director Jerry Bruckheimer, Cuba Gooding Jr. and Kiefer Sutherland, partying Saturday with some NHL players at Body English (Hard Rock Hotel). … Jamie Foxx, at the Flamingo on Saturday for The Time's show. … At Poetry (Forum Shops at Caesars) on Friday: Penelope Cruz, Eva Longoria Parker, Kevin Garnett, Bone Thugs-n-Harmony. … Three 6 Mafia, taking over the DJ booth at Jet Nightclub (Mirage) on Friday to introduce their songs to the crowd. … At Christian Audigier Nightclub (Treasure Island) on Friday: actress Tori Spelling and her husband, Dean McDermott. At LAX (Luxor) on Friday: Emmy-winning actress Jaime Pressly, celebrating her birthday with fiancé Eric Cubeechee and friends.
THE PUNCH LINE
"When he goes outside, people say, 'Can I get your autograph, Mr. Gore?' " — From David Letterman's "Top Ten Signs Your Cat is Too Fat."
Norm Clarke can be reached at (702) 383-0244 or norm@reviewjournal.com. Find additional sightings and more online at www.normclarke.com.