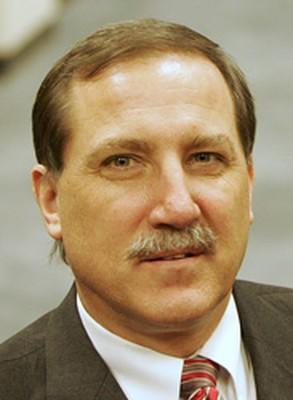 WASHINGTON — Justice Department officials last October considered Nevada to be a trouble spot for enforcement of voter fraud laws, fueling new speculation as to why Daniel Bogden may have been removed as U.S. attorney, according to interviews and documents that have been made public.
Handwritten notes found among documents handed over to Congress link Nevada for the first time to Republican complaints about vote integrity, and to calls by White House adviser Karl Rove for aggressive prosecution of election law crimes.
Information that has been uncovered so far offers no specifics as to what may have triggered the concern about Nevada, or whether it did, in fact, factor into the decision to fire Bogden, the district's chief federal prosecutor.
But a senior congressional aide said investigators for the House and Senate judiciary committees are pursuing the possible lead since it has remained unclear who targeted Bogden for removal and why, after his 16-year career as a federal prosecutor in Nevada, including six years as the state's U.S. attorney.
A dozen chief federal prosecutors are now known to have been let go or considered for dismissal last year, including seven fired on Dec. 7. Five have been identified as being from districts where Rove or other Republicans complained of problems enforcing election laws.
Bogden could not be reached via telephone or e-mail Monday.
Rep. Dean Heller, formerly the chief elections officer for Nevada, said he was unaware of any cases that would have triggered high-level concern about vote integrity in the state, which pioneered the use of "paper trail" electronic ballots that are believed to be more secure.
"I don't see it," said Heller, a Republican who was previously Nevada's secretary of state. "I really don't understand where that is coming from. I am unaware of any allegations or investigations that would have been connected to the U.S. attorney."
Larry Lomax, the Clark County registrar of voters, said federal, local and state authorities failed to pursue irregularities in the hotly contested 2004 election, to his disappointment.
A voter registration firm hired by Republicans was accused of destroying registration forms filled out by potential Democratic voters. At the same time, Democrat-affiliated firms were submitting fraudulent voter forms to the county, Lomax said.
"It was getting so bad we did call the FBI and turned over several boxes of fraudulent forms." Lomax said, but the feds passed on prosecution. He said he did not know what role the U.S. attorney's office played in the decision.
Investigators for the secretary of state later concluded it technically was not voter fraud, he said.
"That is the only year we ran into it, but I am very nervous about 2008," Lomax said, "We are still a battleground state."
Democrats who are exploring ties between the U.S. attorney firings and the Bush administration's emphasis on voter fraud point to accounts of a speech Rove delivered in April 2006 to the Republican National Lawyers Association.
Rove listed 11 states that could be important in 2008, including Wisconsin, Minnesota, Iowa, Arkansas Michigan, Nevada and New Mexico. He thanked the lawyers "for all you are doing in these hot spots to ensure the integrity of the ballot is protected," according to a report by McClatchy Newspapers.
As the year unfolded, U.S. attorneys were dismissed in Arkansas, Michigan, Nevada and New Mexico. The U.S. attorney in Milwaukee was identified for dismissal, but his job was spared.
"It is an interesting coincidence that Nevada is one of the same states that Karl Rove listed as being an important battleground," said Jon Summers, a spokesman for Sen. Harry Reid, D-Nev.
The Justice Department view on Nevada came to light in a telephone conversation last October between two department officials, according to documents and interviews conducted by investigators for the House and Senate judiciary committees.
Matthew Friedrich, an aide to Attorney General Alberto Gonzales, was assigned to check out White House complaints about voter problems in Philadelphia, New Mexico and Milwaukee, according to a senior Judiciary Committee aide familiar with the matter.
During the conversation, Benton Campbell, chief of staff in the Justice Department's criminal division, added Nevada and several other districts to a problem list, according to a handwritten note Friedrich took of the call and later explained to investigators.
Friedrich scrawled, "bad: Nevada, NM, MDGa, e-ny." Besides Nevada, the note referenced New Mexico, the Middle District of Georgia and the Eastern District of New York.
Friedrich told investigators he passed on the information to Kyle Sampson, who was Gonzales' chief of staff, but the matter was put aside because it was close to Election Day.
Justice Department spokesman Bryan Sierra on Monday said Campbell and Friedrich were discussing "enforcement trends" in different regions. He said Campbell had obtained his information from Craig Donsanto, head of the election crimes unit.
Sierra said because the matter is under investigation, he could not define further whether "bad" meant voter fraud, or Bogden's handling of it.
Election fraud "is not typically a charge we bring frequently," Sierra said. "There was a concern whether it was being underprosecuted."
Only 173 election fraud cases were filed by federal prosecutors from 1995 through 2006, according to data compiled by the Transactional Records Access Clearinghouse, a data research organization associated with Syracuse University.
One case was brought in Nevada, a 2005 prosecution developed by the National Park Service for which further details were not immediately available, according to TRAC data.
There's a simple reason why there are not more voter fraud prosecutions, said David Becker, a Justice Department civil rights attorney from 1998 to 2005.
"Study after study has indicated that you and I are much more likely to get hit by lightning than" to successfully commit voter fraud or attempt to commit it, said Becker, a director at People for the American Way.
"Firing a prosecutor for failing to find wide voter fraud is like firing a park ranger for failing to find Sasquatch," Michael Waldman and Justin Levitt, scholars at the Brennan Center for Justice at New York University School of Law, wrote in a Washington Post opinion piece on March 29.
Heller was involved in the most recent close federal election in the state. He beat then-Assemblywoman Sharron Angle by 428 votes in the GOP primary last August for the 2nd Congressional District.
Angle filed an election lawsuit in Carson City charging that some people were not allowed to vote because election workers were not properly trained, officials did not bring keys to open a polling place, some poll workers failed to show up on time, and some GOP voters were not given Republican primary ballots.
The lawsuit was dismissed by District Judge Bill Maddox, who ruled Angle had not met the burden of proof to nullify the election.