Rifle found in Great Basin park a worldwide sensation
January 25, 2015 - 11:31 am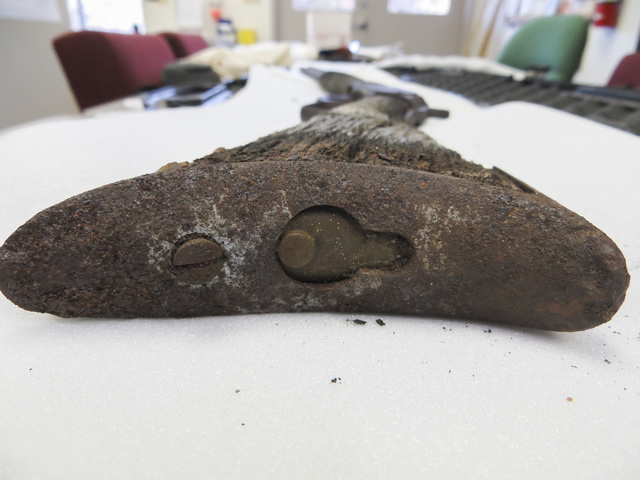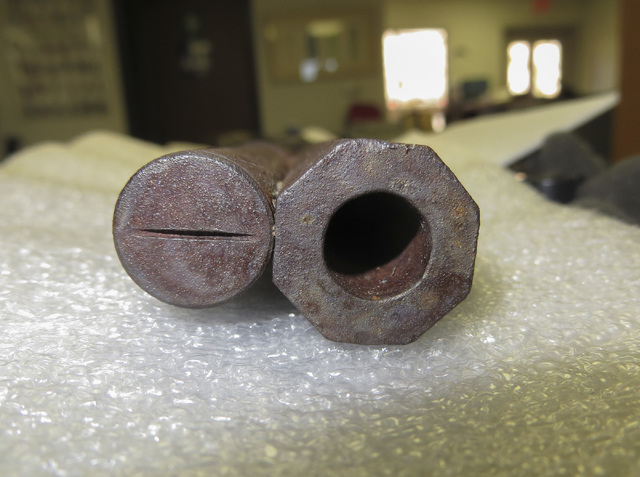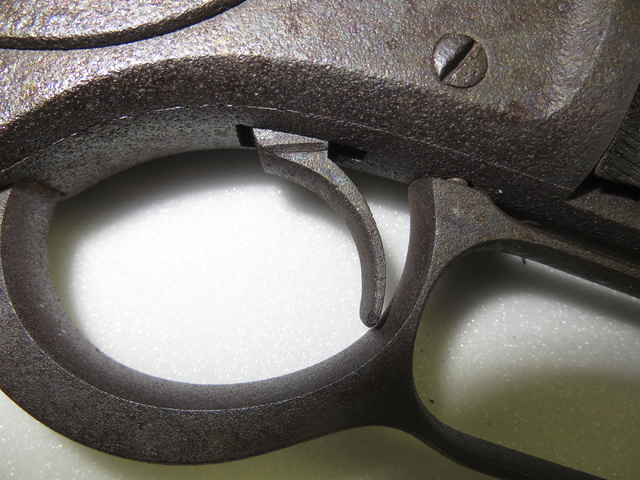 Since news of their discovery broke, researchers at Great Basin National Park have learned at least one new thing about the 132-year-old rifle they recently found leaning against a tree in the park: People everywhere really, really want to know more about this gun.
Park archaeologist Eva Jensen has been interviewed by the London Telegraph and read accounts of her unusual find on the websites of news outlets as far away as China and Japan. Almost 100 people, including some who drove roughly 4 hours from Las Vegas or Salt Lake City, came to see the rifle when the park put it on public display for a few hours last weekend.
What researchers still don't know — and might never know — is who the Winchester Model 1873 once belonged to, why it was left behind or how long it waited there for Jensen to find it.
"I think that's the lure of archaeology," she said. "There's always a mystery."
Jensen spotted the rifle leaning against a juniper tree on a remote outcrop in early November, during a federally mandated archaeological survey of an area where the park plans to trim trees and remove brush to reduce the impact of wildfires.
Jensen and her three-person team had stopped for lunch and were about to get back to the survey when she and a colleague decided to check some nearby rocks for petroglyphs and other artifacts.
"I walked around a tree and there was the rifle," she said. "It was so totally unexpected, but I recognized it instantly."
The butt of the the old Winchester was buried in four or five inches of dirt and debris from the tree, completely obscuring its metal butt plate and the lower portion of its stock. The metal was rusted. The stock looked like just another scrap of old, weathered wood. At another time of day, with the light and shadow falling differently on the scene, Jensen said she might never have noticed it.
Once their excitement died down, she said, "we documented it the way we do any artifact." They took photos and measurements and marked its GPS coordinates. Then they left it where it was, because they didn't know what might happen if they tried to move it.
"It was pretty hard. It looked like it had been there a while, so I was pretty sure it would still be there," Jensen said. "But it was a strange thing to find and then walk away from."
They returned a week later, after seeking out some advice on how best to remove it.
"The day we collected it was the day it started snowing," she said.
They plan to return to the area in the spring for a more thorough search using metal detectors. They will also explore the possibility, however remote, that the owner of the rifle is still up there waiting to be found. "We did look around the area, and we didn't find anything like that," Jensen said.
In her more than five years at Great Basin National Park and 26 years in archaeology, this is the first time she has been involved in — or even heard of — a discovery quite like this one. It's once-in-a-career sort of thing, if you're lucky, she said.
But not even that prepared her for the sort of worldwide buzz that has been sparked by a rifle Jensen charitably described as "not in collector's condition."
Since last week, the park's Facebook page has exploded with excitement and heated speculation about the discovery. There also has been a fair amount of skepticism from people who insist the the rifle would have disintegrated or been enveloped by the tree it if had really been left there decades ago.
Park officials have tried to counter that by explaining how long it takes for junipers to grow and for wood to deteriorate in arid country like the Great Basin.
Meanwhile online, the debate rages on. "It's international opinion now," Jensen said with a laugh. "We've gotten a lot of response."
Of course, all this attention also could help researchers crack the case of the abandoned rifle.
Jensen said they've gotten a few interesting leads so far, but nothing verifiable yet.
During last weekend's public viewing of the rifle at park headquarters, a man who seemed knowledgeable about old firearms pointed out what he said were signs of wear not caused by the elements. The man said the Winchester appeared to be missing pieces of its lever-action, suggesting it may have only worked as a single-shot rifle when it was left under the tree.
The gun was uncocked, its chamber and magazine empty when Jensen found it.
"From what we can tell so far, this was just someone's well-used tool," she said.
For now, the Winchester is being stored safely at the park. In the spring, it will be sent to conservation specialists at the Buffalo Bill Center of the West's Cody Firearms Museum in Cody, Wyo., to be stabilized in its current condition and returned to Great Basin for permanent display.
Jensen called on the same museum to help determine that the rifle was manufactured in February 1882 and shipped from Winchester's factory in New Haven, Conn., in June 1882. The Winchester records kept in Cody do not say where the gun was shipped or what happened to it after that.
Jensen doesn't expect the answers to come quickly or easily. Forget what you may have seen on "CSI"; there is no high-tech lab where Jensen and company can find out exactly how long the rifle was left out in the elements.
She and her fellow archaeologists plan to give talks about their discovery at scholarly gatherings in hopes it could lead to some help. Perhaps they will run across an expert somewhere who has been studying the way finished walnut and other hardwood weathers over time.
Jensen said there's an old saying in archaeology: "It's not what you find but what you find out."
Sure, sometimes that quest to "find out" leads only to frustration, Jensen said, but for people like her "it's a marvelous frustration."
Contact Henry Brean at hbrean@reviewjournal.com or 702-383-0350. Follow @RefriedBrean on Twitter.