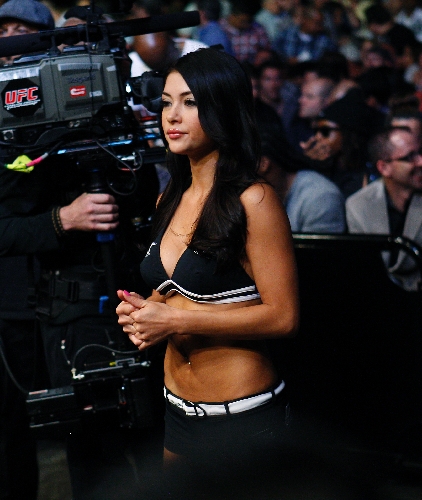 Arianny Celeste, the UFC octagon girl who landed in jail on domestic violence charges early Saturday, has deleted several pictures from her Twitter feed, including one of a mystery man showing affection.
The scrubbed photos appeared to have been taken in the hours before the incident.
The UFC glamour girl, who was booked under the name Arianny Lopez, was released on a $3,000 bond hours before UFC 146 and showed up in her ring girl costume for the second-to-last fight at the MGM Grand Garden.
She appeared in the cage for the first time during the Cain Velasquez-Antonio Silva introductions.
One of her co-ring girls, Brittney Palmer, tweeted a ringside photo with the caption: "Here she is!: @ariannyceleste your looking beautiful as always! Good to have you cage side."
Here is the link: http://bit.ly/Kuh8G9
Also deleted was a photo of Lopez making a crazy face a few hours before her arrest. She wrote: "I be going crayyyy ha hey bay bayyy."
Vegas Confidential has received what appears to be Lopez's booking mug shot, but we won't post it until we can confirm it was taken by the Metropolitan Police Department.
The police report of the incident has not been released either.
THE SCENE AND HEARD
Former heavyweight boxing champion George Foreman, a licensed minister, performed a wedding aboard the La Contessa yacht at Lake Las Vegas on Sunday. He officiated at the wedding of local residents Glen Uslan and Karen Dzajkich. Uslan's father, Stephen Uslan, had befriended Foreman in the Job Corps in 1967 after refusing to fire him for fighting. …
Kim Wagner of the KSNV-TV, Channel 3 morning show "Waking Up With the Wagners," is among the panel of Miss USA preliminary judges. That after her interview with Howard Stern for NBC Entertainment. She'll be live tweeting @KimNews3 starting Tuesday.
SIGHTINGS
Jennifer Lopez, playing her new single, "Goin' In," at Hyde Bellagio on Saturday after she and her ex, Marc Anthony, appeared together for their "¡Q'Viva! The Chosen" show at the Mandalay Bay Events Center. … Shania Twain, snuggling with her husband Frederic Thiebaud at "Zumanity" (New York-New York) on Saturday. … Oscar winner Jamie Foxx, rocking a New York Yankee hat and a three-inch beard at Rehab (Hard Rock Hotel) on Sunday. … Marc Anthony, Paris Hilton, Brandon Davis and actor Lukas Haas, at Marquee (Cosmopolitan) on Saturday … At Tryst (Wynn) on Saturday: Actor Benicio del Toro, Paris and Nicky Hilton, with Davis. Also there: Crystal Harris and famous Hollywood offspring Paulina Gretzky and Hannah Selleck, in matching Tryst hoodies. … Pro dancer Mark Ballas of "Dancing With the Stars," celebrating his 26th birthday on Saturday at Liquid Pool Lounge (Aria). … Rising teen Ellie Smith, singing the national anthem at the Los Angeles Dodgers game Thursday. Smith, 15, has performed for the Dodgers almost a dozen times since she was 9. She's taken her anti-bullying campaign song "Don't Let It Get To You" to more than 60 schools in the valley.
THE PUNCH LINE
"We're excited because we have a new show premiere tonight here on ABC, a singing competition show. It's about time somebody did one of those." – Jimmy Kimmel
Norm Clarke can be reached at 702-383-0244 or norm@reviewjournal.com. Find additional sightings and more online at www.normclarke.com. Follow Norm on Twitter @Norm_Clarke.