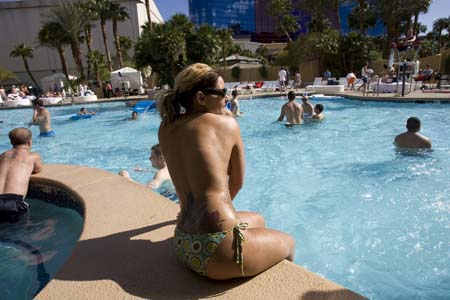 The Rio has indefinitely closed its adult-themed Sapphire Pool after it failed an "integrity check" by Las Vegas police on Saturday, the property's owner confirmed late Tuesday.
Harrah's Entertainment, which owns the Rio, asks the police to conduct periodic integrity checks on its nightclubs, pools and other amenities to make sure they are operating within the law.
The company would not discuss what was found.
The voluntary pool closing, which featured topless dancers from the Sapphire Gentlemen's Club, comes as Nevada gaming regulators are taking a closer look at the amenities that operate at businesses in casinos.
Gaming Control Board member Randall Sayre issued a letter in April saying regulators were taking a closer look at nightclubs, ultralounges and European pools where licensees might be found to "be indifferent to the conduct or welfare of patrons."