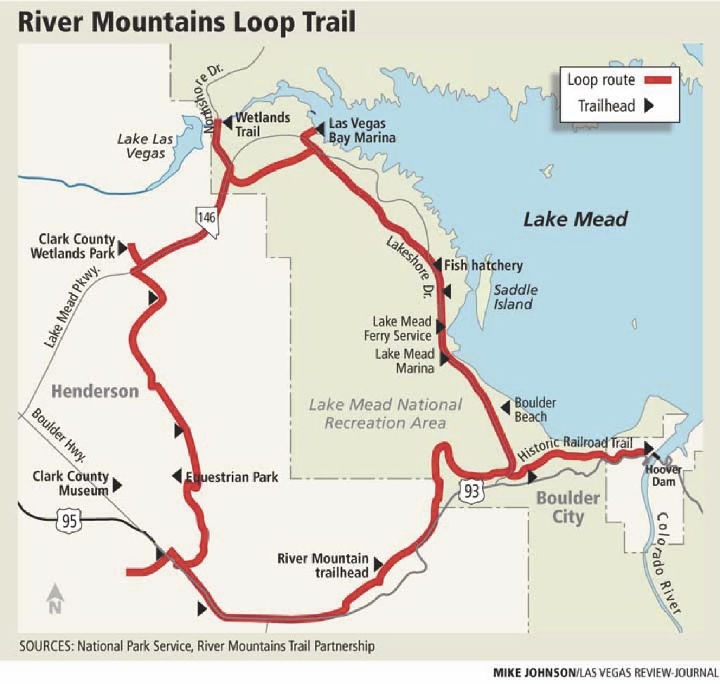 The 35-mile River Mountains Loop Trail, which connects Lake Mead National Recreation Area, Hoover Dam, Boulder City and Henderson to the rest of the Las Vegas Valley, became part of the National Trails System on Tuesday.
Interior Secretary Ken Salazar designated the River Mountains Loop Trail with 30 other trails in 14 states as part of the national system. The new trails add more than 716 miles to a network of 1,000 trails that stretch for more than 12,500 miles combined.
"From coast to coast, the National Trails System helps connect American families with the wonders of the great outdoors," Salazar said in an announcement in preparation for National Trails Day, which is June 5.
"These new national recreation trails, built through partnerships with local communities and stakeholders, will create new opportunities for fitness and stewardship while creating a lasting legacy for our children and grandchildren," he said.
Each trail will be designated with national recreation trail markers. Also, Salazar will provide local authorities and partners with a certificate and letter of congratulations.
To commemorate the occasion, every national park will waive entrance fees for the June 5 weekend "to help encourage people of all ages to get outside and use trails for exercise and exploration," the announcement said.
In 2007, the River Mountains Loop Trail was linked to a spur at Pacifica Way in Boulder City that connected it with the Historic Railroad Trail, which overlooks Lake Mead's Boulder Basin and extends to the parking structure at Hoover Dam.
That stretch covers more than seven miles and is a popular path used by hikers and bicyclists away from highway traffic.
The effort to connect the loop spur with the Historic Railroad Trail was attributed to the River Mountains Loop Trail Partnership.
Funding and labor for the project were provided by the National Park Service, the Bureau of Reclamation, the Federal Highway Administration, the Nevada Department of Transportation and Boulder City.
The railroad trail cuts through volcanic rock cliffs and winds through sunlit boulders and into the cool shade of five historic railroad tunnels.
Construction of the railroad began in 1931 to haul building materials and equipment to build on the Colorado River what then was called Boulder Dam.
In all, 30 miles of railroad connected Boulder City with cement and gravel plants and a quarry pit used to build the dam. Wooden ties made from Oregon fir trees supported the rails where nine steam locomotives and four gas engines were operated by a crew of 71, according to the National Park Service.
The Six Companies Railroad, as it was called, was abandoned after the dam's completion in 1935. A remaining section was used until 1961, when the dam's last hydroelectric generator was installed.
Contact reporter Keith Rogers at krogers@reviewjournal.com or 702-383-0308.