Rocket Man's temper explodes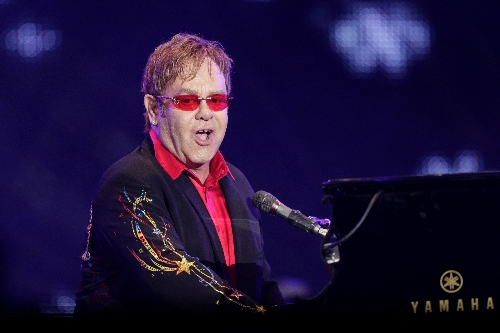 Pop diva Elton John threw one of his infamous tantrums Friday, making a watery mess onstage and tossing a stool while hinting that heads were going to roll.
Stagehands at the Colosseum, home to his "Million Dollar Piano" show, were seen mopping up water four times. John, 65, would take a drink from a water container, then angrily splash it onstage.
A smattering of boos were heard during his blowup.
During the series of outbursts, the Rocket Man appeared to be angry at his management team, suggesting in X-rated language that someone was getting "(bleeping) fired," a backstage spy said.
"He made an ass of himself," the source said.
The six-time Grammy winner started his Caesars Palace show 20 minutes late and ended it about 25 minutes early, according to the source.
Near the end of the show, showgoers were allowed onstage to dance to "Saturday Night's Alright (for Fighting)," but the band stopped abruptly and the people were ushered back off stage.
John came out onstage for the finale, "The Circle of Love," and then left the stage.
The audience gave him an ovation for about five minutes, hoping for an encore, but he didn't return.
"Not a word to the audience or a thank you to the band," one of the sources said.
His latest diva behavior may have been costly. The show was being filmed by almost a dozen cameras. A dancer posted a tweet on her Twitter feed saying she was shooting a video with the singing legend.
PAYING HOMAGE
It was a full-circle moment for celebrity chef Gordon Ramsay.
He was working the line in the kitchen of his new restaurant, Gordon Ramsay Steak, over the weekend at Paris Las Vegas when a familiar face in the dining room caught his attention.
Seated at a table was one of the most influential mentors in Ramsay's career, French culinary icon Guy Savoy.
"That's the first time all week I actually" lost control of a body function, Ramsay said in his earthiest language.
At 22, Ramsay was working in Savoy's kitchen, soaking up everything he could in hopes of reaching Savoy's skill level.
Friday, Savoy was paying homage at a private party after the Grand Tasting at the Garden of the Gods pools at Caesars.
Savoy came by our table for a chat that included the inevitable queries about his former student. Savoy rapped his knuckles against his forehead.
"Strong head," Savoy said. "But I like strong heads."
When Ramsay joined our table, Savoy's story came up.
Ramsay recalled an occasion when they had a disagreement over Ramsay's six-days-a-week work schedule.
What Savoy didn't know, because Ramsay wouldn't use it as a excuse, was the young Brit was working the seventh day at a brasserie to make ends meet and was exhausted.
Ramsay said he explained it to Savoy years later, after Ramsay nailed a three-star Michelin ranking.
"Guy was still at two stars," said Ramsay, devilishly.
THE SCENE AND HEARD
Among the rumblings at Vegas Uncork'd by Bon Appetit: Ramsay's long-rumored second location in Las Vegas, a gastropub, is reportedly going into the Bradley Ogden Restaurant space at Caesars Palace. …
New York City chef Bobby Flay came up with one of the most buzzed-about dishes of the Vegas Uncork'd weekend. The first course at his Masters Series dinner at Mesa Grill in Caesars Palace was Dungeness crab in New Mexico red chile corn bisque. The reason you haven't seen it at his restaurants, Flay said, is because it would have to go for about $30. Otherwordly.
SIGHTINGS
Legendary illusionist Siegfried Fischbacher, wearing an eyepatch Friday at the Señoras of Excellence and Señores of Distinction event at Caesars Palace. Accompanying him was magic partner Roy Horn. They were there to support longtime personal manager Lynette Chappell, who appeared in Siegfried & Roy's magic show. … Music artist Sean Paul, dining Friday at Tao Asian Bistro (The Venetian).
THE PUNCH LINE
"Isn't it odd how history's greatest monsters have an artistic side? Osama bin Laden was a writer. Hitler was a painter. Justin Bieber is a singer." – Craig Ferguson
Norm Clarke can be reached at 702-383-0244 or norm@reviewjournal.com. Find additional sightings and more online at www.normclarke.com. Follow Norm on Twitter @Norm_Clarke.