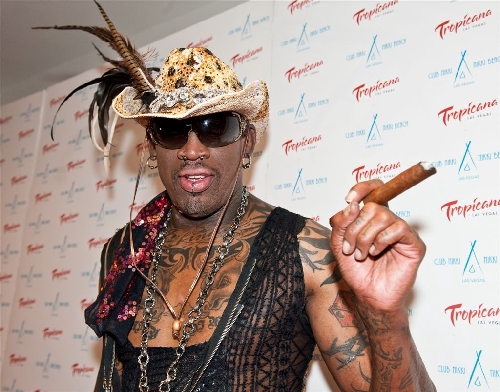 Dennis Rodman was tatted, hatted and ready to take his Hall of Fame celebration to Vegas over the weekend. He was so cheery, he hugged me.
Rodman got into the Naismith Memorial Basketball Hall of Fame this month despite haters such as Bill Walton (who used to grouch on TV about Rodman's style) and various sports reporters.
But Rodman wasn't holding any grudges Saturday. He smoked a cigar in a Club Nikki booth, surrounded by women.
I asked him about the haters, but he chose to focus on the positive.
"I love people. That's why I get emotional," Rodman said, referring in part to his emotional Hall of Fame speech.
"People made me. I didn't make myself. They made me. My teammates and everybody around the world made me. So you give back. Give back, bro."
He said his kids are the only people he plays pickup ball with, although he does chat with old teammates from Chicago and Detroit, where he won five championship rings, several Defensive Player of the Year awards and seven straight rebounding titles.
Because Rodman was on "Celebrity Rehab With Dr. Drew," I asked him how real the show is. He answered this way:
"It's amazing how the show puts people's minds in different perspective. Drew is a good guy. But it's very difficult to go on a show like that for 19 days and be sober or drug-free. It's very difficult."
Rodman has been living in Miami. I asked why he doesn't live here.
"Why the (expletive) would I do that?" he said and laughed.
He wouldn't survive, he said.
"Oh, hell no! Are you out of your mind?"
A GNR STORY
Speaking of people who have been on "Celebrity Rehab" recently, Vegas publicist Laura Herlovich says ex-Guns N' Roses drummer Steven Adler once gave her the shirt off his back — literally.
She was working at the Aladdin in 1988 and 1989, when she was tasked to set him up with a room. He wanted to see Frankie Valli. She got him tickets and a meet-and-greet.
The next day, Adler went to Herlovich's office, took off his stage shirt (a sleeveless tank) and handed it to her.
"He walked out of my office shirtless," she says.
A couple of years later, she picked up Axl Rose from the airport and took him to his suite. He didn't give her a shirt but was grateful — "and he was very excited to show me the bidet. Not sure why."
"Over many years, I have done a lot of favors for rock stars — their appreciation has varied, and many times it is nonexistent. Steven is the only one who has ever given me the shirt off his back."
COMING UP
Actor Michael Rapaport and Phife Dawg appear Wednesday at Lavo at Palazzo to promote the documentary Rapaport directed, "Beats, Rhymes & Life: The Travels of A Tribe Called Quest."
WHAT'S A SNOOKI?
Nicole "Snooki" Polizzi barred me from her red carpet at a hotel pool this weekend, apparently because she was afraid to answer my questions.
I told this story to someone, who then asked me: What's a Snooki?
"An STD," I joked, then explained Snooki is known for sleeping with people, drinking and falling over on TV.
"I thought Snooki was a guy," she said.
Snooki could take lessons on manners from Dennis Rodman.
Doug Elfman's column appears on Sundays, Mondays, Tuesdays and Fridays. Contact him at delfman@reviewjournal.com. He also blogs at reviewjournal.com/elfman.