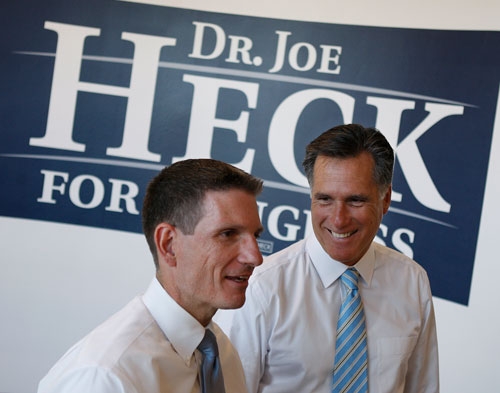 Mitt Romney, who won the GOP presidential caucus in Nevada in 2008, returned Tuesday to provide a bit of political payback for one of his early supporters, Joe Heck, a Republican he endorsed in the race against Rep. Dina Titus, a vulnerable freshman Democrat.
Although Romney lent his national fundraising and political star power to Heck, he refused to get involved in the crowded and contentious U.S. Senate contest, saying he didn't know which Republican to back against Sen. Harry Reid, the powerful Democratic leader who is also in a toss-up race.
"It's a wonderful field, and I don't know all the candidates," Romney said, although several of the Senate contenders in the Republican primary supported the former Massachusetts governor's presidential bid, including financially. "I tend not to get involved in primary campaigns."
Wall Street investment banker John Chachas, an Ely native and a dark horse Senate candidate who has many GOP contributor contacts, helped raise $70,000 for Romney's 2008 presidential bid and donated $2,300 himself in 2007, according to federal records.
Las Vegas Assemblyman Chad Christensen, who is running in the middle of the dozen-strong pack of GOP Senate contenders, was the first Nevada lawmaker to publicly endorse Romney two years ago. He also is friends with the ex-governor's two sons from his university days.
Christensen and Romney are both Mormons, whose strong support helped Romney win 51 percent of the caucus vote.
Former state Sen. Sue Lowden, the GOP front-runner in the Senate race, donated $1,000 to Romney in 2008. But Lowden also contributed to other Republican White House hopefuls who came to Nevada, so Romney doesn't consider her a loyal backer, one of his consultants said.
During his Las Vegas visit, Romney said Heck is a special case because the physician and former state senator worked hard to boost him in the Nevada caucus over more well-known GOP contenders, including Sen. John McCain, who focused his efforts on the South Carolina primary instead.
"Joe was extraordinarily helpful to me in my presidential run," Romney said, adding that Heck faces weak GOP opposition in the Congressional District 3 primary and is, "how shall I say it, the prohibitive favorite in this primary, so we made an exception in this race. But most primaries I'm not participating in."
Romney's comments came as he attended a pulled pork and spare rib barbecue fundraiser for Heck at the opening of his campaign headquarters.
About 100 supporters paid at least $100 for lunch set out on tables in the parking lot and at least $500 to get a bite and their picture with Romney.
Last month, when Romney first endorsed Heck, he announced that his Free and Strong America political action committee was donating $2,500 to Heck's primary campaign.
The PAC raised $1.45 million during the first quarter of 2010 and donated $1.28 million to candidates across the country, putting the rainmaker Romney in a position of power by crowning conservatives in key races.
Both Reid and Titus are top targets of the national Republican Party, which is hoping to remove the Senate majority leader and possibly take back control of the House by whipping freshman Democrats in competitive districts who were elected on President Barack Obama's coattails.
Romney painted Titus as a tax-and-spend liberal, pointing to the massive stimulus bill and government bailouts as examples of Washington out of control under Democratic Party leadership.
"Her record of voting for spending and for borrowing is so extreme that I think if Joe was able to point out what she has done and contrast that with what he has done and with his vision for strengthening the country, I think he wins this," Romney said, adding that voters have "buyer's remorse."
Heck said he will take Romney's advice.
"She doesn't listen to the people who live in CD3," Heck said, adding that his four years as state senator showed him voters want limited government, lower taxes and a strong national defense.
The Titus campaign criticized Heck's record, saying he voted "with his party leader 97 percent of the time."
Other critics have said Heck has shifted to the right to appeal to conservatives.
"If you want someone who pledges to put insurance companies back in charge of your health care choices and stands with far-right groups that want to privatize Social Security and Medicare, then Joe Heck is your man," said Andrew Stoddard, spokesman for Titus.
"Dina Titus always puts Nevadans first, from keeping people in their homes by fighting the foreclosure crisis and relentlessly calling on the Obama administration to do more, to cutting taxes for 98 percent of Nevadans."
A recent poll commissioned by the Review-Journal showed Heck edging out Titus if the general election were held today, winning 49 percent of the vote compared with 44 percent for her.
On the U.S. Senate race, Romney is likely keeping his options open because the Republican primary is competitive and because he doesn't want to risk offending the ultimate GOP nominee — and possible next senator — whose support he might need for his own expected 2012 White House campaign.
"I certainly plan on coming back and working for Joe Heck from time to time and, of course, other Republican candidates like the U.S. Senate nominee," Romney said diplomatically.
As for his future, Romney was coy, although he has been traveling the country endorsing candidates, promoting his book, "No Apology," and building the national support he will need for a White House bid.
"My horizon is through November of '10, and after that, we'll think about what the future holds," said a tanned and relaxed Romney, who has been living in California after selling his house in Massachusetts, prompting speculation that he is shoring up his West Coast support for 2012.
Contact Laura Myers at lmyers@reviewjournal.com or 702-387-2919.