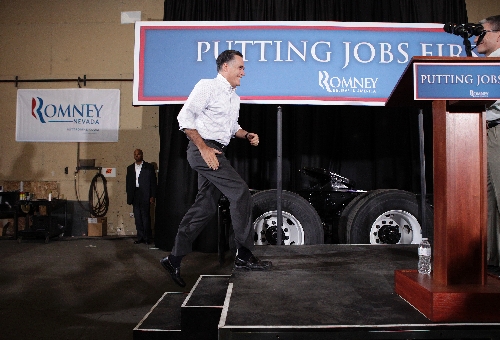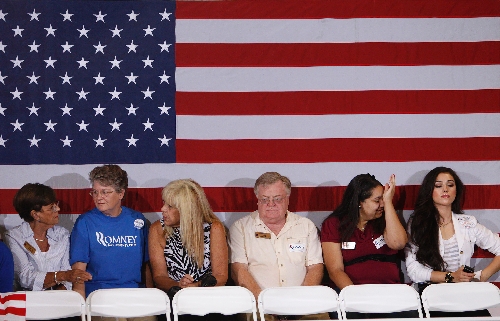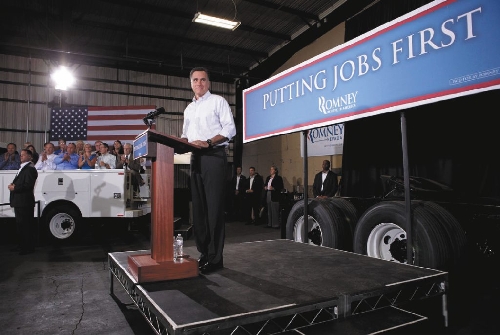 In a quick visit to North Las Vegas, GOP presidential candidate Mitt Romney on Friday slammed President Barack Obama for economic policies he said have stifled small business and kept millions of people out of work as the unemployment rate continues to rise.
Romney also forcefully rejected U.S. Sen. Harry Reid's assertion he hadn't paid taxes in 10 years.
"I have paid taxes every year. And a lot of taxes," Romney said in a news conference after the speech, marking the first time the candidate himself rejected the unsubstantiated charges. "So Harry is wrong."
At the top of his 20-minute speech, Romney noted that the city of North Las Vegas has been in such dire economic straights that officials recently declared a fiscal disaster in a state with the nation's highest joblessness.
"We thought things would be better, but they're not," Romney said, speaking to several hundred supporters packed inside a trucking warehouse. "This is a place that's really struggling."
Nevada, a battleground state in the presidential election, has the highest unemployment rate in the nation at 11.6 percent. Both Romney and Obama have focused on the Silver State as part of their strategy to win on Nov. 6. Romney has visited at least half a dozen times during the campaign, and Obama about double that as president.
Romney called the new unemployment report released Friday "another hammer blow to struggling middle class families in America." The jobless rate ticked up to 8.3 percent nationwide, although more than 160,000 jobs were created in July. "I'll get America working again," the Republican promised.
Romney said his five-point economic plan would create 12 million jobs over four years. He touted his experience at Bain Capital, noting the Staples office supply company he helped launch has 90,000 workers today. He compared that with the clean-energy company Solyndra, which failed after the Obama administration pumped more than $500 million of federal money into the company.
"If we go down the road we're on now you're going to see bigger and bigger government and fewer and fewer jobs," Romney said, standing in front of a white truck at Sierra Truck Body & Equipment. "The president doesn't understand how the private sector works. He doesn't understand how small business works."
In a speech frequently interrupted by applause, Romney reminded the audience Obama recently said to businesses "you didn't build that," suggesting that government provides supportive infrastructure to succeed.
"I couldn't believe what he said," said Romney, who rolled up his sleeves and went without a suit jacket in the humid warehouse. "It may go down as the most famous quote in his entire presidency."
Romney said that if he's elected, he would cut taxes for everybody, not just for the rich. He criticized the Obama campaign for saying he wanted to tax the middle class, calling the charge "simply false."
"Higher-income people are not going to pay a smaller share of taxes in America if I'm president," Romney said, "I will not raise taxes on the American people."
About two dozens protesters gathered outside the trucking warehouse.
"Show us your taxes! Show us your taxes!" the group yelled at one point.
One man held a sign that said, "Mitt Romney wants a new federal address. How about a federal penitentiary for tax fraud?"
In his 15-minute news conference, Romney accused Reid and Obama of trying to use the personal tax issue to deflect from the poor economy. And he challenged Reid to offer proof or be quiet.
"Harry Reid really has to put up or shut up," Romney said. "So, Harry, who are your sources?"
Romney called the tactics "politics at its worst."
Reid issued yet another statement Friday standing by his accusation, which he said is based on conversations he has had with people, including a former Bain investor.
"Today, the most secretive presidential candidate since Richard Nixon is coming to Nevada, asking to be elected president," Reid said in a statement released during Romney's visit. "Forget about president – Mitt Romney couldn't get confirmed as a Cabinet secretary. Every single nominee overseen by the Senate Finance Committee has to release more tax returns than Romney is willing to release.
"The contents of the one year of returns he has released would probably be enough to tank his nomination anyway. Secret overseas bank accounts in Switzerland and the Cayman Islands, tax avoidance tricks and a lower tax rate than middle-class families pay."
Obama's campaign and the Democratic Party have criticized Romney for releasing only two years of personal income tax returns, saying he should release at least a decade's worth.
Reid, with most members of Congress, has refused to release his tax records.
Romney's "Plan for a Stronger Middle Class" includes increasing energy independence, improving education and job training, increasing trade, reducing the deficit and helping small businesses – ideas he has touted for months without much detail. The Obama campaign has attacked the Romney's tax plan by pointing to a nonpartisan study that suggested it would boost middle class taxes and help the rich.
The Obama campaign on Friday launched a website that compares state by state the president's tax cut proposals with Romney's. It shows that in Nevada, for example, 1.2 million middle class residents would see a higher tax bill of $2,000 under Romney and a tax savings of $3,676 under Obama.
Obama campaign spokesman Ben LaBolt blamed the GOP for blocking more economic progress.
"There have now been 29 months of consecutive private sector job growth and we could do more today to create jobs if Mitt Romney and Republicans in Congress stopped obstructing the president's jobs plan to create 1 million jobs now and took immediate action to ensure taxes on middle class families don't go up," LaBolt said. "Governor Romney's plan for the middle class is nothing but a tax hike he would use to pay for tax cuts for millionaires and billionaires like himself – costing the average middle class family with children $2,000 a year."
Later Friday, Romney traveled to Reno, where GOP activist Patty Wade hosted a fundraiser in her home and for several other separate money-raising event. They raised more than $1 million for Romney's campaign and the Republican National Committee.
The North Las Vegas stop was scheduled at the last minute. The Romney campaign had decided not to hold a public campaign event in Reno out of respect for the family of Jonathan Blunk, a Reno native who was killed in the recent Colorado theater shootings. Blunk's funeral was Friday.
Contact reporter Laura Myers at lmyers@reviewjournal.com or 702-387-2919. Follow her on Twitter @lmyerslvrj.