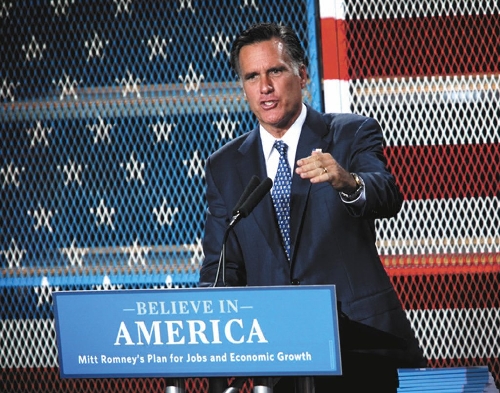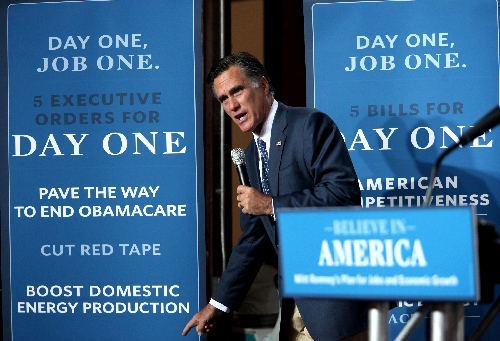 Backed by a banner reading, "Day One, Job One," GOP presidential candidate Mitt Romney on Tuesday unveiled a detailed, book-size economic plan he said would create 11.5 million private-sector jobs and lead to 4 percent annual growth in the U.S. economy in his first White House term.
"America should be a job machine," Romney said, speaking to 400 supporters crammed amid big rigs in a North Las Vegas trucking company's repair shop. "Growth is the answer, not government."
Romney said he would ask Congress on his first day in office to approve five major bills to boost the economy, including one to drop the corporate tax rate from 35 percent to 25 percent and another to immediately cut discretionary federal spending by 5 percent to save $20 billion.
Although he didn't propose cuts in personal income tax rates, Romney said that they wouldn't go up and that he would eventually overhaul the system to make taxes "lower and flatter" across a broader base. Romney said he would help the middle class by eliminating taxes on savings such as interest, dividends and capital gains for people making $200,000 or less a year. He also would get rid of the estate tax.
Romney rolled out his plan during a campaign stop in North Las Vegas at McCandless International Trucks. It came as President Barack Obama is scheduled to address a joint session of Congress on Thursday to propose ways to revive the stagnant economy .
"He's not a bad guy; he just doesn't have a clue," Romney said, dismissing Obama as inexperienced in the real world of business. "He just doesn't know how the economy works."
Romney said the president's policies such as the $787 billion stimulus were not working because he's like a man stuffing quarters into an old pay phone that is no longer relevant in a wireless world.
"President Obama's strategy is a pay-phone strategy, and we're in a smartphone world," Romney said, holding up his iPhone as proof. "Your pay-phone strategy is not working."
The former investment banker and governor of Massachusetts described his proposals, outlined in a 160-page book titled "Believe in America," as "a business plan for the American economy."
Romney argues his business experience makes him more qualified than his GOP presidential opponents and Obama to pull America out of the recession .
The Romney campaign said if all of his proposals were adopted, the national unemployment rate would fall to 5.9 percent by the end of his first term in 2016, setting a high standard. Now, the jobless rate is 9.1 percent nationally, 12.9 percent in Nevada and 14 percent in Las Vegas.
Ahead of Romney's speech, Senate Majority Leader Steven Horsford and state Sen. Mo Denis, both of Las Vegas, criticized Romney for not meeting with jobless constituents while in town. They also slammed Romney for working for an investment bank that often invested in companies that laid off workers or sent jobs overseas.
"Governor Romney has made a living killing middle class jobs," Horsford said.
The Democratic National Committee said Romney's plan is full of stale ideas.
"The fact is, if Mitt Romney has expressed a single original idea on the economy in the entire time he has been running for president — for the second time — you could auction it off on eBay in the rare stamp collection area," said Brad Woodhouse, DNC communications director.
Jon Huntsman, a former Utah governor, also took a jab at his GOP opponent, releasing a video criticizing Romney's record. Huntsman noted that Utah was No. 1 in job creation under his leadership while Massachusetts was No. 47 during the Romney administration.
Texas Gov. Rick Perry's campaign dismissed Romney's record, saying he "failed to create a pro-jobs environment and failed to institute many of the reforms he now claims to support."
"Among all the candidates for president, Governor Rick Perry has the strongest record of creating a climate of job creation by limiting taxes, burdensome regulations and the size and scope of government," said Mark Miner, Perry's national press secretary. "Governor Perry's conservative leadership helped Texans create 40 percent of all the net new jobs created in America since June 2009."
Critics note that most of those Texas jobs were minimum-wage work.
Romney said that besides tax cut and spending cut bills, he would introduce legislation to implement stalled free trade agreements with Colombia, Panama and South Korea; initiate oil leases in areas already approved for exploration while surveying domestic energy reserves; and consolidate federal job retraining programs to give money and responsibility back to states.
He proposed five executive orders that are mostly aimed at undoing Obama's policies.
One would start to dismantle the federal health care insurance law to return "maximum possible authority to the states to innovate and design health care solutions that work best for them." As governor, Romney imposed a similar health care law to Obama's . But the GOP candidate argues that states, not federal government, should lead in cutting health costs.
Another order would eliminate Obama-era regulations that Romney contends burden the economy and job creation. He also said he would cap annual federal spending on new regulations.
Romney would direct the Interior Department to rapidly issue drilling permits to developers with good safety records and use preapproved techniques to avoid BP-like accidents.
On trade, Romney said he would ask the Treasury Department to list China as a currency manipulator and impose duties on Chinese imports if the country doesn't float its currency. U.S. officials have long accused China's government of unfair trade practices.
The fifth executive order aimed at unions would reverse orders approved by Obama that Romney said "tilt the playing field in favor of organized labor," including one encouraging using union workers on government construction projects. Unions are major contributors to Obama and Democrats.
While Romney would crack down on China, he said open and free trade between the United States and other countries is key to future economic growth.
Romney said he would promote trade by creating a "Reagan Economic Zone," named for the former president, to encourage multilateral free enterprise and free trade agreements between the United States and other countries.
"This nation cannot be stopped," said Romney, adding he believes America's future is bright with the right leadership and fewer federal handcuffs.
"The only thing stopping us right now is government."
Contact Laura Myers at lmyers@reviewjournal.com or 702-387-2919. Follow @lmyerslvrj on Twitter.
Mitt Romney's Plan For Jobs And Economic Growth