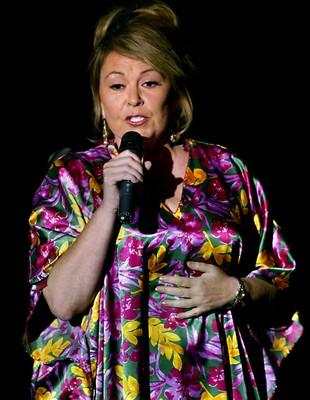 Roseanne Barr says she's interested.
With rumors flying that she's on the short list to replace Rosie O'Donnell on "The View," Barr told KVVU-TV, Channel 5, that she would welcome the opportunity.
However, she emphasized that she has had no contact with the show's executives.
She told the KVVU morning show team that she would be good at stirring up controversies of her own.
Barr, a headliner at New York-New York, angered gays and lesbians last month when she told her radio show listeners she was tired of gays "only talking about gay issues."
MEDIA UPDATE
Michael O'Brian, who recently moved over to the morning slot at KKLZ-FM 96.3, is stepping down as the program director of Beasley Broadcasting sister station KSTJ-FM 97.1 to focus on the Tofte-O'Brian Morning Show. Don Hallett takes over as PD beginning May 7th. …
Carol Kahn hosts "The Vegas Insider" at 10 a.m. every Sunday on KNEWS-AM 970. She calls it "a combination of Larry King meets Oprah Winfrey."
THE SCENE AND HEARD
If the latest rumblings are true about a Britney Spears' comeback, her first public appearances could be at the House of Blues in Southern California and Las Vegas. She had planned a surprise show last week at Ivan Kane's Forty Deuce burlesque hotspot in Hollywood after quietly rehearsing there. But her first show in years was canceled at the last minute. …
Durango High School graduate Cerina Vincent has a new book coming out this week. The former Miss Nevada Teen USA, who has built a horror-flick fan base, has co-authored "How to Eat Like a Hot Chick" with galpal Jodi Lipper. You'll find a sample chapter at www.hey dayproductions.com, with tips on what to eat and drink to stay hot. Vincent's next film, "Everybody Wants to Be An Italian," comes out late this summer. …
Disgraced Olympic skater Tonya Harding will be signing autographs at the Galleria mall Friday, from 5-8 p.m. and on Saturday and Sunday, 11 a.m.-4 p.m., both days.
SIGHTINGS
Tom Cruise and Katie Holmes, turning heads during dinner Friday at SW Steakhouse (Wynn). … Kiefer Sutherland of "24" fame, dining at Wolfgang Puck's Chinois (Forum Shops at Caesars) on Saturday night. … At the Lili Claire Foundation benefit Saturday at Mandalay Bay: Jason Alexander, Danny Bonaduce, Toni Braxton, Vince Neil, Nikki Sixx, Gov. Jim Gibbons and first lady Dawn Gibbons, Eric Close of "Without a Trace," Jonathan Silverman, Clint Holmes, Tracy Bingham, Gena Lee Nolin and Riall Johnson. The event raised more than $1 million to assist Southern Nevada children with neuro-developmental conditions. … At the Hard Rock Hotel: Akon, performing poolside at Rehab's opener. Later he celebrated his birthday at Body English. Also in Body English: Kansas City Chiefs tight end Tony Gonzalez, poker star Antonio Esfandiari and Taye Diggs. New England Patriots quarterback Tom Brady and New York nightclub operator Scott Sartiano, dining at Nobu. … Comedian David Brenner and Kevin Spirtas of "Days of Our Lives," in the audience at "Monty Python's Spamalot" (Wynn) on Saturday. … Co-phantom Brent Barrett of "Phantom: The Las Vegas Spectacular" (Paris) and Hans Klok of the upcoming "The Beauty of Magic" (Planet Hollywood Resort), among a group in the VIP area of Voodoo Lounge on Saturday.
THE PUNCH LINE
"Saddam Hussein would have been 70 years old tomorrow. And if you're looking for a gift, he could really use an air conditioner." – David Letterman
Norm Clarke can be reached at 383-0244 or norm@reviewjournal.com. Find additional sightings and more online at www.normclarke.com.
NORM CLARKEMORE COLUMNS