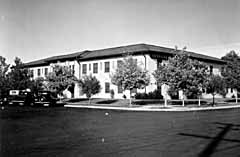 The young doctor stepped off the train that had deposited him in the dusty, desiccated tent town of Las Vegas. He was not impressed. It was August, and the temperature was past the century mark. Only three months before, the town had been created in the span of two days when the San Pedro, Los Angeles and Salt Lake Railroad auctioned off townsites in what is now the core of downtown.
Now, Dr. Royce Wood Martin, who went by "Roy," surveyed a cluster of wood-framed tents, one of which was a "hotel" where dust-covered men paid a dollar for the privilege of spending eight hours sleeping in a bed with a dust-covered stranger.
"There was only one train a day then, and it left at night," Martin recalled in later years. "I was going to take it that same night." His destination was the Bullfrog Mining District and the town of Rhyolite.
To kill time, Martin strolled the bustling streets of Las Vegas, stopping to talk to the locals, who were unanimous in their denunciation of Bullfrog District as a "has-been" place, and in their confidence about their own fledgling community. At one point, Martin encountered another physician, who was somewhat less enamored of Las Vegas, and offered to sell him his entire practice, with equipment, for $10, the cost of a railroad ticket to Los Angeles.
Problem was, Martin didn't have a spare sawbuck. To raise it, he asked around until he had located the town's fastest runner, and challenged him to a foot race. The purse was $10. Martin, a sprinter in his college days, won the race, collected the money, paid off the doctor and decided that Las Vegas might be a good place to stop a while. He stayed 38 years.
Martin was born Nov. 16, 1874, at Table Rock, Neb. The eldest of five children — three boys and two girls — he shouldered much of the responsibility for helping run the household and supervising his siblings.
He entered the University Medical College at Kansas City, Mo. in 1899, and emerged in 1903 with his M.D.
Martin married his high school sweetie, Nellie Cotton, and for a wedding gift, gave her a grand piano which is now owned by his granddaughter, Julie Jones of Las Vegas. The couple subsequently had two daughters, Frances and Mazie. The family home was on the southwest corner of Fifth and Fremont streets, a concrete block structure described by Las Vegas Age Editor C.P. "Pop" Squires as being "of Japanese design." By 1912, Martin was vice president of the Las Vegas Home Builders Association, which constructed four- and five-room cottages of concrete block.
The town was crude, some of its inhabitants cruder still, but it was infused with the optimism that characterizes most boomtowns, and seemed to hold promise for an entrepreneurial young doctor.
He hung his first shingle on an 8-foot by 10-foot framed tent at Stewart Avenue and Third Street. Four months after his arrival, he was appointed chief surgeon for the Las Vegas & Tonopah Railroad, a position he held for nearly 12 years. The railroad provided him a second hospital — another tent — but with 10 cots and, according to his daughter, Mazie Martin Jones, a "makeshift operating room where only minor surgery was done, except in emergency cases." His counterpart was Dr. Halle Hewetson, the surgeon for the San Pedro, Los Angeles & Salt Lake Railroad. The two doctors often assisted and relieved each other.
According to Squires, neither surgeon did much cutting in their tent hospitals, particularly in summer when oppressive heat made it too risky for the patient. The standard procedure was to stabilize patients and put them on the train to Los Angeles. Or, if the surgery was essential, the operation would be performed at 4 a.m., the coolest time of day.
Martin made house calls. He also made mining camp calls to Goodsprings and more remote workings; brothel calls to the ladies of Block 16; and Indian village calls to the Paiute colony near the Kiel Ranch in what is now North Las Vegas.
"He would answer any call for help from anyone anywhere, anytime," says Frances Donnelly, his eldest daughter. "He paid a lot of attention to the minorities in this town; at his funeral, people of all colors came to pay their respects."
Martin was a country doctor in a very large country; often as much a race car driver as a physician. In what must have been a record for the time, Martin drove from Las Vegas to Arden, where a U.S. Gypsum worker had been injured in a rock fall. He gave the man first aid, then loaded him aboard the No. 4 train to Las Vegas. The train slid along on smooth steel rails. Martin bounded along on a dusty, rutted cowpath — and he beat the train to Las Vegas. In 1927, he drove to Baker, Calif., a distance of over 90 miles — on a road that was mostly sand, rocks and misfortune — in less than two hours.
Sometimes, the problem was the patient, not the terrain. Summoned to a home where a screaming wife in labor had sent her husband into hysterics, Martin listened quietly as the man threatened him with violence if he did not alleviate his wife's pain. Asked in later years how he handled the situation, Martin offered a simple explanation.
"I knocked him out," he said. Mother, baby and dad all recovered nicely.
To maintain the stamina needed to keep up the pace he set for himself, Martin adhered to a rigorous diet, avoiding fatty foods, eating plenty of fresh fruits and vegetables. His one vice, says Donnelly, was unfiltered Lucky Strike cigarettes. Sadly, that habit may have contributed to his eventual demise.
Aside from the inevitable mining accidents, most of Martin's business was provided by the gun, the knife and the stork. Squires observed that by the 1930s, Martin had delivered most of the town's population.
One of his first patients was night watchman Joe Mulholland. He and William McCarthy were battling dehydration at Arthur Frye's saloon on First Street, when a quarrel erupted over the ownership of a ring, and McCarthy settled it by drawing a pistol and giving Mulholland a hot lead injection. Martin couldn't help, and the watchman died.
In June 1906, Martin moved his hospital to a suite of offices upstairs in the Thomas Building at First and Fremont streets. It was a great improvement with a dozen beds, a private room, and a pharmacy. In 1911, Martin and his colleague, Dr. H.H. Clark, remodeled the facility. It then boasted its own heating plant, electric fans and appliances, X-Ray machine and a kitchen. In 1916, he built the first hospital in booming Goodsprings. The Las Vegas Age reported it to be "of sufficient size to accommodate the receiving hospital, office and a supply of drugs for the district."
In 1917, he announced plans for the Las Vegas General Hospital. It was to be located at Ogden Avenue and Second Street. However, his attempts to form a hospital association failed and the project was shelved. Instead, he purchased the Palace Hotel, plus two cottages on Second Street, for about $10,000. The Palace had been the first two-story building in Las Vegas. Martin set about modernizing it, soundproofing the walls with felt, replacing the wooden interior walls with plastered ones. When completed, it had 12 beds, a modern ventilation system, an electric elevator, maternity ward and a second-story balcony that wrapped around the entire structure, providing patients with a place to take the cool evening breezes. His associates were Dr. Forrest Mildren and Dr. F.M. Ferguson.
In early 1931, Drs. Martin, Ferguson and R.D. Balcum formed the Las Vegas Hospital Association, with the intention of finally building the hospital Martin had proposed in 1917. The agreement was that Martin would build the structure, and the other doctors would furnish and supply it. In April, 1931, Martin bought 16 lots on Eighth Street between Ogden and Stewart avenues from a Mrs. Moffatt. He told the Las Vegas Evening Review-Journal that he had retained architect A.L. Warwick to design the hospital, which would be "a two-story structure, built of gypsum blocks, stuccoed outside, finished in white with a red tiled roof, in the typical Spanish style so well adapted for this country." Total cost would be about $100,000. The Las Vegas Hospital was a state-of-the art, 35-bed facility. It had laboratories, maternity ward, an X-Ray machine, five treatment rooms, a tilting operating table, and an advanced lighting system in the operating room.
As the summer of 1931 approached, Martin arranged for his wife and daughters to take a tour of Europe. They first drove cross-country in a Ford, shipped it overseas, toured the continent in it, and drove it back to Las Vegas in time for his daughter, Frances, to resume her studies at Scripps College in Southern California.
"With his family out of the way, he could focus on planning his hospital," laughed the grown-up Frances Donnelly in retrospect. It opened in December, 1931.
Martin sold his interest in the hospital in 1937, planning to retire. But, according to other daughter Mazie Martin Jones, he was stuck with more than $80,000 in bad debts. Even so, he joined his old Las Vegas Hospital on Second Street with a house he owned next door to create the El Patio Motel, which he operated until 1941.
He enthusiastically speculated in real estate, sometimes alone, more often as a member of a syndicate. Martin was quick to grubstake a prospector and was an investor in several mining ventures, mostly in the Goodsprings and Eldorado Canyon areas. In the 1920s, he owned and developed the Nelson townsite in Eldorado Canyon, but abandoned the project by the end of the decade.
Sometime after 1926, Martin sold his lots at Second and Fremont for $30,000 to P.O. Silvagni, who erected the 100-room Apache Hotel, which was later acquired by Benny Binion and renamed the Horseshoe Casino.
Martin had always harbored an interest in politics of the Republican stripe, and was elected to the Clark County Republican Committee in 1910 and 1924. Two years later, he was the Clark County delegate to the state GOP convention, and was a delegate to the 1928 national convention that nominated Herbert Hoover for president.
In 1923, Martin stood for state Assembly, was elected, and packed his whole family off to Carson City. He was named chairman of the Assembly Committee on Public Morals, and also served on the committees on the State Prison, Insane Asylum and Roads and Highways.
Having suffered the bumps, bruises and breakdowns inflicted by the state's primitive roads, Martin was a vociferous advocate of improving them. He was especially keen on linking Las Vegas with Yerington; the only decent road sent travelers through California. The road to Los Angeles ran down through Searchlight, then to Needles and Barstow. The road advocated by Martin was more direct. Highway 91 and, later, Interstate 15, both followed his proposed route.
Late 1926 found Martin in Reno, where he purchased a new Cadillac. He then convinced his friend, former Gov. James Scrugham, to ride with him to Las Vegas in order to inspect the road. It was a grueling journey, climaxing when Martin lost control of the car north of Las Vegas, and it overturned. The governor and the doctor were both unhurt, but so exhausted was Scrugham that Martin checked him into the hospital for a week.
It wasn't the first motoring mishap Martin had endured in the desert. The worst involved his family.
"He was a busy, energetic man," recalls Donnelly, "and he was preoccupied with one thing or another most of the time. But on Sundays, he made time for his family." Usually this came in the form of a family outing.
In July 1918, Martin set off for Pioche in an open Franklin motorcar. According to Donnelly, they were going there to visit two sisters, Margaret and Josephine McCormick, friends of the Martin girls who had moved to Pioche with their families. The party consisted of Martin, his wife, Nellie, Frances and Mazie, and Lesley Lewis, the daughter of a fellow Las Vegas physician.
The road took them to Indian Springs, then due east across what is now the Nevada Test Site and the Groom Mine (now the mysterious "Area 51"). The party arrived at Hiko, stayed the night at a ranch, and asked for directions to Pioche. They were directed to a shortcut across the mountains to Caliente. They drove the rocky, rutted roads for 84 miles before it became clear they were lost, and Martin turned back toward Hiko. The gasoline gave out 75 miles from Hiko. Provisions consisted of about a quart of water, a can of beans and a few graham crackers.
"We opened the can of beans with a nail file, which wasn't easy," says Donnelly. While at the ranch, she had pocketed a handful of peppermint candy. When she retrieved it later, it was covered with dead ants.
"We just picked the ants off and ate them," laughs Donnelly. A small cloudburst appeared, and the women hurried to rig funnels to collect it, finally resorting to licking the moisture off the car.
Meanwhile, Martin had taken some of the water and begun the hike to Hiko. It was a nightmarish ordeal. He hallucinated springs of fresh water gushing across the road and, at one point, turned himself around, following his own tracks and marveling that some fool had been hiking in this barren wilderness. What water he found was in cow tracks, and this kept him going. After 28 hours, he reached Hiko. Rancher John Wright loaded Martin in his Model T and set off to aid the doctor's stranded family, nearly dead from thirst.
"My first memory is someone shoving ginger snaps down my throat, with milk," says Donnelly. "It was a long time before I could eat ginger snaps again."
At the insistence of the girls, the Martins continued on their trip to Pioche.
"He had promised us," says Donnelly, "and when he made a promise, he kept it."
Even after the near-calamity, Martin remained an inveterate desert explorer, even something of an expert on extracting vehicles from the inevitable sand traps.
"On one outing, we came across some people who were stuck in the sand," Donnelly recalls. "My father offered to help get the car out, but he insisted that he be allowed to do it without help. He carefully placed a blanket under the rear wheels and eased the machine out of its hole. That was one of the most notable features of his character; he knew how things ought to be done, and he wanted to do them himself so he was sure they were done properly."
His skill came in handy in 1935, when President Franklin D. Roosevelt, in Nevada to dedicate Hoover Dam, decided to visit the Civilian Conservation Corps Camp at Harris Springs, adjacent to Martin's property. The road was narrow, the presidential entourage long, and FDR found himself stranded in his car on a steep road with no place to turn around.
"The newspaper stories of the time tell about the president being delayed," says Donnelly. "But they don't say that it was Dr. Martin who got them out of the situation and back on the road."
But Martin is perhaps best remembered by old-timers for his contribution to the rescue of the Prettyman party in 1937.
In December of that year, Lee Prettyman, his wife, cook, two friends, two cats and a dog set out in a new Packard sedan to inspect the Groom Mine, owned by Prettyman. The West had been experiencing an extraordinarily hard winter, and the group was soon stranded in deep snow near the mine. Lee Prettyman was able to walk to civilization and organize a rescue. The Las Vegas Evening Review-Journal followed each development of the ensuing drama as it unfolded over a week. An airplane rescue was impossible, and several attempts to reach the party by tractor were thwarted by new snowstorms.
By midweek, it was learned that one of the men had attempted to walk out, and had died of exposure on the shore of Groom Lake. Concern soon shifted to the 20-member rescue party, which included Martin. It was making slow progress toward the stranded group, which was living off canned corned beef and snow. Ultimately, the rescue succeeded, with Martin providing first aid to the survivors who were more dead than alive. So dramatic was the misadventure that the following year, the National Broadcasting Company (NBC) produced a radio drama on it.
Martin came out of retirement in 1942, at the onset of World War II, because of the shortage of civilian doctors. He practiced at Basic Hospital in Henderson until Dec. 27, 1943, when he died after suffering two heart attacks in close succession.
Of Martin, Squires wrote; "I think it probable that no citizen of Las Vegas during all those long, lean and disappointing years, had such supreme faith in the high destiny of Las Vegas, or sacrificed so much of himself in the effort to bring that destiny to fruition."
---
Part I: The Early Years
Part II: Resort Rising
Part III: A City In Full