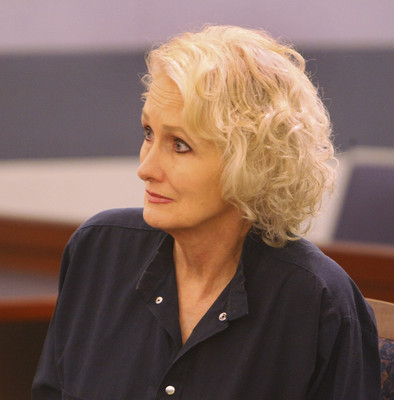 One of the most high-profile murder cases in Las Vegas' history is back in the news.
Margaret Rudin, convicted in 2001 of murdering her millionaire husband, was in District Court on Wednesday asking for a new trial, claiming her former attorney Michael Amador was ineffective.
Rudin's new attorney, Christopher Oram, stated in court papers that Amador's well-publicized antics during the 10-week trial violated her constitutional right to a fair trial.
Rudin also was represented by veteran criminal defense attorneys Tom Pitaro and John Momot during her trial. Pitaro, however, became involved with the case three weeks before it went to trial. Momot joined the defense team during the trial.
District Judge Sally Loehrer on Wednesday agreed that Amador's performance fell below the standard for adequate representation. But she said the issue was whether Amador affected the outcome of the trial and whether Pitaro and Momot also couldn't adequately represent her.
Loehrer said she wanted to hear from Pitaro and Momot. She said she wanted to know what they would have done to prepare for the case.
The judge asked that the two attorneys be in her courtroom on Dec. 5.
"It wasn't a perfect trial but nobody ever has a perfect trial," she said.
Rudin, who is serving her sentence at the state women's prison in North Las Vegas, attended the hearing dressed in a navy blue prison jumper. She had shackles around her legs and hands.
At 65, she looks more like a kindly grandmother than a hardened criminal. She didn't speak during the hearing.
Amador did not return phone calls seeking comment.
This isn't the first time the issue has come up. In 2004, the Nevada Supreme Court ruled that Rudin's murder conviction was valid. Several issues were before the high court, including Amador's conduct during the trial.
Amador was accused of writing a book during the trial, leaking information about Rudin and giving pictures of Rudin's family to the National Enquirer.
The court ruled Amador's "mistakes" were addressed and fixed by the court and noted she also had other attorneys. Two dissenting justices, Bill Maupin and Bob Rose, called for Rudin's conviction to be reversed because her attorneys weren't prepared to try the case.
Oram filed the request for a new trial in District Court as part of the post-conviction process.
Rudin was accused of shooting her 64-year-old husband, Ron Rudin, in the head while he slept in their Alpine Place home in 1994. She fled the state and was caught in November 1999 in Massachusetts.
The jury convicted her in 2001 of murder with a deadly weapon. She was given a life sentence with the possibility of parole after 20 years.
Contact reporter David Kihara at dkihara@reviewjournal.com or 702-380-1039.
ON THE WEBPrevious news coverage