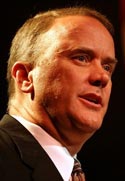 Mike Montandon is running for office — literally.
The outgoing North Las Vegas mayor plans to simultaneously leave his municipal office and launch his gubernatorial campaign at the end of the month by jogging five miles across town, according to his campaign.
On June 30, when his term as mayor ends, the 45-year-old Republican and avid runner plans to run from North Las Vegas City Hall to his new gubernatorial campaign headquarters, located on Cheyenne Avenue near the North Las Vegas airport, according to a news release from his campaign last week. Total distance: 5.2 miles.
"I have been mayor for 12 years, and I can't think of a better way to move forward into the future than moving forward into the future," Montandon said in the news release. "I'll turn the lights out in my office at 5 o'clock on the last day of this month and immediately move into the next chapter of my life."
The campaign hopes to line Montandon's route with cheering supporters, despite the hot weather that can be expected in these parts in the middle of summer. When he gets to the campaign office, there'll be a crowd waiting to formally kick off the campaign.
"Besides the fact that I really need to get this run in before the end of the week, it's important for me and the many people that are graciously supporting my campaign that there is a real beginning to this great endeavor," Montandon joked in the release.
Montandon is one of two Republicans hoping to take the nomination from incumbent Gov. Jim Gibbons in the primary a year from now. Joe Heck, a former state senator from Henderson, also has an active campaign, but has yet to throw an official kickoff party.
SLOGANEERING
What comes to mind when you think of Senate Majority Leader Harry Reid? How about "A Powerful Voice for Nevada"?
That's the slogan that won a recent contest by the Nevada Democrat's re-election campaign. The prize was a chance to see President Barack Obama at the fundraiser he hosted for Reid at Caesars Palace last month.
Reid campaign manager Brandon Hall said the winner, which reminds you of Reid's status as the most powerful lawmaker on Capitol Hill while simultaneously tying him back to his home state, was selected from nearly 200 entries.
The person who won the contest was granted free entry to a VIP reception with Obama, including a handshake and photo op, a privilege for which others paid thousands of dollars.
According to Hall, the campaign's attempts to contact the winner — so that he could get some glory and talk about his accomplishment — were unsuccessful, so he remains anonymous.
Reid's last campaign slogan, in 2004, was "Independent Like Nevada," a motto critics have accused him of abandoning since he took on more of a partisan role in the Senate. It was after that 2004 election that Reid ascended to Democratic leader, moving from minority to majority leader in 2006 and further upping his majority in 2008.
Hall said the new slogan may not be the official slogan for the entire 2010 campaign, but it is being incorporated in various ways into the redesign of Reid's campaign Web site that is currently under way.
As of the weekend, the Web site was badly out of date, with a blog that hadn't been updated since shortly after the November 2008 election.
GOODMAN WATCH
Las Vegas Mayor Oscar Goodman talked like a gubernatorial candidate at Wednesday's council meeting, saying state leaders accomplished little during this year's legislative session and calling for Nevada cities to have more control over their own revenues.
"This was just a Band-Aid session," he said of the work lawmakers did to plug a gaping budget hole. "Everything sunsets. Nothing has really been accomplished."
City leaders were also peeved about being forced to fork over an estimated $22.5 million to reopen F Street, which was closed as part of the Interstate 15 widening project. And Goodman bemoaned the fact that tax money that funds the city's operating costs is under the control of the Legislature, not local officials.
City Council members have to take care not to violate open meeting requirements, Goodman said. But in Carson City, it's standard practice for a small group of legislators to meet behind closed doors to hash out important decisions.
And then there are the "incestuous relationships" lawmakers have with special interests, and the mayor singled out one of his favorite targets: the leadership of the Culinary union.
Because of the Culinary union, he claimed, a bill that would have aligned city elections with state and federal elections died. The city would save $1 million every two years if it didn't have to hold separate elections in odd-numbered years.
Union spokeswoman Pilar Weiss called Goodman's claim that the union killed the election bill "totally outrageous."
"I was shocked" that Goodman and Councilman Gary Reese made that charge in an open council meeting, she said. "I don't understand where they got that."
Weiss is the union's lobbyist, and she said she monitored that bill along with many others. The union didn't take a position on the bill.
The legislation would have extended Goodman and Reese's terms to 2012 in order to make the transition to even-numbered years. Both men's terms expire in 2011, and they can't seek re-election because of term limits.
"It's OK," said Goodman, who recently talked about running for governor as an independent candidate. "I have other plans."
Contact reporter Molly Ball at mball @reviewjournal.com or 702-387-2919. Contact reporter Alan Choate at achoate @reviewjournal.com or 702-229-6435.