Runaway tanker wake-up call
September 24, 2007 - 9:00 pm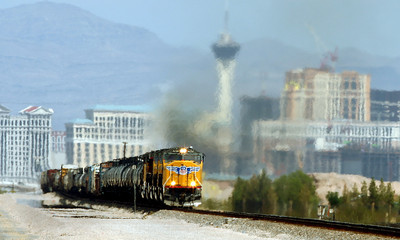 More than 1 million tons of hazardous materials criss-cross the United States by road and rail each day.
Most of those shipments tallied by the U.S. Department of Transportation arrive at their destinations safely, with people none the wiser about the lethal substances that just rolled through their backyards, said Patricia Abbate, executive director of the Boston-based Citizens for Rail Safety.
But every now and then, the tragic or the almost-tragic shocks communities with the consequences of accidents, carelessness or error.
It's a wake-up call, Abbate said, the kind Las Vegas received on Aug. 29 when a Union Pacific Railroad tanker loaded with chlorine gas escaped the Arden train yard and cut across 20 miles of urban landscape before being brought to a safe stop.
"The great majority of railroad shipments get through with no trouble," Abbate said. "But it just takes once."
In recent weeks, Union Pacific has dealt with more than one train accident.
After responding to the Las Vegas incident, the railroad company soon had to deal with at least four other accidents involving runaway cars or derailments:
• On Sept. 7, a Union Pacific train in Texas derailed, spilling corn, wheat and soybeans. No injuries were reported.
• On Sept. 8, several runaway cars crashed into others at the switching yard in Colton, Calif., leaving demolished railroad cars spread across four sets of tracks. Thirty-eight cars were involved. Several tank cars carried residual amounts of hazardous materials, but no leaks occurred, according to media reports.
• On Sept. 9, a Union Pacific train loaded with steel derailed near Livermore, Calif.
• On Sept. 11, Houston media reported a train collision in east Texas involving a Union Pacific freight train and an Amtrak train. Six people were hospitalized with injuries.
All four incidents are being investigated.
"We have a strong record of safety in the industry, but at the same time, incidents do happen," said Union Pacific spokesman James Barnes.
Union Pacific and the Federal Railroad Administration are still investigating what went wrong in Las Vegas.
No findings have been issued yet, said Federal Railroad Administration Spokesman Warren Flatau.
"It's possible there will be enforcement action taken, including, but not limited to, civil penalties," Flatau said.
The railroad administration is empowered to issue violations that can lead to civil penalties, which include fines of up to $25,000 per instance.
Railroads also can be placed under increased inspection and safety compliance orders in the wake of serious incidents or infractions of federal regulations, Flatau said.
Union Pacific, the nation's largest railroad and its largest hauler of chemical freight, garnered 4,951 violations in 2006 and 5,479 violations so far this year.
The violations represent individual defects or a series of defects that put the railroad out of compliance with federal regulations. The defects may be related to track conditions, equipment issues, paperwork, or operations.
On the one hand, Flatau said, the numbers aren't all that surprising since Union Pacific is so large. It operates in 23 states, across two-thirds of the continental United States.
On the other hand, protecting people is paramount, Flatau said, and everything that can be done to prevent a tragedy should be done.
"We're less interested in being a meter maid and writing tickets and levying fines," Flatau said. "We're more focused on bringing companies into compliance and ensuring the safety of people and equipment."
The issue of train safety and threats posed by the transport of hazardous materials has been taken up by Rep. Jon Porter, R-Nev.
"We have to take immediate and serious steps to keep this from ever happening again," Porter said. "I want to ensure that our community is safe."
Porter plans to gather community input at a public meeting at 10 a.m. Oct. 8, at the Henderson Fire Training Center, 401 Parkson Road.
Porter said it's planned as a round-table discussion involving government officials, transportation representatives from Union Pacific and the trucking industry, emergency responders, and other interested parties.
It's the starting point of a dialogue that Porter said will shape what he does in Congress.
He plans to incorporate the input in legislative proposals to better protect residents and equip local governments with better tools to deal with hazardous materials transport.
"We're going to look at the very broad picture," he said.
The topics will range from the transport of nuclear waste through Clark County to what happened during the chlorine tanker incident.
According to a June report by Citizens for Rail Safety and prepared by researchers at Pennsylvania State University, Harrisburg, one 90-ton car of chlorine, whether involved in an accident or act of terrorism, could create a toxic cloud 40 miles long and 10 miles wide.
That kind of widespread dispersion could kill as many as 100,000 people in 30 minutes.
That parallels the findings of a 2006 report from the Institute for Security Studies at the University of Nevada, Las Vegas. In a vulnerability assessment of threats to Nevada, the institute found that a massive chlorine release at the Union Pacific overpass on Charleston Boulevard was a worst-case scenario, with the potential of causing up to 91,000 fatalities.
On Sept. 6, representatives of Union Pacific met with Clark County officials and city representatives to discuss back-up safety measures.
Anchor cars with brakes set now block the north end of every track in the Arden yard, where the runaway tanker incident originated, to prevent runaways.
An additional rail car diversion track has been constructed at Arden to make sure no cars can move from the switch yard to the main track.
A thorough review of emergency notification procedures also is being conducted at the Arden yard and at Union Pacific's dispatch center and Response Management Communications centers.
At the time of the meeting, Tom Jacobi, vice president of Union Pacific's western region, also offered assurances that the Las Vegas incident would not be repeated.
Abbate said accidents on the tracks underscore the need for stepped up inspections and scrutiny of an industry that transports nearly everything that eventually ends up in a person's home.
Railroads are designated common carriers, which means that under federal law, they can't refuse to transport hazardous materials.
In the case of Union Pacific, the need for increased scrutiny was highlighted by Calvin Scovel III, the inspector general for the U.S. Department of Transportation. In January, Scovel testified before a U.S. House subcommittee considering the reauthorization of the Federal Railroad Safety Program.
In his comments, he noted that a 2005 review showed serious safety problems exist for all four major U.S. railroads, with Union Pacific showing the highest rate of train accidents between 1998-2000, and between 2001-2003.
However, in terms of safety inspections, Union Pacific was scrutinized less often than two other railroad companies, the Norfolk Southern Corporation and CSX Transportation.
"We find it counterintuitive that the railroad with the most track miles and the worst accident rate and defect ratio would be inspected at a lower rate than two of the three other major railroads that had fewer miles and better rates," Scovel said.
Barnes said safety is a priority for Union Pacific, which conducts internal inspections on top of those performed by government inspectors.
"Anytime an inspector wants to come out and inspect us, we comply," Barnes said. "When an incident occurs, we report it, we handle it, and we work proactively internally to address it. But we operate in a dynamic environment and things do happen."
911: RUNAWAY TRAIN Seven callers reported a runaway train car to 911 operators on Aug. 29. The train was heading north from the Arden Yard near Blue Diamond Road. The first call was received by police at 8:47 a.m. Below is the conversation initiated by caller No. 6 of the Union Pacific police, who dialed 911 at 8:53 a.m. Police edited portions of the calls to remove names and phone numbers. Caller: "We just had a runaway rail car and we believe it's loaded with chlorine, heading eastbound, towards. …" Operator: "(background chatter) OK, I'm listening to two voices right now. This is in Las Vegas?" Caller: "Yeah. It was last seen right down here by the Charleston and the I-15." Operator: "Which way is it headed? What direction?" Caller: "It is headed eastbound." Operator: "Eastbound Charleston?" Caller: "Yeah." Operator: "Eastbound from Charleston, I should say …" Caller: "Yes, eastbound from Charleston." Operator: "OK, and it's a runaway rail car? One car?" Caller: "One car. Runaway. Believe it's loaded with chlorine. We are responding to it. So this is just a …" Operator: "You are UP police?" Caller: "Yes, we are UP police." AUDIO EDITED AT THIS POINT Operator: "The rail car is just by itself; there's no locomotive attached? Nothing, right?" Caller: "That is correct." Operator: "Is it going fast, or just rolling along?" Caller: "It was going pretty good, probably 50 to 60 miles per hour." Operator: "Do you have sight of it?" Caller: "No, we lost sight of it but we are attempting to run it down right now." (background chatter about contacting fire department) Caller: "Do you want to like, teletype North Las Vegas, get ahold of them, start the Fire Department?" Operator: "North Las Vegas?" Caller: " Yeah evidently, HAZMAT, that's the direction of travel on our main line." Operator: "OK, do we have any idea where it is now?" Caller: "Uh no, we lost sight of it, and we're just at Washington and Main right now." Operator: "So it's still rolling toward North Las Vegas?" Caller: "Yes." Operator: "Has anybody from your office, from your group contacted the Fire Department?" Caller: "Uh, not yet. You're the first call we made." The operator then asks the caller to remain available by a cell phone. REVIEW-JOURNAL