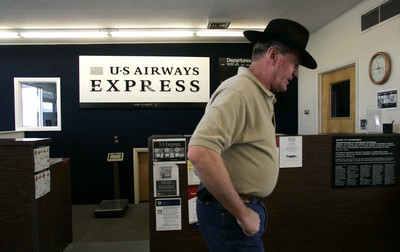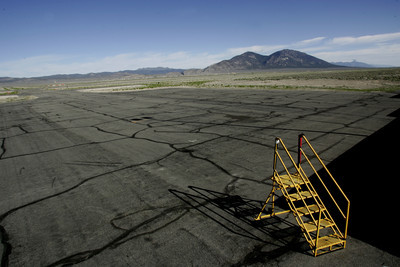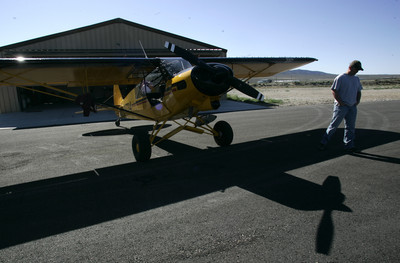 Airline woes that make flights from hubs such as Las Vegas, Phoenix or Salt Lake City less convenient are making it downright impossible for rural residents to fly from small towns across America.
High fuel costs, lousy airline balance sheets and a shortage of suitable planes have left more towns than ever without scheduled air service this year, despite the government spending more than $100 million annually to subsidize routes to isolated airports.
Residents in locales from Ely to Lewisburg, W.Va., are without service for everything from doctor appointments to business meetings to visits from far-flung relatives.
Delores Manchester, 63, of McGill, says there's a price to pay for living in remote towns:
"It is a three- and four-hour drive to get anywhere from this community."
Manchester was diagnosed with breast cancer in 2004 and had been flying regularly to Las Vegas for treatment until Air Midwest, the only airline serving Ely, halted service in early June.
She had to find a friend to drive her four hours one way to Las Vegas for her most recent clinic visit.
"You get tired easy when you go through chemotherapy. To drive was too hard on me," said Manchester, a 35-year resident of Northern Nevada.
The federal government's Essential Air Service program, a temporary idea that grew out of airline deregulation in 1978, had problems before the latest spate of economic turbulence crippled the nation's airline industry.
But a near 100 percent spike in the price of fuel since last year and an economic downturn that has caused fewer Americans to travel has wreaked havoc on the airlines' ability to service small town routes, even with generous taxpayer subsidies.
The crunch has undermined all three legs that once supported Essential Air Service: airlines participating, rural communities' support and the government's ability to do anything but throw money at a failing program.
"The people who do implement it are some of the best people in Washington, but their hands are tied," says Michael Boyd of the Boyd Group, an aviation consulting firm in Colorado that has worked with communities on the program. "So we are squandering money."
Lost connections
At least 37 communities nationwide that have lost their only link to the nation's air transportation network this year. That's more than in any year in the history of the Essential Air Service program.
Yet reform proposals are stuck on the ground.
Even cost-saving ideas to improve service to needy communities by focusing the program on the most isolated towns and reducing or eliminating subsidies to service to airports that, in some cases, are within an easy drive to several major hubs, have failed.
In fact, Congress recently allocated up to $125 million for the 2008 fiscal year even though the Bush administration sought just $50 million.
"The program has changed almost not at all, despite the evolution of the airline industry," said Michael Reynolds, acting assistant secretary for aviation and international affairs in the U.S. Department of Transportation.
Enthusiasm by members of Congress to maintain service to home communities can result in subsidies to airports within a relatively short drive to major cities.
For example, five Pennsylvania airports within about 100 miles of Pittsburgh — which has about 250 daily departures via Southwest, US Airways, American, United, Delta and Northwest — received nearly $4.9 million in subsidies in 2007, according to the U.S. Department of Transportation.
And when Lancaster, Pa., faced a loss of service, Congress changed the rules to keep doling out the subsidy.
"Congressmen don't want their communities to lose scheduled air service under any circumstances," Reynolds said.
Subsidies plentiful; service lacking
Lancaster, Pa., is an example of how the program grew beyond its original purpose into a source for political currency members of Congress can use to placate constituents, regardless of where they live.
It dates to 2002 when airlines were in a financial tailspin because of fallout from the Sept. 11, 2001, terrorist attacks.
Chautauqua Airlines left Lancaster in May 2002 and was replaced by Colgan Airways in June. Colgan didn't make it in Lancaster either and was gone in March 2003.
At the time, Transportation Department officials allowed the airlines to leave, even though each represented the last scheduled service from the market, because Lancaster didn't fit the profile of communities eligible for subsidy.
Under the Essential Air Service, communities are supposed to be at least 70 miles from a medium or large hub airport to be eligible for a partial subsidy of no more than $200 per passenger.
Since Lancaster was less than 70 miles from Philadelphia, federal officials didn't issue a request for proposals for routes from the local airport.
Lancaster business and civic leaders didn't like the idea of losing air service, even if it was unprofitable for the airlines. They reached for support from members of Congress, including Sen. Arlen Specter, R-Pa.
In June 2003, Specter introduced legislation that changed the way the government would measure distance between airports to determine eligibility for subsidies.
Instead of the shortest route, the bill would measure distance by the most commonly traveled route, as determined by the governor of the state in question.
Under that system, Lancaster was judged eligible because it is an 80-mile drive by Interstate 222 to the Philadelphia Airport, not a 66-mile drive via Route 30.
In March 2004, Air Midwest started serving Lancaster with the help of the nation's taxpayers.
Since then, the Lancaster standards have been extended twice, most recently through Sept. 30, 2008.
"It is an entitlement program in that sense," Reynolds said. "We are required to try and provide service to those communities."
But since Air Midwest stopped flying, Lancaster is again without service and leaders there want the distance standard extended again. They argue the pending expiration of the subsidy scares airlines from bidding for the routes.
Ely gets lost in space
Unlike Lancaster, which needed assistance to qualify for the 70-mile partial subsidy, Ely is well beyond the 210-mile radius from a hub needed to qualify for a full subsidy.
It's about 240 miles from Las Vegas or Salt Lake City and 320 miles from Reno, has no bus service and no train beyond the Nevada Northern Railway, a historic steam train that hauls tourists seven miles from Ely to the mining town of Ruth and back.
"If you break down here you are stuck," says Ely Mayor Jon Hickman, a former Las Vegas casino dealer who moved to White Pine County full-time five years ago. "We are about 250 miles from anything but Elko."
At the White Pine County Airport, informally known as Yelland Field, a faded, white metal staircase once used to get people out of passenger jets is a reminder of the days before deregulation when United Airlines provided service to Ely.
Owners of the Robinson mine and Hollywood studios filming the stark, Great Basin scenery have landed jets at the airport in recent years.
But the bulk of the traffic comes from private pilots in single-engine planes or even gliders.
With no scheduled service to coordinate, airport manager and sole employee Ron Williams spends his time taking care of the facilities.
Williams is a retired Las Vegas Metropolitan Police Department officer who once patrolled terminals at McCarran International Airport, the seventh-busiest airport in the country.
In Ely he mows the weeds, checks light bulbs along the runway and maintains the ramp and parking lot.
"The airport needs to excite business, not try and run it away," said Williams, who persuaded White Pine County commissioners to increase the airport budget from $50,000 to $67,000 annually.
He used much of the budget increase to install new glass doors, modernize some wiring and repaint faded walls.
"I am going to keep it as user-friendly as I can," he says.
Inside the terminal, a squat, brown building a little larger than a house, the Transportation Security Administration squeezed in a walk-through metal detector, baggage scanning device and conveyor in February, just a few months before Air Midwest halted service.
The plastic and rubber on the security devices still smells new. The manually operated arrival and departure board bears the logo of an Air Midwest affiliate but no flight times.
Even before Air Midwest abruptly stopped flying, there was a rift between the airline and the community.
Unlike the previous Ely carrier, Scenic Airlines, Air Midwest maintained little presence in the community. In the airline's waning months, service became sporadic and unreliable.
"They never once set foot in this door," White Pine Chamber of Commerce Executive Director Evie Pinneo said recently from her office in downtown Ely.
The airline missed out on potential passengers because it didn't hire people familiar with Ely to take reservations and book flights. Airline employees at a distant call center often were of little help, Pinneo said.
"They would say, 'We don't fly to Ely.' It got very disheartening."
Pinneo, Williams and others suspect Air Midwest affiliate Mesa, once among the leading national providers of Essential Air Service flights, was more interested in the $2.2 million combined annual subsidy it reaped from routes in Ely, Merced and Visalia, Calif., than providing practical service.
Officials at Air Midwest and affiliated Mesa did not return repeated calls for comment.
Williams said he's not sure how long it will take the next carrier to rebuild trust with customers that dissipated during Air Midwest's tenure.
"Every day without service it does nothing but get worse," Williams said.
Even as Air Midwest was preparing to leave Ely, the federal government and community leaders had a new carrier in mind to serve White Pine County, Great Lakes Airlines of Cheyenne, Wyo.
But Great Lakes didn't pick up the service when Midwest left, as expected. Instead, the airline withdrew its bid, saying the proposed subsidy of nearly $650,000 annually for the Ely route wasn't enough to offset costs.
"There's no way we can start the service at the current subsidy," Great Lakes spokeswoman Monica Taylor told the Ely Times newspaper. "It's a tragic environment right now. … We're going to rebid and give any other airlines the potential to rebid as well."
The government went back and recalculated the subsidy. It offered Great Lakes $1.8 million for Ely and $4.9 million for Ely, Merced and Visalia combined.
Great Lakes accepted and is expected to begin service by September.
New problems for Ely airline service
Whether Great Lakes can navigate the problems of the airline system and entice Ely-area residents to fly remains to be seen.
Passengers still rave about the service they enjoyed from 2001 to 2006 under Scenic Airlines. But it will be tough for Great Lakes to follow the lead of Scenic, which quit flying scheduled service entirely to focus on its core business flying Las Vegas tourists on sightseeing trips to the Grand Canyon.
For starters, Scenic flew passengers to the North Las Vegas Airport, where it had a strong presence among the private planes and jets that were avoiding crowded McCarran International Airport.
North Las Vegas no longer accommodates scheduled service, leaving McCarran as the only option for an Ely to Las Vegas route.
So far, Great Lakes hasn't been able to strike a deal for space at McCarran.
Williams says Clark County Department of Aviation officials don't want a tiny airline using space McCarran would rather save for large jets hauling gamblers and conventioneers into town.
Clark County Aviation Director Randall Walker says it is a matter of money. Great Lakes doesn't want to pay what McCarran charges for rent.
"I'm not going to charge somebody below my cost just because they want service to Las Vegas," Walker said. "If you want service to somewhere, you have to pay for it."
The impasse means Great Lakes will start its Ely service with routes to Salt Lake City or Denver, and not Las Vegas.
Pinneo said the lack of Las Vegas service is a strike against Great Lakes even before it starts.
"We might as well not even have an airline; we need to be in state," Pinneo said.
Great Lakes also may have a hard time rebuilding the community's confidence in air travel, especially if it doesn't make the same commitment to local service as Scenic.
When Scenic began scheduled service in 2001, it transferred employee Kevin Dahlhaus from North Las Vegas to White Pine County to oversee the operation in Ely.
The airline provided Dahlhaus a mobile phone, van and a directive to make the service a success.
Dahlhaus publicized the mobile phone number around town and took reservations himself day or night.
He used the van to pick up passengers, book flights and take payment from people in homes, hotel rooms or even Ely's brothels.
"I was one of the only guys in the state who would walk into a cathouse and walk out with more money than I came in with," said Dahlhaus, 53, who went to work at a local hardware store when Scenic left.
In some instances, Dahlhaus called passengers personally if they overslept and were late for a flight.
"Part of the plan was their customer service," he said. "I would take reservations in the grocery store. I would just write it down in my note pad; then I would go book the flight."
It worked.
Dahlhaus said when Scenic started service in October 2001, it attracted just 21 passengers in the first month.
By the time it ended in October 2006, that figure was nearly 400.
Turbulent future for Essential Air Service
But even Dahlhaus has doubts about whether the town will support a new airline.
The airline industry has changed since 2006. The cost of fuel is up dramatically, which means when service resumes it will cost significantly more to fly than it did when Scenic provided the service.
"I don't think a whole lot of people here can really afford it," he said.
Airlines operating under the Essential Air Service program also face an aircraft shortage.
The 19-seat aircraft that are best for small routes are no longer in production. Many of the aircraft still in service are being sold in foreign countries where they can operate more profitably.
The terms of Essential Air Service contracts are another problem. Banks are reluctant to finance four- and five-year leases on aircraft because subsidies are doled out in two-year increments.
Recent shutdowns by three Essential Air Service airlines have left few carriers even willing to bid on routes. In some cases, the government receives one or even zero bids for the subsidies.
"The DOT can't find operators," said Boyd, the airline consultant. "The DOT is hamstrung by this outdated program, and places like Ely pay the price."
Contact Benjamin Spillman at bspillman @reviewjournal.com or 702-477-3861.