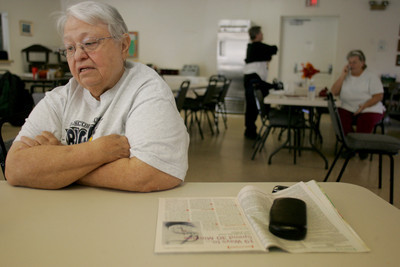 CALIENTE — Usually, places like this go unnoticed.
Small towns. They have a few hundred people, maybe. No major industries. No influence on anything outside themselves.
But sometimes they can have broad influence, if the stars align in a certain way.
This could be one of those times.
Which is why Barbara Scofield will work Tuesday to get voters to the polls.
"I'm getting a lot of enthusiasm from Republicans who want to make it happen," said Scofield, chairwoman of the Lincoln County Republican Party in Caliente. She is helping to organize Republican volunteers to offer rides to the polls on Election Day.
Republican enthusiasm here is no surprise. Rural Nevada always goes Republican. In 2004, Lincoln County, for example, voted nearly 4-to-1 for George Bush over John Kerry.
Rural Nevada gave Bush the state's five electoral votes that year. Clark and Washoe counties, home to Las Vegas and Reno and most of the state's people, went for the Democrat by nearly 20,000 votes. Sparsely populated rural Nevada went for Bush by twice that.
It could happen again this year. "The traditional formula for Republican victory is staying close in Clark County, and hoping for low voter turnout, and then rack up the votes in rural counties where turnout is always high," said Erik Herzik, a University of Nevada, Reno political scientist.
Voters in and around Caliente, a town of about 1,000 with a railroad history and an uncertain future, seem intensely interested in this year's election.
Folks like Nan Gloeckner, who counts herself among the undecided.
"I think it's going to be exciting," said Gloeckner, 68. "If we do get a black man in there, that'll be wonderful. If we get a woman as vice president, that'll be great, too."
Paul Christiansen works part time at the local hardware store, which is owned by the mayor. Christiansen spent a lifetime teaching and being a principal in the local school district before retiring a few years ago.
Like many others interviewed for this story, he talks like a traditional Republican.
He acknowledges that going into Iraq may have been a mistake, but he's wary of "abandoning" the troops.
He considers himself patriotic. He's a hunter, and hunters like their guns.
"Because of that," he said, "Obama scares us."
Christiansen doesn't love John McCain, but he'll vote for him anyway.
Same goes for Jack and Loretta Lenardson, who moved here from Anchorage, Alaska, last year. They've been Sarah Palin fans since she was a small town mayor up in Alaska.
"Everybody knew she was going places," Jack said.
The couple voted early last week at the county courthouse in Pioche. They cast their votes for McCain. They think Obama is a socialist.
Others here said the same thing. But despite that, Obama supporters are cropping up.
Take Betty Rollins, 72, a Republican for as long as she can remember. She's a lifelong rural Nevadan, was born in Tonopah and moved from mining town to mining town most of her life. She's been in Caliente 25 years.
She likes Obama, she said, because he's fresh and young.
"When I get in there, I think I'll vote for him. People say all kinds of things about him. I don't care. I like him."
Rollins was hanging out at Caliente's senior center one day last week. It's about the only place in town you're likely to find people congregating.
Caliente, like most everywhere else, is full of people worried about the economy. Lunch at the senior center is soon scheduled to rise in price, from $2 to $3.
On top of that, there is worry that the Caliente Youth Center could close down because of state budget cuts.
Same thing with the state prison camp in Pioche, the county seat 25 miles up the road.
It's already confirmed that the College of Southern Nevada's Caliente branch, which is the only branch outside Clark County, will shut down next summer because of the budget shortfall. That's not to mention high gasoline prices in a place where the nearest Wal-Mart is a couple hours away.
"I think the rurals have paid attention because things are hitting them in the pocketbook," said Cindy Trigg, who traveled across the state multiple times during primary season as the state Democratic Party's rural organizer.
Trigg, now working on Jill Derby's congressional campaign, said she sees Democrats making inroads in the state's small towns.
Scofield, the local Republican chairwoman, acknowledges that things could be close.
"Too close," she said. "Too close for comfort."
Herzik, the professor, said he expects McCain's support to be down from what Bush received in 2004.
Although Palin will energize much of the base in small towns, Herzik said, she could hurt him with independents. And though they might not go for Obama, they could go for third-party candidates, which could swing things Obama's way.
Or, Herzik said, they could pay less attention to the issues that traditionally occupy rural voters, things like abortion or gay marriage.
When pocketbook issues get involved, all bets are off.
That's what's going on with Bobbie Erlandson, an independent. She is 62, which means she is not old enough to qualify for Medicare.
She's a retired nurse, living on $600 a month in private disability insurance. Health care is her top issue.
She rejects Obama because she doesn't trust him. He promises too much, and she is sure he cannot deliver.
Erlandson said she generally likes Palin, but worries about her lack of experience. McCain doesn't excite her much at all.
All of which has her thinking about a third party. She just doesn't want to waste her vote.
Contact reporter Richard Lake at rlake @reviewjournal.com or 702-383-0307.