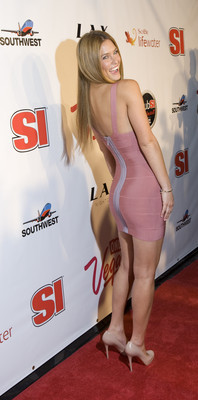 Bar Refaeli flew into Las Vegas on a Southwest Airlines jet adorned with her swimsuit-clad image from the plane's door to the tail.

Video & Slideshow [UPDATED]
We know what you're thinking.
So where did the sexy cover girl of Sports Illustrated's 2009 swimsuit issue sit?
"I think I was looking out the eyes," the Israeli-born beauty said during a telephone interview Thursday minutes before her red carpet appearance outside Luxor's LAX nightclub with 18 fellow models from the S.I. issue.
It was the first time the magazine, founded in 1963, brought the models to Las Vegas on a promotional mission, a collaboration by the Las Vegas Convention & Visitors Bureau, Las Vegas Events and Southwest.
Refaeli spent most of Thursday lounging in bed after a 2 a.m. arrival from New York.
After more than 100 interviews over 72 hours, resting won out over seeing the bright lights of Las Vegas.
She went out long enough to have a hamburger at BOA Steakhouse at the Forum Shops at Caesars.
The first time she was here, Refaeli recalled, she wasn't 21 yet.
I asked if she recalled that she was at Jet, the Mirage hot spot, during that visit.
"I don't remember the nightclub," she said. Only that she was "with some friends," one of whom was Leonardo DiCaprio, although she didn't mention his name. They are still a couple.
Her favorite interview so far?
"David Letterman," she said. "He's smart and witty. You have to punch back in an intelligent way."
Refaeli would love to host "Saturday Night Live."
"I fell in love with that show. It's just so funny.
"I like the woman who always says, 'Just kidding. Just kidding,'" she said, referring to the babbling, one-upping character Penelope, played by Kristen Wiig.
MAY I RECOMMEND …
"Tony N' Tina's Wedding" is the perfect primer for Valentine's weekend. Now playing at the Planet Hollywood Resort after seven years at the Rio, the chaotic comedy has been a national hit for two decades. General admission: $89.99, which includes an Italian buffet, a glass of champagne and a piece of the wedding cake. The ceremony begins at 7 p.m. Reservations: 785-9030.
SIGHTINGS
Elton John, hosting a surprise birthday party at Rao's Italian Restaurant at Caesars Palace for his drummer, Nigel Olsson, who was presented with a cake featuring a replica of his bass drum. … Actor Joe Pesci was in town over the weekend, huddled in "business" talks. … "Desperate Housewives" star Eva Longoria and "Extra" host Mario Lopez, at the opening Wednesday of Ken Paves' Eleven Spa in Town Square. … At LAX on Wednesday: members of the Harlem Globetrotters, Cleveland Browns linebacker Willie McGinest, NBA players Devin Harris of the New Jersey Nets, Richard Jefferson and Damon Jones of the Milwaukee Bucks, former Olympic sprinter Maurice Greene and former NFL player Jamie Sharper. … At separate tables at CatHouse (Luxor) on Wednesday: Jason Giambi and Greene.
THE PUNCH LINE
"The president has been busy selling his stimulus plan. He was in Florida at a town hall event taking questions. One guy, who was a working student, asked if (President Barack) Obama had any plans for extending benefits at McDonald's. Security! Somebody had too many McFlurrys for breakfast." – David Letterman
Norm Clarke can be reached at (702) 383-0244 or norm@reviewjournal.com. Find additional sightings and more online at www.normclarke.com.
Video & Slideshow [UPDATED]