Safe-sex kits part of Vegas MPowerment push in HIV battle
November 29, 2013 - 4:49 pm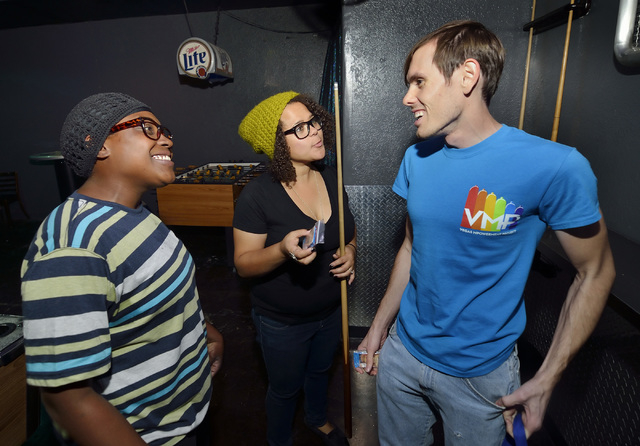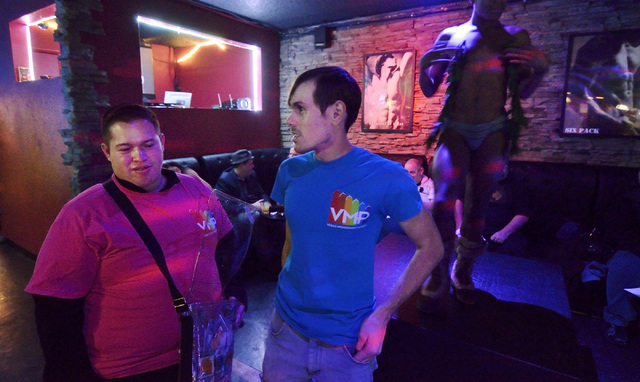 It's a Friday night, and Robert Peraza is making his way through the crowd on the dance floor of Share Nightclub.
"Free samples," he says, reaching into his tote bag and pulling out a plastic pouch.
His voice is barely heard above the music, but people can get a sense of what he's offering. He's known as "The Condom Guy" in some circles. Bouncers at the off-Strip gay nightclub didn't even ask for his identification. He's been there many times before.
Peraza, the Mpowerment outreach coordinator with the Gay &Lesbian Community Center of Southern Nevada, is on a mission to save lives as he hands out safe-sex kits — two condoms, lubrication and information about testing and other services at the center.
The Vegas Mpowerment Project is part of the center's outreach to homosexual, bisexual and transgendered men ages 18 to 29. Volunteers visit clubs, bars and bathhouses across Las Vegas to deliver the kits and to tell any willing ear how to stay protected.
"I have friends who are HIV positive," Peraza said. "I see the struggles they go through."
According to the Centers for Disease Control and Prevention, more than 1.1 million people in the United States are living with HIV. Eighteen percent of those infected do not know they are living with the virus.
"That's one in five people who don't know they are infected," Peraza said.
More than 9,000 Southern Nevadans have been diagnosed with HIV or AIDS since 1992.
In 2012, 311 new cases of HIV in Clark County were reported, according to the Nevada State Health Division.
Since the disease was discovered, more than 30 million people have died worldwide — each year those deaths are commemorated Dec. 1 with World AIDS Day, which began in 1988.
After HIV/AIDS began spreading rapidly in communities in the 1980s, organizations and activists have stepped up to raise awareness of the disease.
The Vegas Mpowerment Project has joined that movement with the goal of reducing HIV infection and other sexually transmitted diseases through prevention and testing.
"If someone tests positive early on, we can get them into treatment faster," Peraza said, adding that treatment can lower risk factors for spreading the disease.
Funded by an HIV prevention grant through the Southern Nevada Health District, the center has been able to provide prevention resources, which includes the kits.
In 2012, the center passed out 94,000 kits and had 146 outreach events.
"We have already surpassed the number of condoms we have handed out this year," Peraza said. "We still have over a month to go, too."
On this Friday night, Peraza meets with volunteers Fidelix Ojo-Lofton and James Gallo shortly after 10 p.m.
With hundreds of kits in four tote bags, they're ready to visit four busy clubs: Freezone; Flex Cocktail Lounge, Share Nightclub and Escape Lounge.
FreeZone is located among other gay bars and clubs in an area near UNLV known as "the fruit loop," while the other three are about a mile west of the Strip.
The first stop of the night is Flex, where employee Joey Mills is supportive.
"I know they are saving lives," he said, adding that he, too, has lost friends to AIDS. "I think it's nice to have a reminder to talk about safe sex."
Peraza wouldn't say if there are clubs that don't want volunteers passing out kits, though he says there are still opportunities to go more places.
"Every outreach is a little different," Peraza said. "We try to visit on nights we know (the clubs) are busy and at times that work for their schedules."
He added he will continue to reach out to the clubs volunteers aren't visiting to establish connections with the hope of one day being invited in to pass out kits.
Patrons at some establishments are more receptive than others.
With the music not as loud and people sitting stationary at the bar, it takes them about 10 minutes to work through Flex compared to Share, which takes the team about 30 minutes to make their way through crowds of people dancing.
Willingness to take the items varies for volunteers at each location.
"Not a lot of people took kits from me," Peraza said while at Share. He passed the most out that night at FreeZone.
But Gallo and Ojo-Lofton had the opposite experience.
Ojo-Lofton said he tries to be as interpersonal with people as possible when encouraging them to take the kits. "It helps when you know folks," he said.
Despite some resistance, Peraza continues to open his bag and offer "free samples."
"Sure, why not," one man said as he reached in and took three. "I think it's great that give these (condoms) out."
People can take as many kits as they want.
"I'd rather them have it and not need it than need it and not have it," Peraza said.
But not everyone is receptive.
Ojo-Lofton added when people tell him they prefer unprotected sex, he will just hand them the information about testing and encourage them to know their status.
Beyond the kits, the team will stick around if people have questions about testing or being at risk.
"We get a wide range of questions," Peraza said. "Some people describe symptoms and ask what they have."
He usually clarifies he isn't a medical professional and encourages them to get tested.
Some people ask for more information on screenings such as if it's free, where the center is and can people just walk in for tests.
"It's free at the center, and you can walk in," he said.
By the end of the night, they have given out hundreds of kits and taken dozens of questions.
No question is too dumb, and no person is turned away.
"When you're in a position like this, you have to be judgment free," Peraza said. "You can't work in this field if you're ready to judge."
Contact Henderson/Anthem View reporter Michael Lyle at mlyle@viewnews.com or 702-387-5201.
World AIDS Day
Events around town are scheduled to commemorate World AIDS Day on Sunday.
A candlelight vigil to is scheduled at 6:30 p.m. at the AIDS Memorial Garden at UNLV.
The Gay & Lesbian Community Center of Souther Nevada at 401 S. Maryland Parkway, near Charleston Boulevard, is hosting a 20th anniversary screening of "Philadelphia" at 4 p.m.
Portions of the AIDS Memorial Quilt are scheduled to be on display at the center Dec. 1-20. Aid for AIDS of Nevada is slated to display the Face of Courage project, which pays tribute to people living with HIV/AIDS, alongside the quilt.
The Southern Nevada Health District is expected to offer free testing Monday.
Las Vegas City Hall, the Keep Memory Alive Event Center, MEET Las Vegas, the Venetian and the Palazzo are expected to turn red — the AIDS awareness color — to commemorate the day.