Salad days are over, but Gabriella's hits on other points
February 10, 2015 - 4:09 pm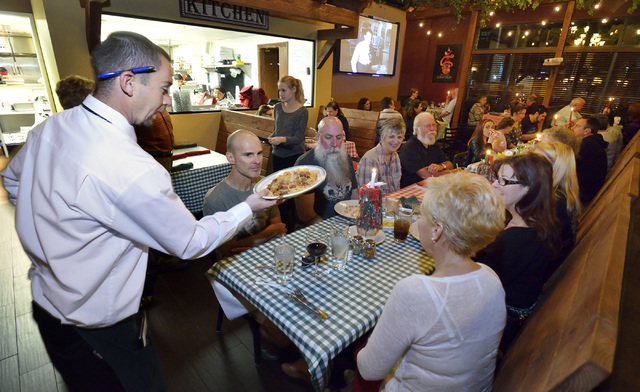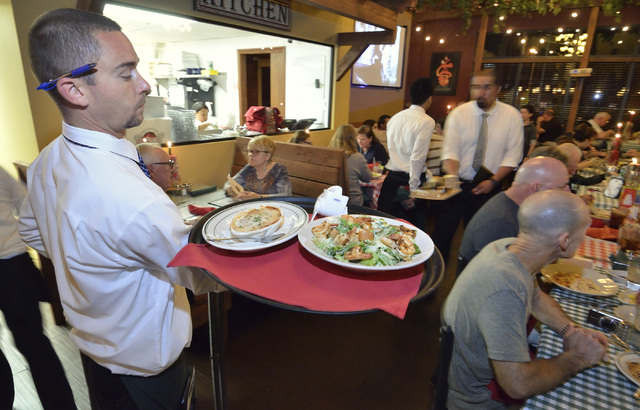 As our dinner at Gabriella's Italian Grill &Pizzeria got underway, we thought we'd hit the jackpot.
The space, in (if memory serves) a former pizza joint within a popcorn's pop of the Colonnade theaters, has been redecorated with a clear emphasis on charming, complete with clothesline pinned with laundry (including the biggest bra I've ever seen), faux balconies and columns, tables topped with checkered cloths and Chianti bottles with colored-drip candles, and gangster movies on a flat-screen. It captures the best kitsch of a '60s Italian restaurant while giving it a fresh, updated look. A piano player was tickling the ivories and an effusive managerial type heartily greeted all comers and went from table to table to check on progress and satisfaction.
We started with Shrimp Rockefeller ($15), which is such a logical riff on the oyster original we're surprised we haven't encountered it before. Six plump shrimp had been crowned with a classic Rockefeller topping of spinach, bechamel and cheese, with a mound of diced tomato in the center. Although having the tails under the sauce made removal a little messy (something that's a frequent experience these days), we absolutely loved this dish. We were off to a flying start.
And then the salads arrived. The managerial type had told us that the restaurant, the original location of which is on South Padre Island in Texas, uses all of the original recipes of the Nonna who launched it back in the day. Well, Nonna must have had a very '60s view of salads, and apparently nobody's thought to update it. This one had too much pale iceberg, too much vinaigrette, too much oil. It was bland and drippy and not much else. The accompanying bread fingers had been overly toasted and therefore were brown and crumbling.
Back up again, though, were our entrees. I couldn't verify the number of layers in Gabriella's Five Layer Lasagna ($17) because it was all melded together, which was definitely a good thing. The al dente pasta was interleaved with sweet Italian sausage and a blend of cheeses, baked and topped with marinara and a raft of mozzarella. Both of the latter two elements were particularly pleasing, the marinara in that it had a considerable component of diced green pepper that elevated the flavor profile, the mozzarella in that, as with the Shrimp Rockefeller, there was so much of its stretchy, gooey goodness.
The Sicilian pizza ($18) was another winner, for many of the same reasons. The choice of capicola, Genoa salami and Italian sausage meant there were layers of spicy, spirited and sweet flavors, and the blend of Fontina, Romano and mozzarella furthered that. Lots of cheese, which seems to be a Gabriella's hallmark, and a fantastic crust, stretchy and yeasty and gently charred in the wood-burning oven.
And Gabriella's Artichoke Chicken ($20), with two chicken breasts and a big tangle of angelhair, with capers, artichoke and prosciutto slivers, in a lemony white wine sauce. Lots of appealing contrasts, and big enough for two.
We finished slightly down with the cannoli ($6), which surprised me. Cannoli usually are pretty successful unless the shell is soggy, and that wasn't the case here. What was the case was that the filling seemed to be primarily mascarpone instead of the requisite ricotta, so the latter's appealing graininess was missing. So was the chocolate our waiter had promised; these were mostly pretty bland.
So, a definite mixed bag, but Gabriella's is strong on the points I consider most important. No, I don't think you should take the gun, but I definitely would advise you to leave the cannoli. Not to mention the salad.
Las Vegas Review-Journal restaurant reviews are done anonymously at Review-Journal expense. Email Heidi Knapp Rinella at Hrinella@reviewjournal.com, or call 702-383-0474. Follow @HKRinella on Twitter.
Review
Gabriella's Italian Grill & Pizzeria, 8878 S. Eastern Ave.; 702-912-1111
Overall A-
Food B
Atmosphere A
Service A
Pluses: Great starters and entrees.
Minuses: Salads definitely are the weakest link.