Sales of Nevada anniversary license plates speeding up despite cost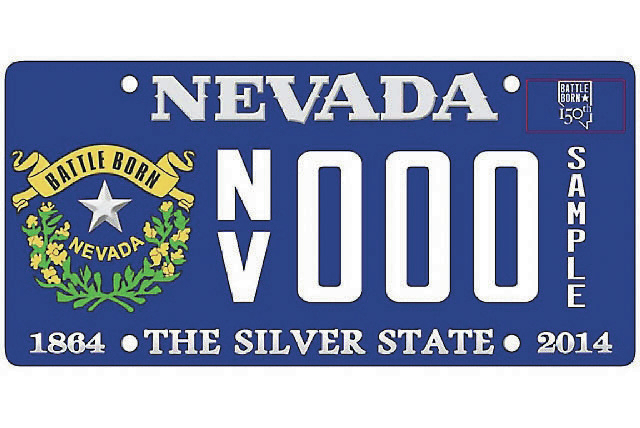 Nevada's 150th anniversary license plate featuring a "Battle Born" design is already popular. As of March 15, 6,016 150 plates have been issued, and there are an additional 879 personalized 150 plates ordered.
That is even with its extra $33.50 cost. The plate design resembles the state flag.
"We aren't even close to the anniversary yet," said David Fierro, a Department of Motor Vehicles spokesman. "It's going to be a very popular plate."
The release of the license plate in July was mired in a scandal. It quickly was discovered that the plate is made in Oregon, contrary to state law. Inmates in a factory in the now-closed Nevada State Prison in Carson City under law make the state's license plates from material provided by 3M.
But their equipment cannot create the special 150th embossed state anniversary plate. Therefore, the work was farmed out to the Irwin-Hodson Group of Portland. Legislators complained during a hearing about the out-of-state manufacture but could do nothing. The license plate factory will move in the next couple of years to the Northern Nevada Corrections Center, and equipment will be upgraded.
The plate design was developed by the Nevada Cultural Affairs Foundation, the Nevada Sesquicentennial Commission and the governor's office. A portion of the extra cost, $25, goes to the Sesquicentennial Commission to support statehood celebrations.

Celebrating the Silver State