November 7, 2007 - 10:00 pm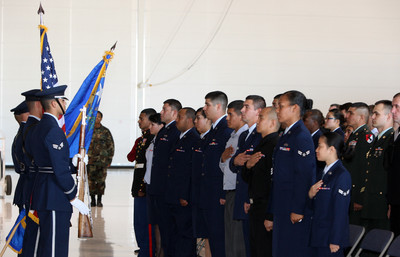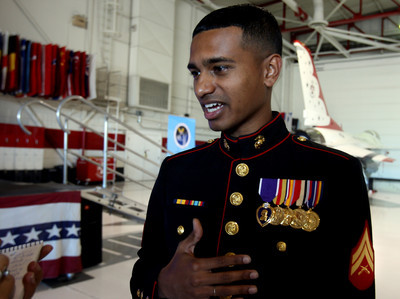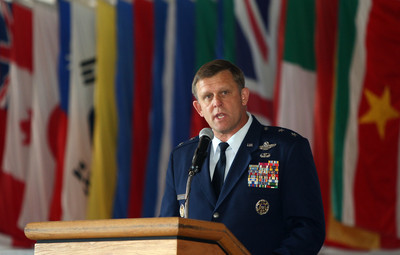 For Marine Cpl. Ruben D'Silva, the road to becoming a U.S. citizen had plenty of twists and turns before he reached that goal on Tuesday.
D'Silva came to the United States with his family from the state of Goa, India, when he was 2 years old. He spent most of his life in the Las Vegas Valley and joined the Marines after graduating from Rancho High School in 2003.
He served in Iraq, where he was shot in the forearm in June while manning a machine gun atop a truck in the streets of Fallujah.
"The gist of it all is I can see the ideals of freedom and democracy in action. I'm finally a part of that," he said following a naturalization ceremony at Nellis Air Force Base where Senior U.S. District Judge Lloyd George administered the Oath of Allegiance to him and 32 other Marines, soldiers, sailors and airmen.
It was the first all-military citizenship ceremony held in Nevada, base officials said.
D'Silva's father, Pascoal, a retired banker and naturalized citizen, said he brought his family to the United States "for the education of my kids. I told them as they were growing up they can do anything they want. He wanted to join the Marines," he said about Ruben.
Sgt. Darwin Phillips, a Nevada Army National Guard soldier from the Philippines, was another Iraq war veteran who took the citizenship oath Tuesday.
One of 125 volunteers, he returned this summer with the 1st Squadron, 221st Cavalry after a year providing security for convoys.
"It's a great feeling," said Phillips, who also served four years in the Marine Corps before joining the Nevada National Guard.
"There was a lot of sacrifice and a lot of hard work involved," he said about becoming a citizen. "Now I'll be able to vote and be a part of this great process."
In all, the new U.S. citizens at the Nellis ceremony came from 17 different countries. Thomas Paar, chief of staff of U.S. Citizenship and Immigration Services, told their families and friends inside the Thunderbirds hangar that 40,000 immigrants are in the U.S. armed forces.
"People … don't understand that immigrants make up a vital part of our community," Paar said.
Members of the military have an advantage in achieving citizenship. They are allowed to apply for citizenship in their first year in the armed forces. Most people must wait three to five years to apply after obtaining a green card, said a spokeswoman for Citizenship and Immigration Services.
Air Force Maj. Gen. Frank Gorenc knows the process firsthand. Born in Ljubliana, Slovenia, he came to the United States with his family in 1961. His parents went to night school for five years to learn English, and he followed his brother's footsteps to the Air Force Academy.
Gorenc earned his commission in 1979 as a distinguished graduate from the academy and went on to command a fighter squadron, an operations group and two wings, racking up 4,000 flight hours including a stint as an F-15C demonstration team pilot.
"To my family, the United States and freedom are synonymous," he said in his keynote address.
Becoming a citizen, he said, "means you have the freedom to chart your own course. In essence, you have what my parents came to the United States for: the opportunity to succeed."
Gorenc reminded the naturalized citizens of their responsibilities by paraphrasing President John Kennedy, saying, "Always ask yourself what else can I do for my country."
Contact reporter Keith Rogers at krogers@reviewjournal.com or (702) 383-0308.