San Diego attorney, Route 91 shooting victim discuss MGM settlement
Updated October 3, 2019 - 7:17 pm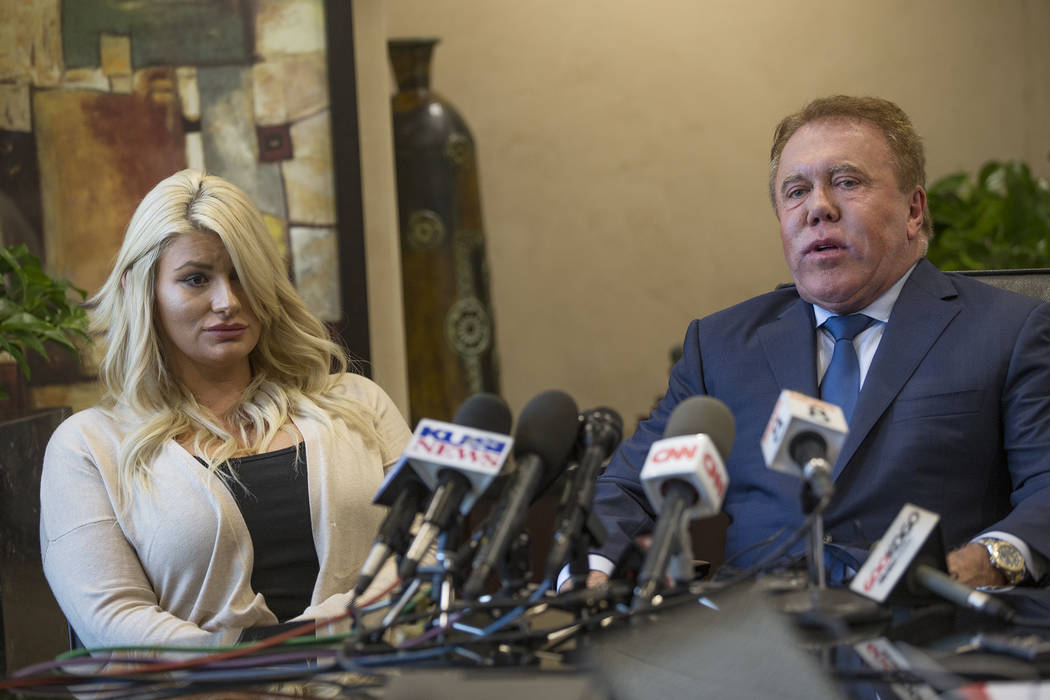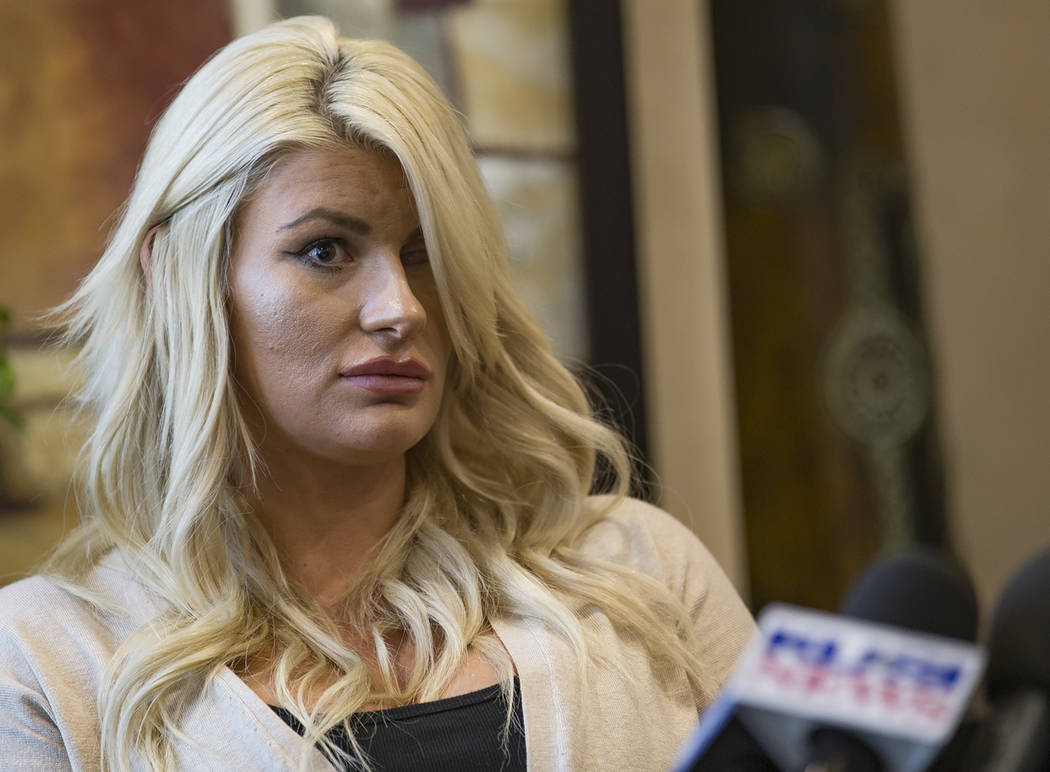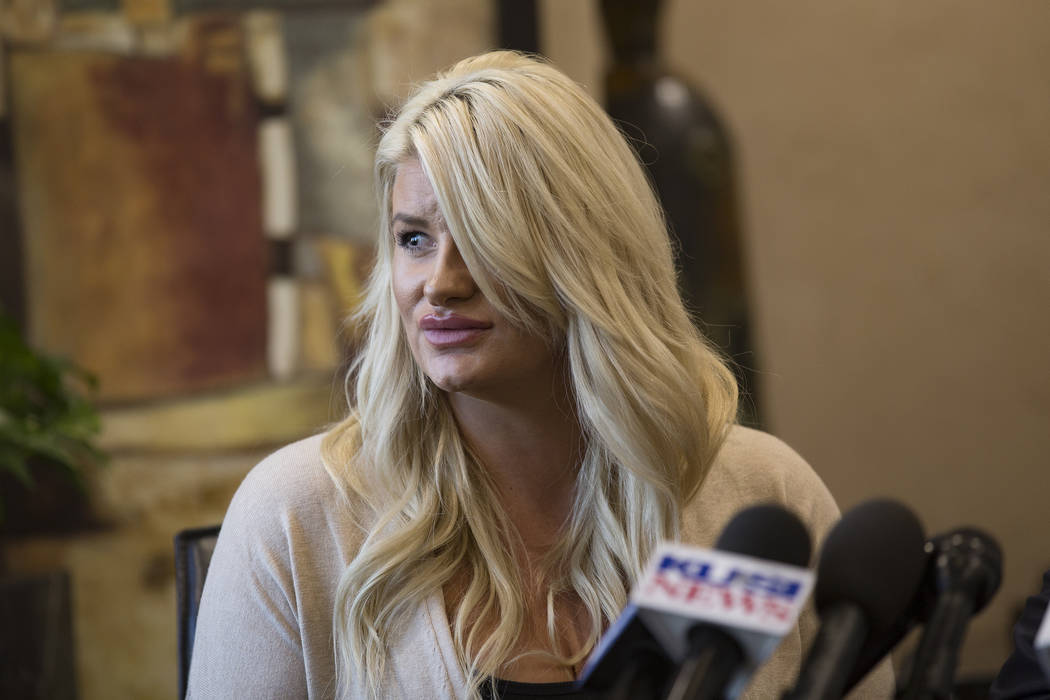 SAN DIEGO — Chelsea Romo wears her hair today so that her blond bangs hide the place where her left eye used to be.
Romo, 30, of Temecula, California, sat before television cameras Thursday, counting her blessings because she is still able to see her two children. She also was thankful about getting positive news this week at a time when many of her friends were remembering the horror of being shot in Las Vegas two years ago.
Romo accompanied her attorney, San Diego-based James Frantz, as they discussed the settlement agreement reached by MGM Resorts International and the victims of the Oct. 1, 2017, shooting at the Route 91 Harvest festival in Las Vegas. The total settlement amount is expected to be between $735 million and $800 million.
Frantz alternately praised and criticized MGM Thursday and said the company hasn't finished the job of keeping people safe at the resorts it operates around the world.
"MGM has stepped up and done the right thing so victims can put this behind them once and for all," Frantz said. "But they didn't always do the right thing. They didn't secure their premises at all, virtually open to anybody who wanted to walk in, and one gentleman did with 17 weapons, thousands of rounds of ammunition, unimpeded. That's going to change. That's Step 2. MGM needs to make sure that all of their hotels and properties are safe so this will never happen again."
A spokeswoman for the company said late Thursday that safety and security have always been a top priority.
"We work closely with local, state and federal law enforcement and top experts in the country to constantly evolve our security procedures," Debra DeShong said in an emailed statement. "As always, security is one of our top priorities and we remain focused on providing a safe and enjoyable guest experience."
A gunman on the 32nd floor of Mandalay Bay opened fire on the outdoor concert venue on the other side of the Las Vegas Strip, killing 58 people and injuring hundreds of others. Both the hotel and former concert venue are owned by MGM.
Frantz, who represents 199 victims, said the several law firms working with victims of the Las Vegas shooting have not yet resolved how much money will go to which victims — and how much lawyers will get. He said he expects that resolution sometime next year.
'Major hurdle' crossed
Though they weren't at Thursday's press conference, attorneys and relatives of other victims also cheered news of the settlement.
Attorney Patrick McGroder III represents Jovanna Calzadillas, a 32-year-old Arizona woman who survived being shot in the brain, and a few other victims.
"We're very pleased as far as our clients go," McGroder said. But he acknowledged that despite crossing a "major, major hurdle" with the agreement, it's difficult to answer how far money will go for the victims.
"Our civil justice system allows really only one remedy for victims of tragedy and catastrophic injury, and that is monetary compensation," he said. "But no monetary compensation can ever replace a life or heal the sick."
Steve Melanson, husband of Rosemarie Melanson, the last patient injured in the shooting to be released from Sunrise Hospital and Medical Center, said he is relieved a settlement has been reached and he hopes it will help some of the victims move on.
"This will be something that we'll never forget, but it will allow for people to recover who may have medical needs in the future," Steve Melanson said. "Maybe that'll help financially for some of the victims and allow them to move on and continue living life."
Over the last two years, Rosemarie Melanson, 55, has undergone around a dozen surgeries since being shot in the chest, with the bullet damaging her esophagus, lung, spleen and liver. Her medical care continues as she is scheduled for another surgical procedure at the end of the month.
"She's still not done, but she's moved forward in a fantastic way," Steve Melanson said. "She's doing quite well considering. Hopefully this procedure that they're going to do will be the last one and she'll just continue to recover."
Rosemarie Melanson's recovery has been tough, with her having to go back and forth between medical centers and her Las Vegas home after complications arose from some of the surgeries she's endured.
She's been home now for almost a year, and Steve Melanson said he relishes each second he gets to spend with his wife.
"It's wonderful to wake up next to her and to know that she's alive and prospering and she's with us now," Steve Melanson said. "She keeps improving every day. She's a strong, strong person."
'Past can't be changed'
Romo, who has undergone seven surgeries and still has sutures in one of her corneas, said the recovery process "is never-ending."
"Life has been really hard the last couple of years," she said. "To think that I could go places and that it's safer now, I know something good could come from something so horrible. It's the only thing I could ask for out of this since the past can't be changed."
Romo, who said she still has trouble mustering the courage to go to theaters and concert venues, said what matters most is that she can see after doctors initially told her she'd be blind.
"I'm a single mom," she said, "and I just thank God every day that I'm actually here with my kids."
Contact Richard N. Velotta at rvelotta@reviewjournal.com or 702-477-3893. Follow @RickVelotta on Twitter.
Review-Journal staff writers Shea Johnson and Mick Akers contributed to this report.