San Diego woman gets probation for graffiti tour of National Parks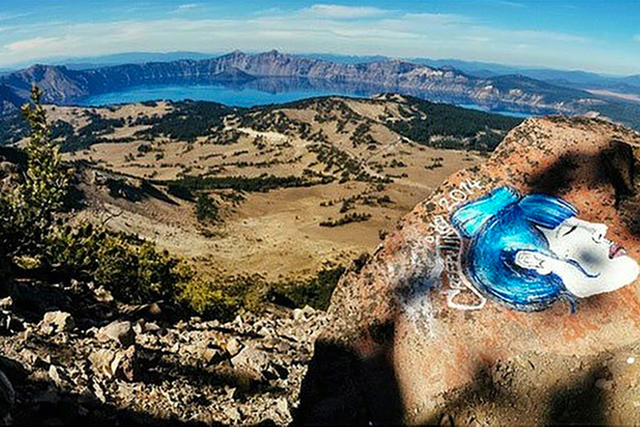 A San Diego woman who used the rocks at several National Parks as her personal art gallery has pleaded guilty to seven misdemeanor counts of damaging government property.
Following her guilty plea in a Fresno, California, federal court Monday, 23-year-old Casey Nocket was sentenced to 200 hours of community service and two years of probation, during which she will be banned from all lands administered by the National Park Service, U.S. Forest Service, Bureau of Land Management or Army Corps of Engineers.
During her month-long "art" spree in 2014, Nocket used markers and acrylic paints to draw on rocks at seven National Park sites, including Zion and Death Valley. Then she posted pictures of her drawings on social media, which did not attract the sort of attention she might have hoped for.
"The defendant's defacement of multiple rock formations showed a lack of respect for the law and our shared national treasures," acting U.S. Attorney Philip Talbert said in a statement Monday.
Nocket's graffiti has been removed from five of the seven parks — painstaking work that in some cases required sandblasting and chemical stripping.
Clean-ups are planned soon at Death Valley in California and Crater Lake National Park in Oregon as weather permits, Talbert said.
At Death Valley, 100 miles west of Las Vegas, Nocket left her mark on a rock near the 11,049-foot summit of Telescope Peak, the park's highest point.
According to investigators, the woman's graffiti tour began at Rocky Mountain National Park on Sept. 12, 2014, and moved on to Colorado National Monument on Sept. 13, Canyonlands National Park on Sept. 15, Zion on Sept. 17, Death Valley on Sept. 23, Yosemite National Park on Oct. 2, and Crater Lake on October 7.
She documented her trip and her drawings on Instagram and Tumblr, drawing widespread outrage online.
A hearing will be held to determine how much restitution she will be required to pay, according to a press release from the Park Service's Investigative Services Branch.
The Associated Press contributed to this story.
Contact Henry Brean at hbrean@reviewjournal.com or 702-383-0350. Find @RefriedBrean on Twitter.