Sandoval announces plan for Nevada schools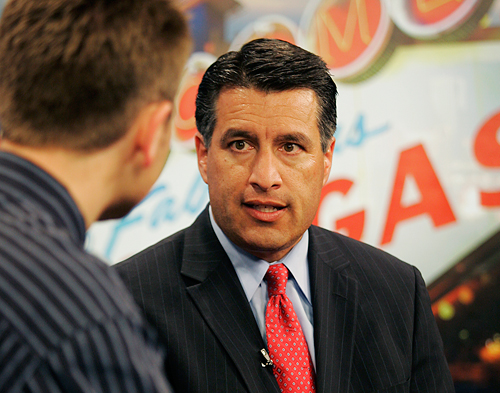 Republican gubernatorial candidate Brian Sandoval on Tuesday unveiled his plan to reform Nevada's worst-in-the-nation schools.
Sandoval said he would use school vouchers, grades for schools, higher standards of accountability for teachers and administrators, and privatized food service and other school functions.
His education plan is full of tough rhetoric and a promise it won't cost taxpayers an extra dime — much like that of Democratic candidate Rory Reid. Both plans renew the debate over whether the Silver State can achieve true reform as long as it remains near the bottom in terms of education spending.
"I don't believe it is about money," Sandoval said. "I believe it is about the way education is delivered. The bottom line is this, we need to improve graduation rates and improve test scores for kids."
Education has emerged as a central theme in the campaign. Teachers and administrators in Nevada's troubled education system will be under political pressure to produce results no matter who is elected governor in November.
Reid, who trails Sandoval by about 20 percentage points in statewide polls, unveiled his education plan in March. Since then he has criticized Sandoval's lack of a proposal to improve schools and reminded Nevadans about the state's dismal education statistics, including a recent report from Education Week that put the public schools' high school graduation rate at 41.8 percent.
Sandoval said his plan has been in the works for months. He has borrowed academic and cost-saving reforms from Florida, Houston and elsewhere.
On the academic side, Sandoval intends to replicate reforms instituted in Florida under former Gov. Jeb Bush, a Sandoval supporter. Highlights include a system of assigning letter grades to schools based on student performance and giving students in schools that receive "D" or "F" grades an opportunity to go to a better school.
Sandoval would do away with teacher tenure and pay teachers based on how much the students learn. He also would abolish what he calls "social promotion" of students to grade levels for which they are unprepared and improve academic tracking of students.
Similar accountability reforms in Florida improved reading test scores from almost last in the nation to the middle of the pack, according to the Foundation for Excellence in Education.
On the financial side, Sandoval said he would implement a program of school vouchers that would allow parents to use public money to send their children to private schools. A voucher plan may require a change in the state constitution, which would be a tall order for any governor.
Reid's plan also includes opportunities for parents to choose their children's schools, but it stops short of vouchers, which he says would shift money from needy public schools to wealthy private institutions.
Some studies suggest voucher programs have improved academic performance in cities such as Milwaukee.
Sandoval also said he would save money by privatizing food service, facility management and nonacademic administration, an idea he borrowed from the nation's seventh-largest school district in Houston.
The Houston Independent School District increased participation and saved or generated tens of millions of dollars in funds for the food service program, according to Sandoval. Private facility management saved the district $8.3 million annually, and the district also reduced the size of its human resources department 25 percent while reducing teacher vacancies.
"The experience there was very positive," Sandoval said.
Although Florida's education reforms and Houston's cost-saving measures have been widely praised, they also have received some criticism.
In Florida, some education experts question whether the school performance was helped by the booming economy from 1999 to 2007, when Bush was governor. Florida hired thousands of reading coaches to help students with their studies and implemented a program to improve the health of infants and young children.
Without reading coaches and a system to ensure children are healthy and ready to learn, Nevada would "have the shell of accountability without the real support for solid education," said Sherman Dorn, an education professor at the University of South Florida.
Dorn called the system of grading schools with letters a gimmick. "It is very clever politically; whether it does much for schools is still up in the air," he said.
Some also have questioned the long-term costs of privatization in Houston, especially for food service.
Orell Fitzsimmons, field director for the union that represents food service and other nonacademic school workers in Houston, said privatization has hurt the quality of food in the district. He is critical of Aramark, the company with the contract, for offering foods such as Pop Tarts, animal crackers and other high-sugar, high-sodium foods for breakfast.
"What Aramark wants to do is feed our kids processed foods because they can get it from big distributors on the cheap," Fitzsimmons said. "Healthy food is hard to make a profit on. Processed food … is easy to make money on because it comes in wrappers."
Sandoval said that even under a privatized system, food and other contractors would be accountable for quality products and service.
"That is the beauty of privatization," he said. "If they are not doing a good job, we can find someone else who will."
No matter who becomes the state's next governor, he will face legal and political challenges reforming schools, which cost state government about $3 billion annually but are controlled mostly by local school districts.
Both Sandoval and Reid want to see more of the state's money going to individual schools and priorities set by principals, teachers and parents.
In exchange, they want more accountability among teachers and administrators.
But Nevada ranks near the bottom of states when it comes to education spending, and many believe the state needs to spend more if it wants better results.
The Nevada State Education Association has already endorsed Reid but says the education plans from both candidates are inadequate without more money for schools.
"Neither Brian's nor Rory's plan addresses that," said Lynn Warne, president of the teachers union. "That is a conversation we are going to need to have one day."
Contact reporter Benjamin Spillman at bspillman@reviewjournal.com or 702-477-3861.
Sandoval education plan
Reid education plan