Sandoval bent on funding education
February 3, 2015 - 10:59 pm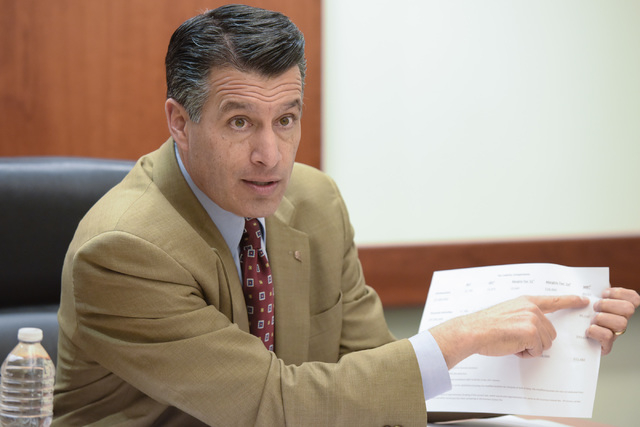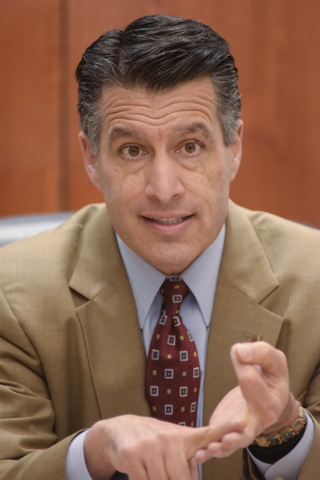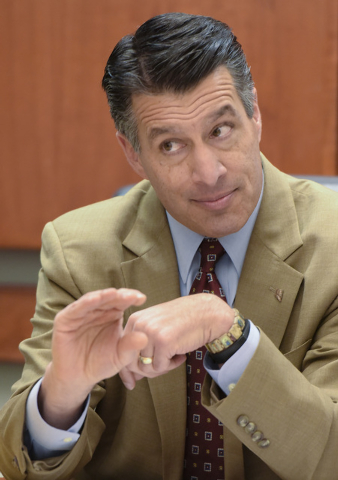 He wasn't hawking Fuller Brush products or reviving the role of Willy Loman, but dapper Gov. Brian Sandoval was certainly in salesman mode when he arrived at the Review-Journal's doorstep.
Following a State of the State address, which found him making an impassioned call for improved public education funding and reform, Sandoval has been hustling to make his case for the need to increase taxes by approximately $1.15 billion (including the $650 million in so-called "sunset" taxes on the books for the past decade.)
The most politically prickly part of the tax plan is the call for a $430 million increase in business license fees just weeks after Nevada voters fired up by angry business owners rejected a similar plan by a wide margin.
Sandoval will have to enlist support from some of those same people. Turning "Death of a Salesman" into a one-man show might be easier than persuading recalcitrant business owners to see the depth of his vision.
By his count, Sandoval said he's visited hundreds of Nevada schools, including many of those in poor neighborhoods, and discussed education strategy with public education superintendents before arriving at the plan he outlined to Nevadans.
Longtime observers of state government, even some in the anti-tax camp, have called his ideas ambitious and even brave. But those can't yet be counted as "yes" votes.
During an hourlong Review-Journal editorial board meeting, Sandoval was the sincere and studious Nevada family man whose persona appeals to so many voters. And he sincerely wanted to sell the skeptics on the panorama of his plan.
The business license fees plan broadens the burden to make it the simplest and fairest way of raising revenue, he said, unfolding a chart that at first glance didn't appear all that simple. But just follow the X and Y axises, he offered, and business owners will find the fee that applies.
Somehow, that might not be the most difficult element of his sales job. In the coming weeks, he'll need to bring his A game to find enough support from members of his own party for full-day kindergarten, an increase in gifted and talented funding, and another $24.1 million in bonding for an expansion of the hotel college at UNLV.
And Democrats long aligned with the public employee unions figure to suffer from sudden deafness when it comes time to discuss additional funding for charter schools and other changes to the tattered status quo.
In one respect, that's what makes the moderate Republican Sandoval's sweeping approach so impressive: There's something for everyone to love — and hate. As long as the salesman can close the deal. For a fellow known to have political ambitions beyond Carson City, that's a genuine gamble.
"I have to do what I think in my heart is best for the state of Nevada, and that's what we're going to do," he said.
He has some advantages. The economy and jobs picture are breaking in his favor. But he also has a hard-core group of Assembly conservatives who have minimized their own opportunity to make substantive change by espousing a No Taxes Forever rhetoric that reverberates with some voters but infuriates legislators who actually think their wrenches can improve government.
"I have to embrace the moment," Sandoval said. "We've done the cuts. I've done the consolidations. We've done the (revenue) sweeps. I've done all that. I did make up my mind that I'm not going to move backward anymore. And I also made up my mind I'm not going to put a future governor through this."
In Nevada, with its citizen Legislature and long history of special-interest influence, it's always been easier to disable the engine of government than increase its horsepower. In a state in sore need of a master mechanic, we've usually been stuck with wrench-wielding grease monkeys.
It's not because elected leaders haven't cared that's kept back Nevada, but because they couldn't close the deal that's kept the state sputtering when it ought to have been roaring toward the future.
Sandoval surely knows that.
Previous governors have been content to have their trusted insiders to shape and spin the narrative from behind the scenes.
Sandoval appears to be going door to door. Just days after the State of the State, his office held a background briefing to help break down the numbers and take some of the sting out of the proposals.
In addition to editorial board meetings at both ends of the state, his office started an email push reminding foot-draggers of the wickedly mediocre shape Nevada's public education system finds itself in.
If he's wise, he'll keep it up.
Just hours after its members were sworn in at the Legislature, the conservative Nevada Policy Research Institute sent a stinging rebuke of the tax plan under the heading, "Sandoval's tax hike higher than reported."
Whether it's $1.15 billion or $1.30 billion, it's an elephant he's going to have to persuade his GOP friends to eat if he's to win the day. To do that, he might redraft a line from Arthur Miller and be willing to be "liked, but not well liked." And if he must be feared, well, maybe there's a place for that, too.
"Somebody has to take this on," Sandoval said sounding every bit like a man on a mission. "I'm the governor. I have to lead, and I will lead. I'm going to defend this. If there are other good ideas out there, I'm going to listen."
So let the horse trading begin.
Soon enough we'll all know the depth of this salesman.
John L. Smith's column appears Sunday, Tuesday, Wednesday, Friday and Saturday. Email him at Smith@reviewjournal.com or call 702-383-0295. Follow him on Twitter @jlnevadasmith.