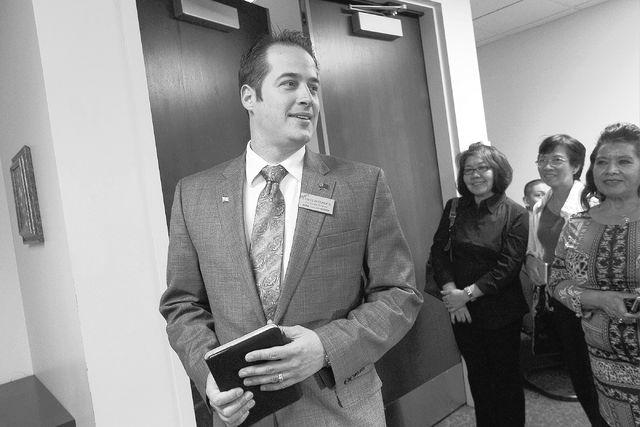 CARSON CITY — GOP Gov. Brian Sandoval is poised to coast to an easy second-term victory after the filing deadline for candidates for public office closed Friday and no strong Democrat or Republican emerged to challenge him.
In some unexpected news on the last day of filing, former state Sen. Mike Schneider filed to run for the Clark County Commission seat held by Susan Brager, who is running for another term in District F. Both are Democrats.
Embattled Las Vegas Township Constable John Bonaventura filed to run against County Commissioner Mary Beth Scow in District G. Both are also Democrats.
Danny Tarkanian, who last ran for public office in 2012 and lost a congressional race to Rep. Steven Horsford, D-Nev., filed for the Board of Regents seat in District 2. Tarkanian has run for election several times, including in the crowded Republican primary in 2010 to take on U.S. Sen. Harry Reid, D-Nev. Tarkanian, son of basketball coaching legend Jerry Tarkanian, did not win that primary.
Regent Robert Blakely is running for another six-year term in District 2. Also running in the nonpartisan race is Trevor Hayes, an attorney and former Review-Journal reporter.
Reid had said recently that Democrats would field a respectable candidate against Sandoval, but no one stepped up to the plate as the final minutes ticked away.
County Commissioner Steve Sisolak had considered but rejected a run against Sandoval.
The focus for the 2014 election season is squarely on the lieutenant governor's race, where two well-known Republicans, Sue Lowden and state Sen. Mark Hutchison, are fighting it out in the primary set for June 10.
The winner will take on Democrat Lucy Flores to determine who could have the chance of becoming acting governor in 2016 if Sandoval challenges and defeats Reid in his expected re-election bid, or if Sandoval is drafted for another post. Sandoval said when he filed for re-election a week ago that he intends to serve the full four-year term.
Sandoval, who has a high popularity rating, isn't the only candidate looking to have an easy time this election year. Several state lawmakers will coast to an easy re-election because no other candidates filed against them.
In Clark County, state Sen. Joe Hardy, R-Boulder City, has no opposition in his District 12 after a second GOP candidate withdrew.
In the Assembly, Southern Nevada incumbents with no opponents include Democrats Olivia Diaz in District 11 and Heidi Swank in District 16, and Republican Melissa Woodbury in District 23.
A new candidate to fill the District 28 seat held by Flores will have no fight. Edgar Flores, a Democrat, is the only candidate to file for the open seat.
In rural Nevada, state Sen. James Settelmeyer, R-Minden, and Assemblymen John Ellison, R-Elko, and James Oscarson, R-Pahrump, have no opponents. Assemblyman David Bobzien, D-Reno, has no opponent.
There are 15 candidates in the governor's race besides Sandoval, representing both major parties and two minor parties, but none is well financed or widely known.
In Las Vegas, Democrat Chris Hyepock filed to run for governor at the secretary of state's office. Hyepock is one of more than half a dozen Democrats competing in the June 10 primary for the right to face Sandoval in the Nov. 4 general election.
Hyepock, a little-known casino worker, has been the most active Democratic gubernatorial candidate. He's been campaigning for about six months, including conducting man-on-the-street interviews, attending political events and wooing Asian and Hispanic groups.
Next week, Hyepock said he plans to meet with Reid while the senator is in Nevada during a U.S. Senate recess.
"I want his endorsement, of course," he said of Reid. "But I also just want his acknowledgement. I want to know whether he is going to get behind me."
Hyepock, 35, arrived to file Friday with an entourage of half a dozen supporters and a cameraman recording his campaign efforts.
"People just want a common guy," Hyepock said, insisting it's not a sure thing that Sandoval will win re-election despite his popularity. "We deserve something different than what we've been getting."
Hyepock said he isn't afraid to take a strong stance on issues since he hasn't done "market testing" or conducted polls to determine what positions he should take.
For example, he said he favors a 2 percent margins tax on businesses, also known as the Education Initiative, or Question 3 on the 2014 ballot. Hyepock, a father of two, said Nevada needs to boost education spending.
"I think we need all the revenue we can get" for schools, he said, adding he favors all-day kindergarten.
He also noted that only 13 percent of Nevada businesses would be hit by the proposed tax.
The last candidate to file in the secretary of state's office in Las Vegas was Robert Goodman, 79, a Democrat running for governor.
"I think I want to see if we can make some changes," Goodman said when asked why he's running for governor.
Asked whether he thought Sandoval was doing a good job, Goodman said: "He's doing a wonderful job."
Goodman smiled and said, "I guess I'm not really trying very hard" to win.
Another potential candidate, Darin Weidauer, showed up at the wrong place to file — and at the last minute. The Republican wanted to run for the 1st Congressional District but tried to file at the secretary of state's office instead of at the Clark County Elections Department. He showed up just minutes before 5 p.m.
"Oh well, scratch that," he said of his failed attempt to file. "I guess I have to wait another two years."
Review-Journal writer Ben Botkin contributed to this report. Contact Capital Bureau reporter Sean Whaley at swhaley@reviewjournal.com or 775-687-3900. Follow him on Twitter @seanw801. Contact reporter Laura Myers at lmyers@reviewjournal.com or 702-387-2919. Follow her on Twitter @lmyerslvrj.