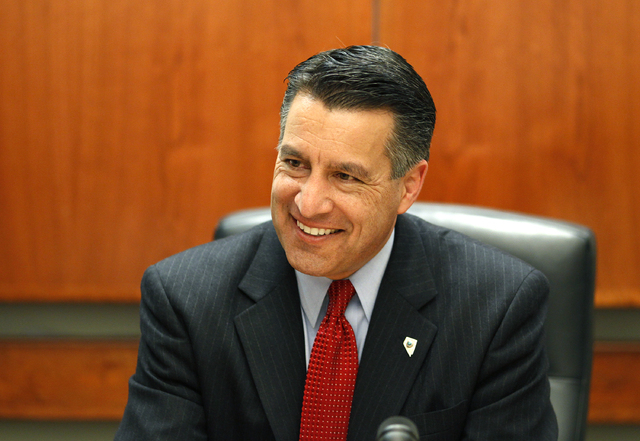 GOP Gov. Brian Sandoval seems a little surprised that he didn't draw a strong Republican or Democratic opponent as he faces near certain re-election to a second term Nov. 4.
"It definitely gives me more time to govern," Sandoval said in an interview Thursday with the Las Vegas Review-Journal editorial board. "But I really only know one speed, so I go full bore no matter what."
In fact, Sandoval said he isn't taking anything for granted. After all, 15 other candidates filed to run for governor, including four Republicans, nine Democrats, one member of the Independent American Party and one member of the Green Party. That means voters will see 16 names on the ballot.
"I don't want that to suggest that I'm taking any of these individuals lightly," Sandoval said. "I'm not wired that way."
Asked whether he knew any of his competitors, he said he had met Democrat Chris Hyepock, a casino worker, at a Martin Luther King Jr. Day parade.
He said anybody who runs for governor deserves respect.
"They do deserve respect," Sandoval said. "To put your name on the ballot and to put your name out there, that deserves respect. This is a serious time in this state. This is a serious job.
"I cannot take anything for granted, nor will I."
Asked why he thinks he didn't draw a stronger opponent, Sandoval demurred.
"I guess you'll have to ask others. I don't know," he said. "I just focus on my job.
"I was ready to go no matter who the opponent was going to be. I'm ready, willing and able to defend my record."
Asked about the lieutenant governor's race between state Sen. Mark Hutchison, R-Las Vegas, and former state Sen. Sue Lowden, a former Nevada GOP chairwoman, Sandoval said he endorsed Hutchison, but the two don't always agree.
He said he met Hutchison when the attorney represented the state of Nevada for free in its lawsuit against President Barack Obama's health care law.
"He impressed me right away," Sandoval said. "We don't agree on everything even now. But I think he would make a great lieutenant governor." He didn't go into detail about any disagreements.
Sandoval said backing Hutchison also is a way to develop a stronger "bench for the Republican Party going forward."
"It is about developing somebody for the future, who will be a future leader in this state," Sandoval said.
Sounds like the governor might be grooming Hutchison to replace him when his term is up. Sandoval dismissed any idea that he might not complete his second term, although he has been mentioned as a potential U.S. Senate candidate against U.S. Sen. Harry Reid, D-Nev., in 2016 or even as a potential vice presidential candidate.
Sandoval said he likes Lowden, too, and the two served in the Nevada Legislature together.
"I have a lot of respect for Sue," Sandoval said. "If she's elected, we're not going to agree on everything."
Asked whether he could work with Democrat Lucy Flores if she wins the lieutenant governor's job, Sandoval said yes. The assemblywoman from Las Vegas is giving up her seat to run for the No. 2 job in the state.
"I'll work with whoever is elected," Sandoval said.
— Laura Myers
WANTED: ARGUMENT AUTHORS
Secretary of State Ross Miller is seeking volunteers to write the arguments both for and against the margins tax measure to fund public education that will be on the Nov. 4 ballot.
Called the Education Initiative, the measure would impose a 2 percent tax on businesses making at least $1 million in annual revenue. It would raise an estimated $650 million to $750 million annually for public education.
Gov. Brian Sandoval is among the most vocal critics of the proposal, arguing it would hurt Nevada's economy and stifle job growth. The Nevada State Education Association is advocating the tax to provide what it contends is necessary funding to improve public education.
It will be Question 3 on the ballot.
As required by state law, two committees of no more than three members each will be appointed for the ballot question. One committee will be composed of citizens known to favor approval of the ballot question, while the other will have people known to oppose it. Members of the committee serve without compensation.
Those interested are required to submit a form. The form is available at www.nvsos.gov or by contacting the secretary of state's Elections Division at 775-684-5705.
Applicants may not serve simultaneously on the two committees.
The deadline for citizens to submit an interest form to the secretary of state's office is 5 p.m. April 2.
The office will announce the names of the committee members on April 7.
"Once the committees' arguments and rebuttals are completed and finalized, my office will send the information to county clerks and registrars of voters with sufficient time to include the ballot question information on the general election sample ballot," Miller said.
"This is an important role in the process, and we want to get the best people possible lined up and ready now."
The Education Initiative petition has been deemed sufficient by the secretary of state's office to appear on the ballot.
There have been two other initiative petitions filed with the secretary of state's office, but they are in the signature-gathering stage. The deadline for submitting petition signatures for verification is June 17. A ballot question committee will be created for the constitutional amendment initiatives and referenda that qualify for the 2014 ballot.
The two in circulation are the Healthcare Freedom Protection Act, which would abolish health insurance exchanges in Nevada, and the Voter ID Initiative, which would require a photo ID to vote.
A list of all statewide petitions filed in 2014, including petitions withdrawn and denied per court order, is available in the Elections Center on the secretary of state's website at www.nvsos.gov
— Sean Whaley
CLARK COUNTY SHERIFF HONORED
Sheriff Doug Gillespie was presented with a Congressional Proclamation by U.S. Sen. Harry Reid, D-Nev., on Thursday for being selected Sheriff of the Year.
Gillespie will receive the award June 22 during the 2014 National Sheriffs' Association Annual Conference in Fort Worth, Texas.
Gillespie, a 33-year Las Vegas police veteran, was elected in 2007 and leads more than 4,700 sworn officers and civilian employees in the Metropolitan Police Department, which serves the city of Las Vegas and unincorporated areas of Clark County.
He is not seeking re-election.
— Steven Slivka
REID SOLICITS RIBBON CUTTING
It's hard to envision U.S. Senate Majority Leader Harry Reid asking to participate in a ribbon cutting. Others are usually doing the asking.
But when dedicated Democrat and product liability lawyer Robert Eglet told Reid about plans to open his $18 million Robert T. Eglet Advocacy Center in downtown Las Vegas, Reid asked Eglet if he could wait until March, when the senator would be in Nevada.
Eglet waited. The senator didn't have to beg.
— Jane Ann Morrison
Contact Capital Bureau reporter Sean Whaley at swhaley@reviewjournal.com or 775-687-3900. Follow him on Twitter @seanw801. Contact reporter Steven Slivka at sslivka@reviewjournal.com or 702-383-0264. Follow him on Twitter @StevenSlivka. Contact reporter Jane Ann Morrison at jmorrison@reviewjournal.com or 702-383-0275.