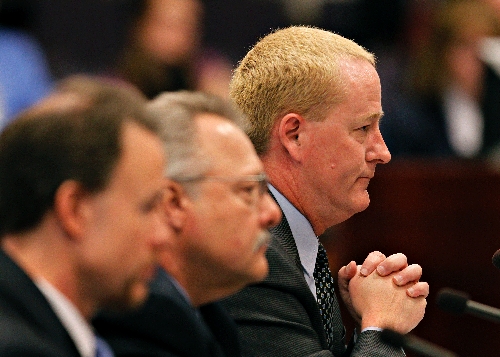 CARSON CITY — Gov. Brian Sandoval's plan to divert $411 million in the Clark County School District's bond reserves to cover classroom costs would violate state law and jeopardize the system's ability to pay off outstanding construction bonds, district officials said Wednesday.
District Chief Financial Officer Jeff Weiler told the Legislative Commission Budget Subcommittee the money now is "just barely enough to cover us through the next five years" because bonds are paid by property taxes and the county's property values are dropping.
Total county property values are expected to drop more than 10 percent in this year alone, Weiler said.
"It is not only illegal, but it is ill-advised," Clark County Associate Superintendent Joyce Haldeman said about Sandoval's plan to use bond reserves for operating costs.
In his proposed budget, Sandoval is calling for a 9 percent cut in state support to public education compared with current spending.
But Democratic leaders said Wednesday the cut is $668 million in state spending — not the $212 million listed in Sandoval's proposed $2.21 billion two-year public education budget — in comparison to what was allocated to education by the 2009 Legislature.
The Democrats said the total cut to education, counting the expiration of federal stimulus funds, is more than $900 million, 27 percent, since 2009.
Sandoval's senior adviser, Dale Erquiaga, has defended the governor's comparisons, which are based on actual spending and not on what was approved in 2009.
To reduce the effect of the cuts, Sandoval wants to change a state law and allow school districts to use half of the money they keep in reserve accounts to cover the operational costs of schools.
The bond reserve funds are used to pay the debt service on construction bonds approved by voters.
But Weiler said Sandoval's bond restructuring plan won't work in the Clark County School District.
School district officials might have to extend to 30 years most of the district's 20-year bonds to cover the bond payments, Weiler said.
The changes would lead to much higher interest costs on current and future construction project bond issues, he said.
Assembly Ways and Means Chairman Debbie Smith, D-Sparks, said after the meeting that under state law, property taxes automatically would be increased if enough money isn't available to make payments on bonds.
During the meeting, Weiler questioned whether voters would want the bonds they approved specifically for building and repairing schools suddenly diverted to cover school operations costs.
After the hearing, Erquiaga said Weiler and other school officials told legislators something that was "slightly different than what they told us."
Erquiaga said he would be meeting later with state budget office staff members to discuss Weiler's concerns.
If the cuts are as high as Democrats suspect, then, Weiler said, there could be "thousands" of layoffs of teachers and support personnel in Clark County, especially if employee unions do not agree to salary and benefit concessions.
Contact Capital Bureau Chief Ed Vogel at evogel@reviewjournal.com or 775-687-3901.