Sandoval takes Reid's debate bait
August 15, 2010 - 11:00 pm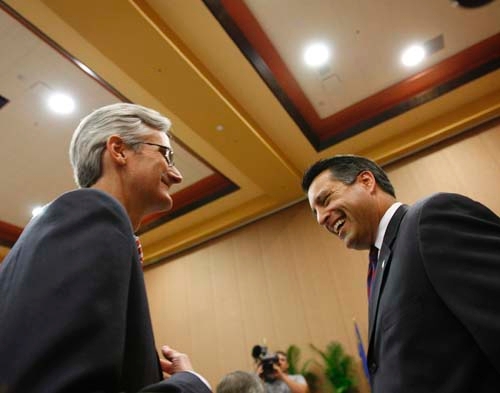 Democrat Rory Reid managed to cause a stir in Nevada's gubernatorial race last week when he challenged his Republican opponent Brian Sandoval to an impromptu debate during a luncheon both men attended.
Sandoval took the bait, and the candidates parried over three questions for about 15 minutes, livening up a format that had called for canned speeches.
The exchange, while entertaining, didn't result in either candidate revealing anything new of substance. Instead, both Reid and Sandoval reiterated old lines that already have been shown to be empty or misleading.
During his time on the podium, Sandoval highlighted the fact that he alone has a plan to balance the state budget in advance of the start of the Legislature in February.
"I felt it was incumbent as a candidate for governor to come up with a plan to balance that budget without raising taxes, without mass layoffs and without hurting services for the most vulnerable folks in our society," Sandoval said.
He didn't, however, remind the room that his plan falls hundreds of millions of dollars short of closing what turned out to be a budget gap of about $800 million and that a subsequent proposal to save more was akin to borrowing long-term money to create a short-term patch.
Sandoval, through Sen. Bill Raggio, R-Reno, pitched a plan to raise $250 million by selling state buildings to private companies and leasing them back.
It never got off the ground and was criticized by Gov. Jim Gibbons and others for being shortsighted and impractical.
"It generates money at the front-end, but it does not solve the longer term problems a state has," said Jeremy Aguero, a principal at the economic research firm Applied Analysis. "It is borrowing for operations. No doubt about it."
Not to be outdone, Reid recycled some questionable claims of his own during the event.
Among them was a budget-balancing claim related to his role as chairman of the Clark County Commission.
Reid's repeat claim: He is in charge of a budget "as large as the state's" and that he balanced it "in good times and in bad without raising taxes."
The claim is meant to show Reid can tackle the state's potential general fund shortfall, which could be as much as $3 billion for the 2011-13 biennium. The entire state general fund is about $6.5 billion per biennium.
One problem with Reid's claim is that the County Commission did vote to raise taxes during his tenure.
Reid and his fellow commissioners voted twice to raise taxes, once in 2003 and again in 2005. Each vote followed advisory votes by the people, and each increase went to special funds.
The increase in sales and development taxes approved by the commission in 2003 went to transportation projects. The 2005 sales tax increase paid for more police officers.
Reid and Sandoval also continue to maintain they will balance the general fund without raising taxes, a task legislators from both major parties, analysts and state officials have said is unlikely.
Fix a muffler, fix the country
Republican Joe Heck doesn't like government bailouts aimed at fixing car companies, but he's got no problem fixing the cars themselves.
Heck, who is challenging Rep. Dina Titus, D-Nev., for Congressional District 3 will take a crack at car repair as part of a campaign gimmick called "Joe Knows Jobs."
Heck, a physician, businessman and Army reservist, plans to visit several organizations and businesses to learn more about how government policies affect people in communities, according to his campaign.
The effort kicks off today at Biodiesel of Las Vegas and includes a stop at a local Midas shop where Heck says he will jump in the pit and give car repair a shot.
"The Joe Knows Jobs tour is a district wide tour that enables me to listen, learn, and experience, on a ground floor level, what our businesses are going through in these tough times," Heck said in a statement announcing the tour.
— Benjamin Spillman
Contact reporter Benjamin Spillman at 702 477- 3861 or bspillman@reviewjournal.com.
POLITICAL EYE BLOG