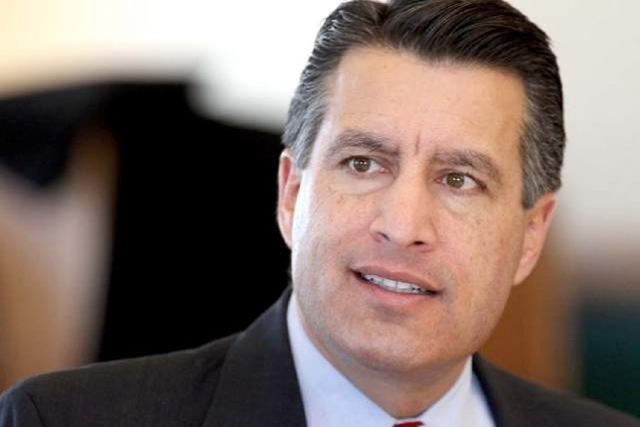 CARSON CITY — A continued federal government shutdown could turn into a real Halloween nightmare for tens of thousands of Nevadans and the state's struggling economy, Gov. Brian Sandoval was told Tuesday.
A number of federally funded programs, from food stamps to a nutritional program for infants and pregnant women, will run out of money by Nov. 1 without action by Congress to end the budget impasse, Sandoval was told in an emergency Cabinet meeting.
With more than 400,000 Nevadans benefiting from these two programs, the state economy would lose nearly $50 million-a-month.
Several hundred state employees who are paid with federal funds, from the Nevada National Guard to the Employment Security Division, could be forced into unpaid furloughs.
Nevadans getting jobless benefits might see those checks cut off in November, not because there isn't money in the employment security trust fund, but because there won't be any state employees to answer phones or process checks.
Seeking state revenue to fund some of these programs, either fully or partially, would likely require Sandoval to call a special session of the Legislature.
Sandoval said Nevadans potentially affected by the shutdown need to start planning now for what could happen in just 24 days.
"I'm really concerned about not causing panic out there but providing accurate information," Sandoval said.
Sandoval heard the bad news at a mini-Cabinet meeting designed to give him and state officials the information they need to plan for a prolonged shutdown. Legislative leaders received the same briefing later Tuesday.
The potential impacts of a lengthy shutdown will be conveyed in a letter to Nevada's congressional delegation.
"There is starting to be some real consequences here in my state and I'm sure the same thing is going on in other states," Sandoval said. "And as a chief executive I have a responsibility to convey what those consequences are to our federal delegation. I'm not pointing any fingers. I'm not laying responsibility on anybody."
But the ongoing shutdown is beginning to put the state and its citizens in a tough position, he said.
The biggest consequences outlined in the 90-minute meeting include the loss on Nov. 1 of $45 million in federal funding for the Supplemental Nutrition Assistance Program, formerly known as food stamps, serving 362,000 residents. There are also 500 federally funded state jobs that could be affected with furloughs, said Mike Willden, director of the Department of Health and Human Services.
The same could happen to the Women, Infants and Children program providing nutritional assistance to 73,748 Nevadans at a cost of $4 million a month.
Food banks would be one of the few options available to those who lose benefits, but the facilities might not be able to handle the increased demand, Willden said.
Sandoval said state funding will be used to pay the staff of the Department of Employment, Training and Rehabilitation to process benefits from the unemployment insurance fund through the end of the month. But that money is expected to run out by Oct. 31, leaving no one to answer the phones or issue checks.
Sandoval said he will have to explore with his budget director the ramifications of the situation and how to potentially address it over the next few weeks.
"It's a very big consequence there with regard to people not being able to get their money to go buy food, not to be able to get their unemployment benefits so they can pay rent and pay their bills," he said.
All of the programs potentially at risk are important, Sandoval said.
"At no point do I want to be in a position where I have to pick between women, infants and children and those on unemployment benefits, those that are employed by the Guard," he said.
Contact Capital Bureau reporter Sean Whaley at swhaley@reviewjournal.com or 775-687-3900. Follow him on Twitter @seanw801.