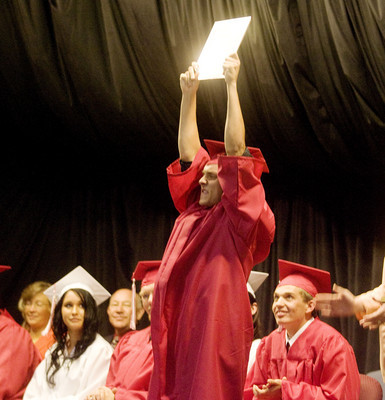 SANDY VALLEY — Fifty miles southwest of Las Vegas and over a curvy Spring Mountain pass, Clark County School District officials opened a new high school last summer in the desolate desert of Sandy Valley, evicting a rattler to make way for eight portable classrooms.
This week, they said good-bye to their first seven graduates.
"We are the smallest graduation class in the fifth-largest school district in the nation," announced class valedictorian Jackie Eldridge in her Wednesday commencement speech.
In contrast to city high schools where graduations of 400 to 500 seniors are the norm, the Sandy Valley class of 2008 could be seated on the same stage with school dignitaries. Because there were so few graduates to name, applaud and award a diploma, the ceremony was relatively brief.
"It took 40 minutes from the first hello to the last goodbye," Sandy Valley High School Principal Mark Jones said.
Graduating were Christopher Aranayado, Eli Armstrong, John Allen Cagle Jr., Frankie Marie Carlson, Michael Anthony Carlson, Sean Everett Hagan and Eldridge.
With two of the school's band members graduating, band director Jenny Viscuglia recruited seventh- and eighth-graders to play with the ensemble at the ceremony. The band has just one musician per instrument, Viscuglia said, but they don't seem to realize the pressure they're under.
"I'm always amazed at what they're able to pull off," Viscuglia said.
Students, parents and teachers at the rural school have developed the attitude that less is more. Seniors who previously went to larger schools know what it's like to be a face in the crowd.
"Try getting lunch with 3,000 students," Cagle said. "It takes a long time."
When Armstrong started as a freshman at Liberty High School in Henderson, he wanted to be "one of the popular kids."
But the teenage drama of wanting to fit in was never an issue during Armstrong's senior year at Sandy Valley.
"We only have seven seniors," said Armstrong, 18. "It's not too hard to be in with everybody else."
Because of the culture shock of leaving Sandy Valley Middle School for a high school in greater Las Vegas, the dropout rate for Sandy Valley teenagers was once as high as 80 percent, said Dawn Haviland, the local justice of the peace and the former chairwoman of Keystone Academy, a charter school that was closed in 2007 after eight years of operation.
As a solution for the lack of a high school, the community had improvised by creating Keystone, which operated as an independent public school and received state support. But keeping up with the regulations and paperwork proved daunting, Haviland said.
Bowing to the longtime wishes of the community, district Superintendent Walt Rulffes agreed to start Sandy Valley High School. Keystone was no longer needed.
School Board Member Carolyn Edwards said Rulffes had assessed the campus of Sandy Valley's elementary school and middle school and realized there was room to accommodate a high school.
Portable units for the new high school were placed alongside the middle school. The middle and high school students share some common spaces such as the multipurpose room, which serves as cafeteria, half-court gymnasium, stage and dance hall.
School officials also upgraded the football field for the school's eight-man team and added a public restroom over the summer.
"This school is a 90-day wonder," Jones said.
The high school started the year with 55 students, then "rocketed to 60," Jones said.
The community is involved, too.
"A small town is like an extended family," Haviland said. "We all pitch in."
Local celebrity Bo Gritz, the Green Beret Vietnam veteran and former presidential candidate, is a substitute teacher at Sandy Valley, confirmed his wife, Judy Gritz. The couple own a Cessna and live at the Sky Ranch Estates, a fly-in community in Sandy Valley.
"Moms often call here," Judy Gritz said. "My phone rings off the hook about the impact Bo has on these kids."
The high school is practically a family business for the Holsclaws. Jimmy and Linda Holsclaw are both educational aides. Their daughter-in-law Wendy Holsclaw works three jobs as a special education assistant, girls' sports coach and cafeteria worker.
Ray Armstrong, the father of graduate Eli Armstrong, liked the one-on-one attention students receive. The school is so small "you can't get into trouble," he said.
The principal said five of the seven graduates plan to attend college. The class scored 87 percent on its math proficiency and 100 percent on reading, Jones said.
The aunt of Sandy Valley graduate Eli Armstrong, Monna Armstrong, flew in from San Francisco and booked a room at the MGM Grand. The juxtaposition between Las Vegas and Sandy Valley was startling.
"In Las Vegas, there is much consumerism," Monna Armstrong said. "This is different."
Surveying a crowd of more than 100 people, she added: "All these people are here for seven graduates."
Contact reporter James Haug at jhaug @reviewjournal.com or 702-383-4686.