School district criticized for not seeking teacher scholarship funds
November 12, 2015 - 6:09 pm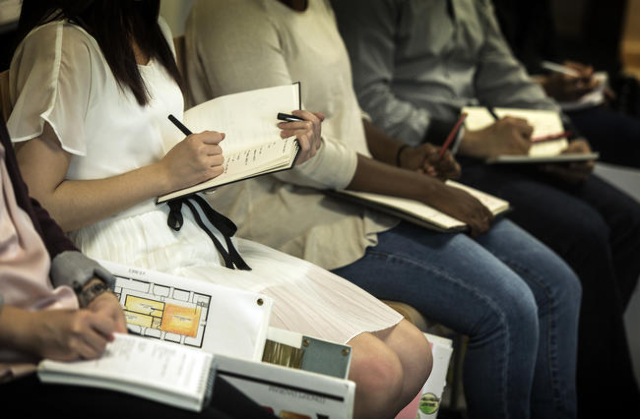 The state's top education officials all but declared the Clark County School District negligent for its decision not to apply for a portion of a $2.5 million scholarship fund for new teachers.
At a Thursday meeting of the State Board of Education, President Elaine Wynn seemed baffled that no one from the district contacted the Nevada Department of Education to discuss the program, which provides up to $3,000 a semester for students in teacher preparation programs who commit to teaching in Nevada public schools.
Board Vice President Allison Serafin went a step further than Wynn, and highlighted the more than 700 classroom vacancies that the district still hasn't filled nearly three months into the school year.
"Given the shortage this year, it does seem that there's an element of negligence in (the district) to not want to add or augment dollars to incentivize potential candidates," Serafin, a former teacher, said.
She also singled out Staci Vesneske, chief human resources officer for the district, who did not appear at Thursday's meeting.
"This is now the second time that the head of (human resources) has not been here to discuss an HR issue on the agenda," said Serafin, who failed to mention her own absence from a state board meeting last month when Vesneske and her staff gave a detailed presentation about their recruitment efforts.
"I have to be honest," Serafin added. "I think there's an element of wondering to the degree that they're taking this really seriously and that there is a leader who is owning the vision and leadership of HR."
Later Thursday, Vesneske explained why the district chose not to apply for the scholarship money, which it could have funneled into an internal fast-track teacher licensing program.
Participants in that program must pay $450 and already have a bachelor's degree. That's in contrast to the thousands of dollars that undergraduates can expect to pay at the University of Nevada, Las Vegas.
"A true act of negligence is knowing our candidates can afford to pay $450 but then asking for that money to be taken away from freshmen, sophomores, juniors and seniors (at UNLV) who don't have the means to pay for tuition," said Vesneske.
"Morally, for us to pull that money out of their pockets would be unconscionable and a misuse of taxpayer money," she added.
Vesneske also noted the district can grow its internal program simply by charging a higher participation fee.
Additionally, only two participants have had trouble paying the $450 upfront and instead made two separate installments, Vesneske said.
"Anyone who comes to us and can't afford the $450, we accommodate them," she said. "What's not covered in the teacher pipelines comes from the institutions of higher education.
"That's where we want the money to go, and that's where it's needed the most."
Ultimately, the state board voted to award $2.3 million for the fast-track teacher licensing programs at UNLV, the Washoe County School District and four other institutions.
Those awards should allow the placement of 134 teachers in schools across Nevada next fall.
At the close of Thursday's meeting, a representative for the Washoe district thanked board members for its $360,000 grant, which will provide scholarships for 15 teachers.
Contact Neal Morton at nmorton@reviewjournal.com or 702-383-0279. Find him on Twitter: @nealtmorton.