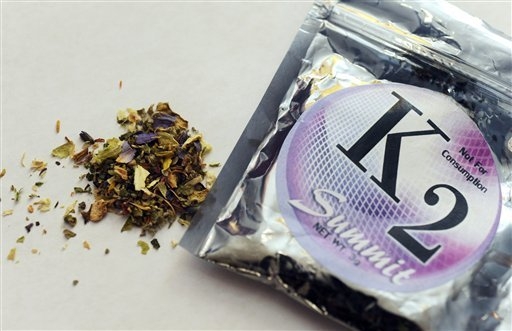 Although drug use among school-age children is down, Clark County School District police are concerned about drug trends emerging on local campuses.
"Law enforcement is always the last to know about drug trends," said school police officer Steve Ufford. "Then the parents come after that."
School police and advocates for drug awareness gave a presentation to a small group of students and parents at Western High School on Wednesday night. They discussed recent drug trends found in the valley's schools, as well as the importance of parent involvement in combating teen drug use.
"Parents have the potential to be the biggest influence on their kids, but they're not," said Anna Cedro of Care Coalition, which promotes a drug-free environment. "Some parents like to be their child's friend, but parents need to be parents."
Ufford said one of the biggest problems in the drug culture in Clark County is the use of synthetic marijuana, also known as "spice."
"We're way behind the times when it comes to spice," he said.
High school seniors were half as likely to be drug users in 2008 than in 1978, Ufford said. He also noted that youth drug use has decreased by 24 percent in the past 10 years.
First discovered in 1995 by a professor at Clemson University, spice didn't get a lot of attention from law enforcement until 2009.
Jamie Ross of the PACT coalition, which stands for Prevention, Advocacy, Choices and Teamwork, said social media have been a big factor in drug use among children.
"Kids are feeling so much more isolated because they're not interacting face to face," she said. "Now you have Google and YouTube where kids can learn about all these drugs, but parents are still very influential."
One of the newest drugs on law enforcement's radar is Desomorphine, commonly known as Krokodil. A common drug in Russia, Krokodil is a combination of codeine and other chemicals, such as paint thinner, gasoline and hydrochloric acid that users inject.
Medical cases involving Krokodil users show extreme behavior, such as gnawing their own flesh. Although there have been no reported cases of Krokodil in Nevada, Arizona has seen patients who have used the drug.