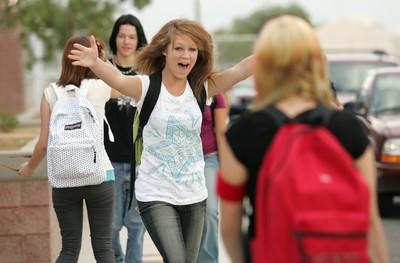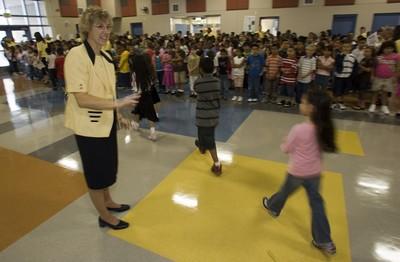 Mother Nature arrived with a fury early Monday, dampening the start of school for many students in the Clark County School District.
But while some students were a bit tardy, overall they showed up in record numbers.
An estimated 314,403 students packed the district's 342 schools, both record highs in the fast-growing and fifth-largest district in the nation.
Students reached their schools despite the inclement weather, which delayed dozens of buses 45 minutes to an hour.
"This morning was a small nightmare," Theresa Buchanan, a field supervisor for the district's Transportation Department, said Monday. "We had a lot of buses that were delayed because of flooding."
Once at school, some students were excited to learn what the district's new campuses had to offer.
Jacob Young, a sophomore at the district's newest high school, the Northwest Career & Technical Academy, said he expects the specialized school will offer him a "better education" than his neighborhood school, Arbor View High School.
"If they went to these great lengths to build it, the education must be good," Young said. The state-of-the-art high school cost $70 million to build, about $14 million more than a traditional high school in the district.
The academy, which focuses on guiding students toward high-demand career paths such as information technology and medicine, was one of 11 new schools to open Monday. Two of those are replacement schools, or schools that were completely rebuilt on site.
Superintendent Walt Rulffes said the school year began with "a storm of optimism." He said district employees should be enthused because the school system has increased the number of schools that met federal No Child Left Behind Act benchmarks for two consecutive years.
But he added that this school year will present more of a challenge than past years because federal benchmarks will increase for all students who are assessed.
"We have a steeper hill to climb," Rulffes said.
Rulffes said the curriculum for high school students will also become more rigorous. Freshmen and subsequent classes will need to take four years of math, and three years of science before completing high school unless a parent allows a student to be exempt from the increased standards. Before Monday, students could complete their high school requirements with three years of math and two years of science.
Other challenges the district is faced with include a shortage of 177 classroom instructors in kindergarten through 12th grade. That is higher than an incorrect figure of 116 given last week.
The district projects that 39 of its 206 elementary schools will be 15 percent or more over capacity. Eight of the district's 44 high schools are expected to be 15 percent or more over capacity.
Ivory Brown, who was enrolling two of her children Monday at one of two new elementary schools in North Las Vegas, Perkins Elementary, said the school was needed to accommodate the fast-growing community. Perkins is west of Interstate 15 near Alexander Road.
Brown's 7-year-old daughter, Harmonie, attended first grade at nearby Wilhelm Elementary School last year, when the school was more than 300 students above capacity. Brown said she's looking forward to her daughter and 5-year-old son, Harvier, learning in less crowded conditions.
"I'm loving the new school," Brown said. "The other school down the street was overcrowded and students weren't getting the attention they needed."
Lisa Bishop, a special education teacher at Perkins, said working at a new school boosts morale for the entire staff and has created a sense of community for parents.
"We come to work with an optimism every day that says 'we are going to do what's best for the kids.' "