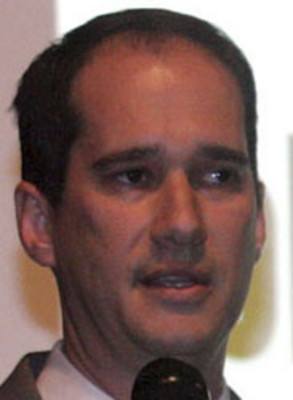 In the spring, Green Valley High School Principal Jeff Horn confronted a male student athlete apprehended for possession of black tar heroin.
"We were in a meeting with his parents, discussing the consequences of his actions," Horn said. "I was looking at a teen in the prime of his life who was locked into destructive behaviors."
Horn said the teenager thanked him for having been caught; he wasn't sure he could have turned away from the drug on his own.
"That's when I became convinced that I wasn't doing everything I could to prevent it," Horn said, referring to student drug abuse.
That was just one incident. There have been others. Because of that, Horn said, Green Valley is becoming the first traditional high school in the Clark County School District to offer a program of random student drug testing. The idea grew out of a committee formed last year to identify and assist students with substance abuse problems.
Urine drug testing will be mandatory and year-round for all student athletes, including cheerleaders and dance team members. Students who don't want to participate in the testing will be ineligible to take part in athletics. The testing begins Jan. 28.
Green Valley also is allowing parents voluntarily to enroll students who aren't athletes in the random drug testing program.
The annual fee is the same for all testing program participants: $10. The fees collected and a $5,000 donation from the Las Vegas-based Foundation for Recovery will support the cost of the testing program. Horn said that funding allows for between 200 to 300 tests this year.
"I believe that many of us have been touched in some form or fashion with the destruction and degradation that is caused by abuse and addiction," Horn said in a letter to parents inviting them to a Wednesday meeting on the new drug testing policy.
"We have to make tough decisions that hopefully guide our students to positive and productive choices."
The sentiment was supported by a large portion of the 240 parents who gathered in the school theater to listen to Horn explain how the program will work. They applauded him loudly as he explained that random testing isn't a cure-all, just one positive step forward.
"I want to applaud you," said one man sitting in the audience. "By you taking on this battle, you're starting someplace where you can have an impact."
Green Valley parent Judy Hendrickson, the mother of three student athletes, asked whether Green Valley had considered other options to combat drug abuse. Random urine testing can be a humiliating experience for teenagers, she said, and national research yields mixed results on how effective random testing is as a deterrent.
Hendrickson suggested staffing the school with a full-time drug counselor. Still, she said, Horn and members of the committee deserve praise for tackling what is a major problem.
"I think he's on the right path," Hendrickson said.
The program is being managed by SPORT SAFE, an Ohio-based company. Once testing begins, the company will generate a random list of athletes to be tested and transmit that to the school. Campus monitors will escort the students from the classroom to the restroom after they've been given a specimen cup. Once the sample's taken, it will be sealed and transferred to Quest Diagnostics for analysis.
Among the 14 substances that will be screened for are: alcohol, barbiturates, LSD, Ecstasy, amphetamines, marijuana, nicotine, cocaine, methadone and opiates. The test also might be used to identify steroid use.
A parent or guardian will be notified within 24 hours of a positive test by SPORT SAFE. The company will then notify the principal. Any student athlete can appeal a positive result within one week. Part of each specimen is set aside by the lab and can be retested.
Boys basketball coach Christian Svendsen supports the testing program. Students who are using drugs will either stop using or be caught and receive the help they need, he said.
Student wrestler Chris Fehlman said it's unfair that only athletes have to be tested, but he supported the new policy. No one should be taking drugs anyway, he said.
The consequences of a positive result adhere to the policies of the Nevada Interscholastic Activities Association, Horn said. Athletes who test positive will receive a six-week suspension from sports and will be monitored through retesting. Four of those weeks can be suspended if the student completes a substance abuse intervention program.
After three positive tests, students are ineligible for sports for the remainder of their time in a Nevada high school.
Green Valley will not move to suspend or expel students who test positive, Horn said. The goal is to make sure they receive whatever help they need to change their behavior or overcome an addiction.
Statistics reveal the problem of drug use in Clark County schools.
In 2006-07, district schools made 558 referrals for expulsions that were related to drug possession, said Associate Superintendent of Education Services Edward Goldman. That accounted for about 10 percent of all expulsion recommendations in 2006-07.
Horn made the numbers personal for parent at Wednesday's meeting. More than 30 percent of all drug-related offenses reported to the Green Valley dean's office last year involved athletes.
There have been questions about the constitutionality and legality of random drug testing of students, said ACLU of Nevada's general counsel Allen Lichtenstein.
But U.S. Supreme Court decisions have supported the practice with student athletes and also with students involved in other extracurricular activities. The U.S. Department of Education also has made more than $30 million in grants available over the past three years to schools that want to establish student drug-testing programs.
That doesn't mean that it's a good idea, Lichtenstein said. Programs such as this raise serious questions about the accuracy of the testing and the privacy of the findings.
"To do this accurately is expensive," Lichtenstein said. "And we've still not been told what will happen to the test results, who will have access to them, how they will be stored and if they'll be destroyed."
Although random drug testing is new to the district's traditional schools, it is being used in the district's alternative programs. In 2004, the district created the Peterson Sober Drug-Free School of Choice for students in recovery for substance abuse. One of the requirements for enrollment is submitting to random drug testing. The program has since been moved from the Northwest Region campus to the Burk Academic Preparatory Center in the Southwest Region.
"It's been very effective," Goldman said.
Review-Journal writer Bartt Davis contributed to this report. Contact reporter Lisa Kim Bach at lbach@reviewjournal.com or (702) 383-0287.