School trustee stays positive, on job as he fights leukemia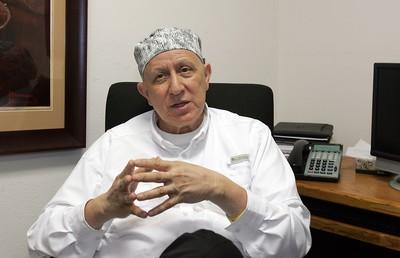 For the past several months, longtime Clark County School Board member Larry Mason's world has been filled with hours in hospitals receiving an array of medical tests and treatments for leukemia.
The 60-year-old trustee has undergone chemotherapy, which caused him to lose his hair. His immune system has deteriorated, and ailments that seem routine for most people have become increasingly dangerous for him.
It recently took the 6-foot-6-inch Mason, who once played professional basketball in Europe and Mexico, 20 minutes to stop a bloody nose.
But Mason hasn't let leukemia derail his life. He has attended several School Board meetings via teleconference from hospital beds. He recently has managed to put in half days at his job with the Nevada System of Higher Education, where he works as a liaison for students.
Mason remains optimistic about his fight with cancer, a battle he said he has not made by himself.
"I feel wonderful," Mason said. "I can't believe the number of friends who have seen me or sent me cards or just wished me well … some people who I didn't even know. … Plus my bald head is also a conversation piece."
On Friday, Mason received some good news. He was in Southern California undergoing tests to determine whether he needed a bone marrow transplant. His oncologist at the UCLA Medical Plaza told Mason he would not need one.
The oncologist went on to say that Mason needs to see how his body reacts to his last two chemotherapy sessions.
Mason's doctor said the trustee would need a bone marrow transplant only if the leukemia returned in one to five years.
"It's great news," Mason said. "I could be in complete remission, but there is that one-year to five-year period."
Doctors previously had told Mason that without a bone marrow transplant, his life span might be three to five years.
Mason has been much closer to death than that.
In the early hours of Dec. 2, Mason was awakened at his home by Clark County firefighters, followed by a visit from Las Vegas police about 15 minutes later. Officials with both departments asked whether a person with leukemia lived at Mason's home.
He was about to shoo away the police as he had the fire department when he heard his phone ring about 1:30 a.m.
The person on the other end of the line was Mason's physician, Dr. Bashab Banerji, who told Mason that he needed to go to the hospital immediately.
Banerji told Mason that the situation was life or death and that he had called 911 and directed emergency personnel to Mason's home.
Mason visited Banerji the previous day complaining of fatigue. Banerji ordered a blood test, and the results showed that Mason had a white cell count of about 90,000, almost 20 times more than the typical range of 5,000.
"If it wasn't for his (Banerji's) due diligence to contact me, I don't know what would have happened," Mason said. "I owe him a lot."
School Board members Shirley Barber and Mary Beth Scow said they admire Mason's dedication to the school system and said that he has tried to attend as many meetings as he can while undergoing treatment.
Mason was elected to the School Board in 1993. He is serving his final term on the board, having run unopposed in November.
Scow said that like a good politician, Mason is diplomatic. He brings parties together even when they are on opposite sides of an issue.
"Maybe it's because he brings in the male approach," Scow said, noting that Mason is the only male of the seven board members.
"He can bring things up and explain them like no one else can. He's kind of a bridge on the board that can bring us together on things."
Barber said she appreciates Mason's frank nature.
"He says what he feels, and he's always been able to do that," Barber said. "He stands up for what he believes in."
Mason said he expects to be attending board meetings more regularly in the upcoming months as he finishes chemotherapy.
Mason said he has taken away lessons from his battle.
"There is always someone out there who cares about you," Mason said.
"There's always something out there that makes you a better person."