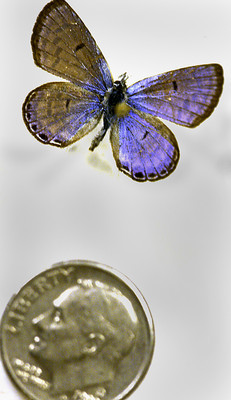 CARSON CITY — First off, kids, black widow spiders have eight legs, and that makes them arachnids, not insects, so they are out of the running in the contest to pick Nevada's official state insect.
But honeybees, grasshoppers, ladybugs, cicadas and butterflies all have six legs, heads, thoraxes and abdomens.
That makes them insects, and sometime before next summer, one will have been chosen as Nevada's official state insect.
The Legislature announced Monday that state Sen. Joyce Woodhouse, D-Henderson, and Assemblyman Lynn Stewart, R-Henderson, are drawing up a bill to select a state insect.
Woodhouse said they aren't sure yet how the insect will be selected, but the plan tentatively calls for students in fourth grade social studies classes to learn about insects and come up with nominations.
A former teacher and administrator, Woodhouse said she was approached by fourth-graders who asked why Nevada has a state animal, flower, bird and even a rock, but no state insect.
For the record, 41 states have official state insects or butterflies. Fourteen have selected the honeybee as their state insect, followed by seven that have chosen the Monarch butterfly and six the Tiger Swallowtail butterfly. Butterflies are insects.
"Our idea is to get kids involved in learning and government," said Stewart, a retired government and history teacher who admitted he doesn't know much about insects.
Stewart hopes an election among students can be conducted to name a state insect. He and Woodhouse will finalize plans early next year.
Woodhouse wishes some students will select insects native to Nevada or common in the state.
In contention could be the Mount Charleston blue butterfly, but this insect is so rare that this year it was placed on the U.S. Fish and Wildlife Service's endangered species list. It lives high in the Spring Mountains, having been seen by a few people at the 10,000-foot elevation.
This isn't the first time children have tried to induce the Legislature to add something to its official state list.
Then-Assembly Majority Leader Barbara Buckley, D-Las Vegas, tried in 2001 on behalf of Southern Nevada schoolchildren to have the wild horse declared the second state animal.
But rural legislators blocked her bill, complaining that wild horses are too plentiful, ruin rangelands and take forage that could be utilized by cattle. The bighorn sheep remains the state's animal.
The wild horse got its revenge four years later when schoolchildren and adults in a statewide vote selected a design featuring three galloping wild horses as the background for Nevada's state quarter.
In all, 590 million of these wild horse quarters were minted, so a lot of Americans probably consider the wild horse the Nevada state animal.
Woodhouse can count on that picking a butterfly or a bumblebee will be a lot less controversial.
She just hopes a lot of children will research insects and come up with good reasons for their choices.
"It is going to be fun," she said.
Contact Capital Bureau Chief Ed Vogel at evogel@reviewjournal.com or 775-687-3901.