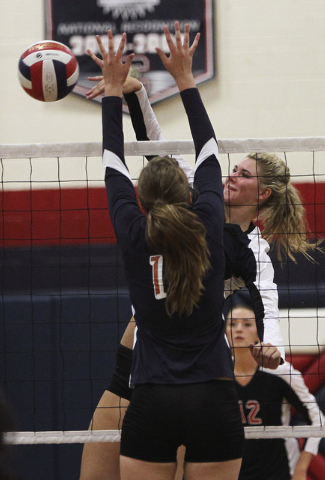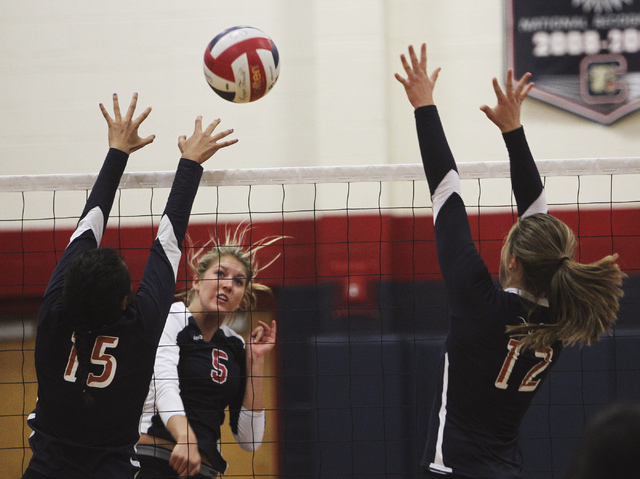 When Taylor Jackson pictures a scrappy girls volleyball team, several traits come to mind.
"Go after every ball," said Jackson, a senior opposite hitter at Coronado. "Don't let the ball drop. Be loud."
In other words, everything the Cougars weren't.
Coronado has been one of the most consistent programs in Southern Nevada, reaching the playoffs every season since the school opened in 2001. But it's also a program whose players have been known to rely on talent and athleticism rather than a willingness to sacrifice their bodies.
So, in an effort to reach their first state tournament in eight years, this season the Cougars have made a commitment to being scrappy.
Bruises and floor burns included, of course.
"We were letting balls drop and not communicating, and we got sick of it," senior outside hitter Brooke Garlick said. "So, we made it a team goal that we weren't going to let anything hit the floor, try to be as scrappy as we can."
Coronado, one of nine local teams set to participate this week in the prestigious Durango Fall Classic, is off to a 10-1 start following Tuesday's whitewash of Legacy. The Cougars' lone blemish came in the semifinals of the Las Vegas Invitational on Aug. 31 when they let a one-set lead slip away and fell to longtime nemesis Green Valley 17-25, 25-22, 15-13.
Those are the only two sets Coronado has lost this season.
"It's lesson learned," Jackson said. "We know we need to finish strong. That motivated us."
The Cougars returned five starters from the team that went undefeated in the Southeast League last season and are one of the Sunrise Region's tallest squads, with nine players standing 5 feet 10 inches or taller. Junior Berkeley Oblad, a 6-foot-4-inch middle blocker who gave an oral commitment to Utah in the spring, is an imposing figure at the net and one of the team's top hitters.
Sophomore outside hitter Carolyn Andrulis, sophomore setter Cali Thompson and Jackson were first-team All-Southeast League selections in 2012 and balance the Cougars' attack.
"This team is very tall and has a lot of size and physicality at the net, so we're trying to focus on those things that we're not," fifth-year coach Matt Johnson said. "We see other teams and we respect those teams that play great defense, and we've said we need to play like them. Get after it on the floor, never-say-die attitude, all those things."
Coronado opens pool play in the Durango Fall Classic on Friday at Green Valley against nationally ranked Mater Dei (Calif.) before taking on Faith Lutheran and Saint Lucy's Priory (Calif.). The tournament features teams from seven states and Canada, including defending champion Torrey Pines (Calif.) and Assumption (Ky.), which PrepVolleyball.com ranked No. 1 nationally in the preseason.
"I'd just like to see how we stack up against the best," Johnson said. "We're in it to try and win it, but if we don't, we're going to take lessons from it and try to get better."
Ultimately, Johnson hopes those lessons enable the Cougars to get over the hump in the Sunrise Region tournament, where another meeting with Green Valley likely awaits. The Gators swept Coronado 3-0 in the region title match last season, although the Cougars have not shied away from talking about their lofty goals this time around.
"A lot of the other schools, they've lost a lot of their seniors, so now their teams are young right when we're peaking," Garlick said. "Last year, we didn't think we could win, and that was our outcome. We didn't win, so hopefully positive thinking will help us in the long run."
Contact reporter David Schoen at dschoen@reviewjournal.com or 702-387-5203. Follow him on Twitter: @DavidSchoenLVRJ.