Second firefighter reinstated with pay in sick leave case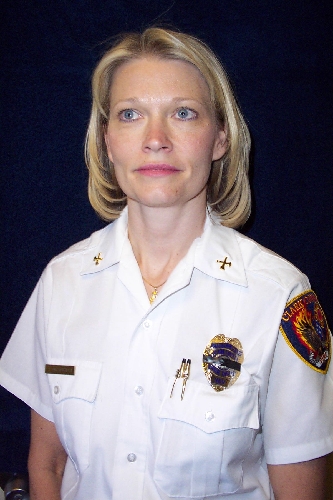 Another Clark County firefighter fired last year over alleged sick leave abuse will get her job back.
An arbitrator ruled Friday that former Battalion Chief Renee Dillingham, who was fired after emails appeared to show her creating a special roster for sick leave, is to be reinstated with full back pay.
Arbitrator Frank Silver wrote, "Her role with responsibility for the rules was not significantly greater than that of other battalion chiefs. Because, in addition to her involvement of the overtime rules, she participated, with the approval of Deputy Chief (Kenneth) Morgan, in manipulating the sick leave rules to avoid presenting a certificate of illness." He added that she should receive a written warning.
It's the second arbitration regarding alleged sick leave abuse the county has lost in as many months.
Donald Munn, the only other firefighter fired, returned to work after an arbitrator ruled the county failed to prove he abused sick leave. Munn was reinstated with a year's worth of salary and benefits. He is suing the county for defamation, among other issues.
County officials say they don't think the rulings will weaken their efforts to control perceived abuse and have tightened the rules for taking sick leave.
When reached by phone Friday evening, Dillingham, a 24-year veteran and the department's first female battalion chief, said that she wants to go back to work and that she "feels betrayed."
"They made it out that I tried to steal from them," Dillingham said. "It's just about the respect. I worked so hard to get to where I was, and I was a good employee. They betrayed my trust. I did exactly what I was told to do."
EMAILS AND SICK LEAVE
The county charged that Dillingham also preplanned her own sick leave in February 2010, in the expectation of having migraines without knowing whether she would have them.
But she said former fire Chief Steve Smith knew about her migraine problem and authorized her to take the leave, according to the arbitration ruling.
Dillingham presented a letter to the arbitrator from her neurologist corroborating her condition.
Dillingham, a registered nurse and paramedic, injured a rib during a vacation in Hawaii around that time.
Morgan authorized her use of a vacation day amid a series of sick days to avoid submitting a certificate of illness, which the arbitrator wrote was "inappropriate."
Dillingham earned $274,309 in salary and benefits in 2010. She was hired as a firefighter in 1987 and was promoted to battalion chief in 2002.
That same year, battalion chiefs averaged $183,000 in wages and $81,000 in benefits. Firefighters averaged $130,000 in annual wages and $58,000 in benefits. Rank-and-file county employees averaged $60,000 in wages and $30,000 in benefits.
Both Dillingham and Munn were fired in large part because of emails they sent to colleagues.
In a 2009 message to other battalion chiefs, Dillingham wrote, "Please do not post the August roster with SICK. I have added the other roster for posting and the sick is for you to take home."
Dillingham seemed to arrange sick leave months in advance for Battalion Chief Gina Geldbach-Hall, who retired before the county launched an investigation into the matter.
"I will be taking off June 10, 17, 19, 21, 23 and 25 (all sick days if I can work it out.)," Geldbach-Hall wrote. "… Again, thanks. It is so much nicer having a scheduler I can work with."
But Dillingham said that her supervisors approved Geldbach-Hall's sick leave and that she had no authority to approve or deny the request. The battalion chiefs collaborated on the roster process in 2009.
Arbitrator Silver agreed that the two rosters were created, "not because they wanted to conceal the sick leave from their superiors, who had apparently approved it, but rather to avoid setting a bad example for the employees under their supervision. … (Dillingham) did not have any special duty or responsibility to police the use of sick leave by other battalion chiefs."
COUNTY REACTION
In an email to the County Commission on Friday, Assistant County Manager Ed Finger called the ruling "frustrating and disappointing."
"County management supports the Fire Chief's decision to hold a high-level supervisory employee accountable for her failure, even if shared with others, to take appropriate actions when made aware of obvious sick leave abuse," Finger wrote. "Again, this ruling demonstrates our unfortunate limitations in enforcing accountability."
Ryan Beaman, president of Local 1908 – the fire union that represented Dillingham – said, "All individuals deserve a fair and due process."
"We are pleased with the outcome of this arbitration but will not stop working to ensure concerns over sick leave are addressed," Beaman said.
He added that the effort is reflected in changes recently made to the fire contract that address sick leave issues and protocol in the future.
Commissioner Steve Sisolak disagreed with Silver's ruling and again pointed to a drop in sick leave usage by 57,000 hours in the two years county officials have questioned whether some were abusing the system.
"I'm extremely disappointed, but I'm not surprised after the last one," Sisolak said. "I don't know what you have to do to be fired. Once you're hired, apparently you can't be fired, even when there are emails that exist. It's unfortunate."
County officials said a joint FBI and Las Vegas police criminal investigation into sick leave abuse allegations is still ongoing.
Contact reporter Kristi Jourdan at kjourdan@ reviewjournal.com or 702-455-4519.
Arbitration ruling