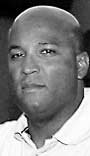 A second law enforcement officer is pursuing civil rights claims against the city of North Las Vegas and its Police Department.
Marvin Eastman, a North Las Vegas corrections officer who has gained fame as a professional fighter, alleges North Las Vegas police officers unlawfully arrested him in May 2006 and booked him into the jail where he has worked for the past nine years.
Eastman filed a federal lawsuit in connection with the incident in December, nearly three months after Las Vegas police officer Augustus "Larry" Symonette filed a similar lawsuit. North Las Vegas police officers briefly detained Symonette in March 2007.
"It's becoming a pattern with our department," Eastman said in a recent interview.
He said both cases reflect a deficiency in the training of North Las Vegas police.
Attorney Robert Freeman Jr., who represents the defendants in the Eastman case, wouldn't comment for this story.
"Obviously, we dispute the facts that are pleaded by Mr. Eastman," Freeman said.
Attorney Cal Potter III represents Symonette and Robert Stringer, a Las Vegas police officer who filed an internal affairs complaint with the North Las Vegas Police Department after a January traffic stop.
Potter claims North Las Vegas police stopped both Symonette and Stringer because they are black and drive late-model, luxury vehicles.
Eastman also is black but said he does not know whether race played a role in his treatment.
If North Las Vegas police are treating other law enforcement officers badly, Eastman wondered aloud, then how are they treating civilians?
Potter shared Eastman's concern. He said law enforcement officers have the training to know when their rights are being violated and refuse to tolerate such treatment. When it happens to the poor and powerless, the lawyer said, "they think nobody will believe them."
Eastman, 38, played football at the University of Nevada, Las Vegas, for two years before graduating in 1995 with a bachelor's degree in criminal justice.
Nicknamed "The Beastman," he is a five-year veteran of the Ultimate Fighting Championship.
Eastman's encounter with North Las Vegas police occurred around 4 p.m. on May 13, 2006, in a parking lot at Mojave High School, where he and his ex-girlfriend had met to exchange custody of their 13-year-old son.
According to his lawsuit, Eastman later discovered that someone had reported to police "that a black male was kicking, stomping, choking and punching a white female to the ground in that parking lot."
Eastman is black and his former girlfriend, Rebecca Gonzalez, is Hispanic.
Eastman was arrested at the scene on charges of domestic battery and obstruction of a police officer, but the charges were later dropped.
He said his meeting with Gonzalez involved no violence, and neither she nor their son exhibited any signs of physical injury at the time of his arrest.
According to Eastman's lawsuit, he took his son to Gonzalez at the school parking lot and was driving away when he received a call from the boy on his cell phone.
"The child was noticeably distraught over an argument he was having with his mother," the document states.
Eastman returned to the parking lot and learned from his son that Gonzalez wanted to speak with him. The boy then took a seat in Eastman's car while Eastman took a seat in Gonzalez's car.
According to the lawsuit, the two parents had been speaking for five to 10 minutes before three North Las Vegas patrol vehicles pulled up behind Gonzalez's car. Five officers emerged with weapons drawn, according to the document.
Eastman identified himself as a North Las Vegas corrections officer and gave out his badge number, but one of the police officers ordered him to exit the car and lie on the ground.
Eastman said he recognized the police officer, Dwayne Miller, because they had worked together as corrections officers in the state prison system.
According to Eastman's lawsuit, he initially complied and lay on his stomach, but "the scalding asphalt burned his legs, torso and arms."
Eastman complained about the hot asphalt and tried to prop himself up on his elbows and knees.
Miller responded by firing a stun gun into Eastman's lower back, according to the lawsuit, "sending voltage through plaintiff's body and forcing plaintiff into convulsions as he rolled uncontrollably under the vehicle."
Miller then forced Eastman onto his stomach and handcuffed him.
According to the lawsuit, officers also handcuffed Eastman's son and ex-girlfriend and placed them in separate patrol cars.
The boy and his mother were later released, but Eastman sat in the back of a patrol car for at least 90 minutes, according to his lawsuit.
At 7:20 p.m., according to the document, Eastman was booked at the North Las Vegas Detention Center, where he spent 12 hours before paying a cash bail of more than $4,000.
Eastman said he was placed on administrative leave for 11 months, which included a one-month suspension without pay, before he was allowed to return to work.
He said the suspension was based on a finding that he engaged in misconduct by failing to comply with Miller's command to lie flat on the ground.
Eastman argues that the command was unlawful and did not require his compliance.
Attorney Harold Gewerter, who represents Eastman, said police officials found no wrongdoing on Miller's part. The lawyer described Eastman as "the sweetest, kindest, most genteel person you'll ever meet."
"He never was a threat to the other officer," Gewerter said. "He just wanted to stand up and get off the hot concrete."
Eastman's lawsuit claims the defendants took their actions in accordance with a "de facto" policy "to summarily punish persons in an unlawful manner without corroborating information and without rightful authority of law and by the use of excessive force."
Gewerter claims the North Las Vegas Police Department, under Chief Mark Paresi, had a culture that condoned the use of extreme force by a few "renegade officers."
Joseph Forti replaced Paresi as chief in March.
Both Paresi and Forti are named as defendants in Eastman's lawsuit, as is Miller.
Eastman's lawsuit seeks at least $225,000 in damages, but he said he is more interested in retribution.
"I was humiliated; I was embarrassed; and I spent 11 months at home trying to figure out if I was going to have a damn job," he said.
Contact reporter Carri Geer Thevenot at cgeer@reviewjournal.com or 702-380-8135.