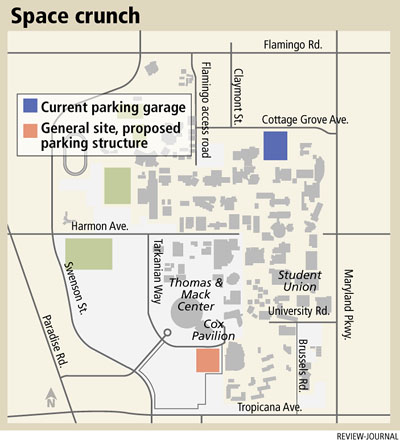 Students who have been frustrated in recent years over an ever-dwindling number of parking spaces at UNLV could find relief in 2009 in the form of a second parking garage.
University officials will ask the Board of Regents next week to approve a plan to build a $15.5 million garage in the Thomas & Mack Center parking lot near Tropicana Avenue.
The garage would create 800 to 1,100 additional spaces on a corner of the campus that has seen hundreds of spaces eaten up by new construction.
But to pay for the garage, students will see their parking fees rise by as much as 10 percent each year.
University of Nevada, Las Vegas students pay $105 for an annual parking permit, which is low compared to many other universities' fees.
Seeing that fee rise to pay for a parking garage would be a welcome trade-off, several UNLV students said this week. "Right now, people are buying them (permits) and not being able to use them" because of a lack of parking spaces, freshman Amanda Devaney said.
Parking long has been one of the most common complaints from UNLV students, the vast majority of whom commute to campus. And the situation has been getting worse in recent years as a flurry of construction projects has consumed nearly 2,000 parking spaces, or nearly a fifth of the total on campus.
Also, for special events at the Thomas & Mack, much of the lot is closed off for people attending the event. The National Finals Rodeo, for example, runs the same week in December that students take final exams. "It's really frustrating," UNLV senior Lance Plautz said. "We're the students, and we pay to go here. Yet when there are special events, they get priority treatment."
UNLV has a poor ratio of students to parking spaces compared with peer institutions, according to 2006 data from UNLV. There is only one space for every 2.6 people who buy a parking permit at the university. Arizona State University, nearly twice the size of UNLV but also a heavy commuter campus, has one space per 1.3 people who buy a permit.
The vast majority of parking spaces at UNLV are in the southwest corner in the Thomas & Mack Center lot and on the north end of campus in the university's only parking garage. Yet many classrooms and the student union are on the east side of campus, where there are few nearby spaces.
That has caused students who don't want to walk across campus to flood the neighborhoods and shopping centers just east of Maryland Parkway. Streets in the area are clogged with parked vehicles belonging to UNLV students.
To alleviate that stress, UNLV is looking at purchasing land or partnering with a local developer to build another parking garage east of Maryland Parkway, possibly along Harmon Avenue. The university also is looking at other options, including purchasing land owned by McCarran International Airport for additional parking on the northwest corner of Tropicana Avenue and Swenson Street.
UNLV also is in talks with Clark County officials to move the stoplights at Wilbur Street and Tropicana farther west on Tropicana to make the campus easier to access during major events, said UNLV Vice President for Finance and Business Administration Gerry Bomotti.
Contact reporter Lawrence Mower at lmower@reviewjournal.com or (702) 383-0440.