Second USO canteen opens at McCarran International Airport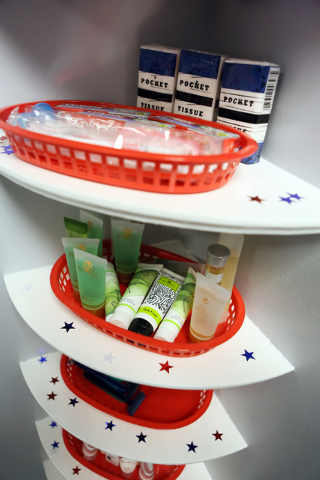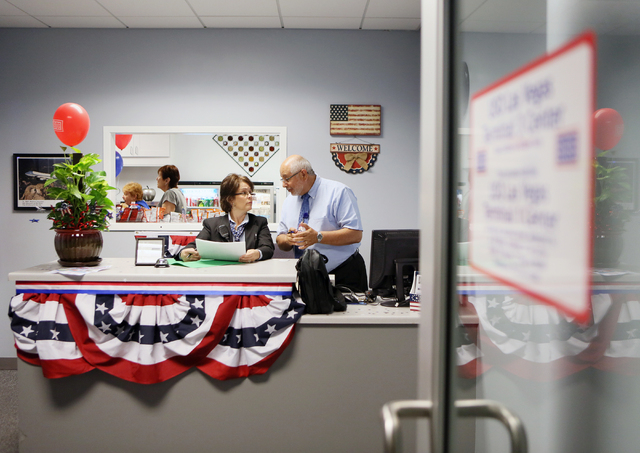 Las Vegas entertainer Wayne Newton doesn't have to sing "Danke Schoen" to show his appreciation to members of the military for their service.
The longtime supporter of the USO was at McCarran International Airport's Terminal 3 on Wednesday in support of the opening of a second USO canteen lounge at the airport.
The 1,100-square-foot facility near baggage carousels 21 and 23 opened its doors with a ribbon-cutting and open house as more than 100 people — veterans, active servicemen and their spouses and supporters — gathered to get a first look.
Count Newton as one of the biggest fans of servicemen.
"When we talk about freedom, our freedom of speech, our freedom of religion, our freedom of the press, we all know that nothing is free," Newton said. "It has to be paid for by somebody and it's paid for by the members of our military."
Newton spent an hour greeting fans and posing for pictures at the opening. He has entertained in USO programs for troops stationed abroad since the Vietnam War — a few years after his first hit "Danke Schoen" was released.
The singer-actor said he first became interested and involved in USO when passing through the airport he saw servicemen sleeping on the floor of the terminal. He said he called management friends in Las Vegas resorts to arrange to get servicemen rooms and since then has been supportive of developing programs for military personnel and veterans.
USO Center Director Jennifer Earl, a fourth-generation military veteran who served in Germany as an Army military police officer, said the USO facilities at McCarran provide a family atmosphere for deploying or returning servicemen. The canteen has books, magazines, computer terminals as well as coffee and refreshments.
The USO already has a presence at McCarran's Terminal 1, on the mezzanine level of the airport near the A and B gates security checkpoint. Terminal 3 opened nearly two years ago and is being used by a mix of international and domestic airlines. USO officials worked with McCarran management to provide space for the second lounge.
The new space is leased by McCarran to the USO for $1 a year. It had no plumbing or electricity at first, but volunteers donated time and materials to provide the comfortable environment.
The Danosky Clutts Building Group, Sun City Electric, Sands Plumbing, Vergith Contracting, the Home Depot Foundation, CenturyLink and the Jewish War Veterans contributed resources to furnish the facility.
Earl has a roster of 200 volunteers, many of them veterans and spouses of military personnel, who oversee the two lounges around the clock. Volunteers welcome troops home, assist them with their returns or deployments and try to lift the spirits of military families.
Volunteers also work with the Wounded Warrior Project and on special observations commemorating Veterans Day and Memorial Day and on the anniversary of 9/11.
Earl coordinates projects with Nellis and Creech air force bases, the Nevada National Guard, the Nevada Armory and the 29 Palms Marine Base in California.
Contact reporter Richard N. Velotta at rvelotta@reviewjournal.com or 702-477-3893. Follow him on Twitter @RickVelotta.