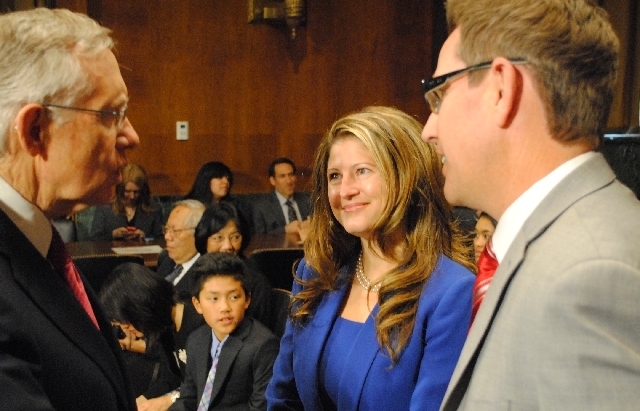 WASHINGTON — The Senate Judiciary Committee voted Thursday to confirm Las Vegas attorney Jennifer Dorsey to a federal judgeship over Republican objections, including one expressed after a long silence by Nevada Sen. Dean Heller.
The committee voted 10-8 along party lines to move Dorsey's nomination forward as Republicans raised concerns over political contributions her law partners made last year.
Iowa Sen. Charles Grassley, the leading Republican on the committee, said he was troubled that partners at Dorsey's Las Vegas firm had given $150,000 to a political committee for Senate Democrats at the time she was being considered by party leader Sen. Harry Reid of Nevada for a federal judgeship.
"I am concerned about appearances and how such actions might undermine public confidence," Grassley said. "At this time I am not prepared to support this nomination."
Sen. Mazie Hirono, D-Hawaii, defended Dorsey, saying it would be "very unfair" to hold her responsible for the actions of others.
In a statement issued after the committee vote, Heller echoed Grassley in saying he intends to oppose Dorsey's confirmation when it is brought to the Senate floor. The Nevada Republican previously had declined to comment on Dorsey as he held up action on her nomination for seven months.
Heller eventually allowed the Judiciary Committee to hold a confirmation hearing for Dorsey but declined to attend it. Reid did appear to testify on her behalf.
In the statement, Heller said he raised concerns about the contributions with Dorsey before her confirmation hearing, but allowed it to move forward in the hopes it "would clarify these issues so I could support her with no reservations.
"Unfortunately, I remain uncomfortable with the relationship between the timing and amount of financial contributions made and this nomination, which is why I intend to oppose the nomination on the Senate floor," Heller stated.
Despite Republican opposition, Dorsey likely will win final Senate confirmation sometime this summer, said Carl Tobias, the Williams Professor of Law at the University of Richmond who follows the federal judge selection process.
"The GOP opposition … means there will be a number of 'no' voes on the floor but all 55 Dems will probably vote yes, so she will be confirmed," Tobias said.
Reid issued a statement Thursday saying he was "pleased" the Judiciary Committee confirmed the nomination.
"Ms. Dorsey is extremely qualified, has a sterling reputation among her peers, and has the support of many Republicans in Nevada and outside the state," Reid said. "I look forward to her confirmation by the full Senate."
Republican senators did not question Dorsey about the $150,000 in contributions to the Senate Majority PAC during her confirmation hearing but Grassley later posed written questions to her about the issue.
Dorsey responded in writing that the partners never told her they intended to make the contributions nor did she have any reason to believe the donations were made to help her obtain the post.
If confirmed, Dorsey pledged to apply the law "without regard for, or consideration of, any bias or influence," and said that she planned to recuse herself from matters involving her firm, Kemp, Jones & Coulthard, "for at least several years."
As Dorsey was being vetted by Reid in spring 2012, founding partner Will Kemp gave $100,000 to the political action committee, and founding partner J. Randall Jones gave $50,000.
Kemp has said there was never a conversation connecting his contribution with Dorsey's nomination. Reid has said his selection of Dorsey was not influenced by money.
According to records, Dorsey had contributed $2,500 to Reid's personal campaign committee in March 2012, shortly after she expressed an interest to him about a judicial position. Reid returned the check a month later.
In her answers to Grassley, Dorsey, 42, said she attended a Reid fundraiser in March 2012 where the headliner was entertainer Carole King. The suggested donation to attend was $2,500.
When the check was returned to her, she was told it was because Reid's office was considering her for the judgeship.
Contact Stephens Washington Bureau reporter Peter Urban at purban@stephensmedia.com or 202-783-1760.