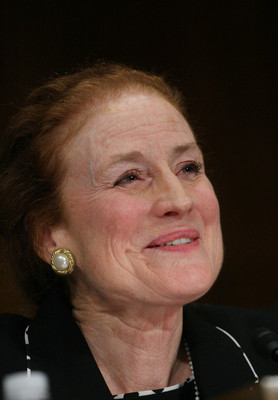 WASHINGTON — Henrietta Holsman Fore's nomination to become the administrator of the U.S. agency for foreign aid moved forward Wednesday when she was approved by the Senate Foreign Relations Committee.
The panel's 13-5 vote moved the confirmation of Fore, a Nevada businesswoman, to the full Senate for final action. It was not clear when the Senate might take that vote.
Fore was an undersecretary in the State Department until May when she was appointed by President Bush to be the acting director of the U.S. Agency for International Development. Since then, Fore has been waiting for Senate confirmation to secure that position as administrator.
Nine Republicans and four Democrats, including chairman Joe Biden of Delaware, voted for Fore. Four Democrats and Sen. David Vitter, R-La., voted against her.
Sen. Bill Nelson, D-Fla., voiced concern about Fore's record at the State Department. She was among officials who drew criticism after the department mishandled the implementation of a new passport law earlier this year.
The changes caused long lines and delays at passport offices, angering travelers and prompting congressional hearings.
Nelson said he "found it curious" that an employee under Fore was taking all of the blame for the delays.
He said Fore "side-stepped my questions," adding that he "was not going to support somebody that is not going to accept their responsibility."
"USAID is one of the most important agencies in the federal government, and we ought to be putting our best and brightest in that position," Nelson said.
Sens. Robert Menendez, D-N.J., and Benjamin Cardin, D-Md., said that they initially had shared Nelson's concerns but that after speaking to Fore and her coworkers, they decided to vote for her.
Sens. Chris Dodd, D-Conn., James Webb, D-Va., and Russ Feingold, D-Wis., were the others who voted against the nominee.
Sen. Barack Obama, D-Ill., who also sits on the committee, previously had expressed reservations abut Fore. He was absent from Wednesday's session and did not vote.