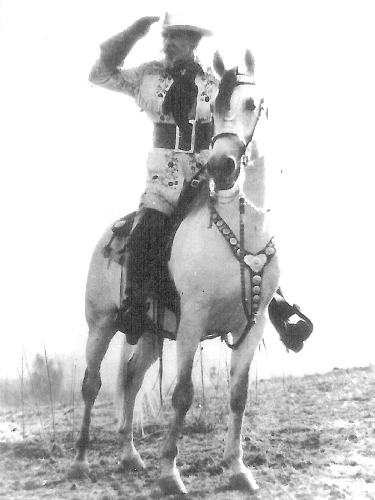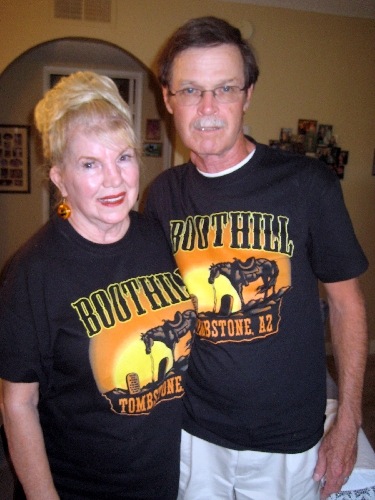 The shortest stop of a recent two-day Seniors on the Go bus trip to Arizona fulfilled a lifelong goal for one valley resident. Last month, Joan Crooks had about 30 minutes and 30 extra pairs of eyes in Tombstone, Ariz.'s Boothill Graveyard helping her locate her grandfather, Glenn Efrom Will, a turn-of-the-century rodeo star and gun-slinging cowboy known as Bronco Bill.
Once reconnected, the 71-year-old Henderson woman was able to put to rest family lore about the famous interment of their semi-famous relative.
The moment was also a glimpse of the potential magic North Las Vegas-based senior outing group Seniors on the Go is capable of. The trip was part of a two-day excursion to Arizona and the latest in many Seniors on the Go trips for Crooks and her fiance, Tom Dail.
"It was one of the most exciting times of my life to find his grave," she said.
The last time Crooks saw her grandfather, she was a spunky preteen and he was on his deathbed — bald, frail and thin. He wasn't the brawny man clad in white and sporting a beard she remembered, she said.
During his 1920s glory days, Bronco Bill was a bronco-busting rodeo legend who performed in California fairs. He had a lucrative rodeo career with his favorite white horses, which he adorned with elaborate silver saddles, Crooks recalled. He had diamond watches and fur coats. He claimed to have the largest gun collection in Northern California, she added .
He stayed fit, enough to keep up with five marriages to much younger women, Crooks said. Her grandmother, a country singer, was his last wife.
Bronco Bill and her uncle were Crooks' caretakers in Albany, Calif., when she was a toddler.
"I can remember the boiling of the coffee in the tin cup on the stove ," she said. "He boiled coffee because he had no teeth, and he ate boiled chicken, which I can't stand to this day."
Bronco Bill put her to sleep under horse blankets and bathed her clothed, so her garments were cleaned at the same time.
"That was the cowboy raising me," she said.
She doesn't recall his gruff side, but whenever she sees a youngster grabbed by the ear, she remembers Bronco Bill's discipline tactics.
Crooks, born Joan Alene Will, lived with him until she was 5 when a gas stove leak caused their home to explode and authorities became concerned. She was adopted by a neighbor and still uses the neighbor's surname.
Bronco Bill sent for Crooks as he lay dying in a hospital bed in the early 1950s. "He truly loved me," Crooks said.
A year before his death, Bronco Bill sent two letters to the postmaster of Tombstone, Ariz., declaring his intentions to visit the mining town in spring 1953. He did — as ashes.
On March 19, 1953 — coincidentally, Crooks' birthday — the Railway Express Agency contacted the Tombstone Chamber of Commerce requesting that it retrieve his remains and pay $1.92 postage due. According to a letter his penniless son wrote, Bronco Bill's ashes were shipped there because "he planned on going there long about this time so I just sent 'im."
The townspeople of Tombstone gave Bronco Bill a proper funeral and burial without charge. His grave marker reads, "1871 Glenn Will 1953, although he was actually born in 1881. His ashes arrived "collect on delivery."
Crooks offered to reimburse the Tombstone post office $1.92, but her offer was declined.
Bronco Bill was the last person buried at the Boothill Graveyard, Crooks said, and he rests forever near miners, outlaws and fellow cowboys.
The National Register of Historic Places site plays host to many tourists a year, but cemetery officials told Crooks she was only the second relative to visit. The Seniors on the Go group had 30 minutes to spend at the graveyard before heading home.
"I told everyone on the bus, including Tom, to help me look for this grave," she said. "We all went out for the scavenger hunt."
Despite the tour bus driver's impatient honks, the group celebrated when Crooks' eyes met her grandfather's burial site. The find was the talk of the ride home, Crooks said.
"I didn't want to leave," she said. "I was more elated than ever."
Seniors on the Go, 4430 Point Breeze Drive, was started almost two decades ago by a retired bus driver. He hosted regular trips via his personal Greyhound bus for seniors who want to remain active but couldn't make long drives, said program coordinator Opal Lake, who took over Seniors on the Go 17 years ago.
Lake plans travel and lodging for trips as close as Primm and St. George, Utah, or as far out as Arizona, Northern Nevada and California. She said, "I don't make any money; I don't need any money," but she does it to stay active with her fellow seniors. The trip calendar for 2012 is in its final stages.
Crooks has traveled to Mexico and Arizona with the group and her fiance.
Lake celebrated with Crooks after her Bronco Bill find.
"We had a lot of fun," Lake said.
Crooks and Dail said the longtime family rumor of her grandfather's burial at Boothill Graveyard may have remained unfounded if not for Seniors on the Go.
"At least there is some closure," Dail said.
Crooks agreed.
"On my own, I would have never gotten there," she said, " if it hadn't been for Opal and Seniors on the Go."
For more information on Seniors on the Go, call 656-2982.
Contact Centennial and North Las Vegas View reporter Maggie Lillis at mlillis@viewnews.com or 477-3839.
Seniors on the go
Seniors on the Go, 4430 Point Breeze Drive, plans travel and lodging for trips as close as Primm and St. George, Utah, or as far out as Arizona, Northern Nevada and California.
The trip calendar for 2012 is in its final stages.
For more information, call 656-2982.