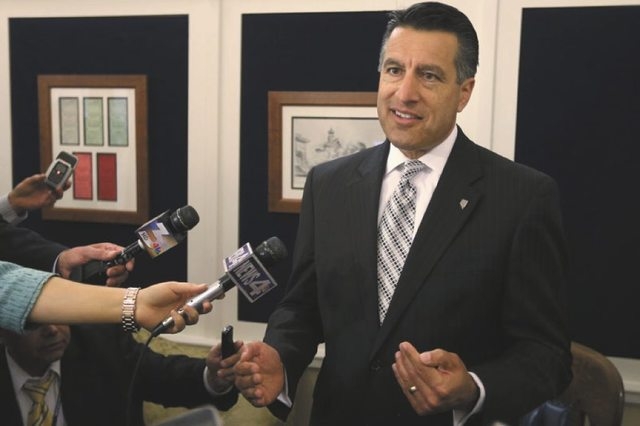 CARSON CITY — Republican Gov. Brian Sandoval voted like a typical Democratic legislator on the bills that reached his office for a veto or signature during the 2013 legislative session, the Nevada Policy Research Institute found in a review that will be released Wednesday.
After looking at bills and determining whether they provided for economic freedom, education reforms or government transparency, the conservative Las Vegas-based think tank gave Sandoval a score of 36, or the same score received by the average Democratic legislator.
Senate Majority Leader Mo Denis, D-Las Vegas, fared better with a 39.5 score, while Assembly Speaker Marilyn Kirkpatrick, D-North Las Vegas, earned a 40 score.
Stewart "Mac" Bybee, the public relations and community affairs director for Sandoval, noted Nevada's economy has experienced 31 straight months of growth under the governor's leadership. He also pointed out that under Sandoval 74 percent of Nevada businesses no longer pay business payroll taxes.
"While there is more work to be done, if current projections hold, approximately 50,000 jobs will have been created by the end of the year (since Sandoval became governor in 2011)," Bybee said. "Governor Sandoval made it clear from his first days in office that he would make job creation and growing our Nevada economy job (priority) one and he has done just that."
He also noted that as a result of the legislative session there are now smaller classes sizes in kindergarten through third grade, all-day kindergartens in every school that has the capacity for them and the first English language learner programs. These initiatives were approved without raising taxes, he added.
Sandoval's score in the study was lower than that of any of the 25 Republican legislators.
A score of above 50, according to the "2013 Nevada Legislative Session Review & Report Card," generally means a legislator supports economic freedom, meaning votes against tax increases, measures that authorize local governments to impose taxes and unnecessary regulations. Legislators were judged on 74 votes and Sandoval, 63.
Geoff Lawrence, deputy director of policy for the institute, said Sandoval would have scored higher except that some of his bills, such as education reform matters, never made it to his office for signing or a veto. He added that his organization gave higher weight to bills that continued $649 million in taxes due to expire and those that allowed local government to increase taxes. He said a law, which Sandoval supported, that largely allows NV Energy to close older, coal-fired electrical generating plants and replace them cleaner but more expensive new plants also was given more weight.
"He vetoed four bills and signed 59," said Lawrence about the bills the think tank monitored. "That is not too many vetoes."
The actual bills on which Sandoval and legislators were graded can be found on the NPRI.org website.
"It shows in his actions he hasn't been as conservative as his rhetoric," said Lawrence about Sandoval.
The think tank did not consider gun control bills or social legislation in its results.
Lawrence begins his report by summing up what happened at the Legislature in a mostly objective way. The reality was that Republican did not get their bills to reform the retirement system, collective bargaining and construction defects, while Democrats could not pass any higher tax bills.
When it came time to vote on Washoe County school and Clark County gas and police taxes, both parties passed the buck on to the county commissions to make those decisions.
In the report, Lawrence questions the constitutionality of letting the others make the tax decisions, citing state constitutional provisions that seem to indicate it is the exclusive job of the Legislature.
Sen. Joyce Woodhouse, D-Henderson, was the only Democrat to receive a score above 50, the point where NPRI calculated legislators supported economic freedom. Eighteen Republicans received scores above 50.
The highest score of all, an 87, was earned by Assemblywoman Michele Fiore, R-Las Vegas, while the lowest, a 30, was given to Assemblyman Andy Eisen, D-Las Vegas.
Lawrence said the scores show Democrats voted more as a block than Republicans. The average Republican received a 60.5 score, while the typical Democrat was graded at 36, the same as Sandoval.
Contact Capital Bureau Chief Ed Vogel at evogel@reviewjournal.com or 775-687-3901.